Students Looking Forward to Rest and Relaxation Over Break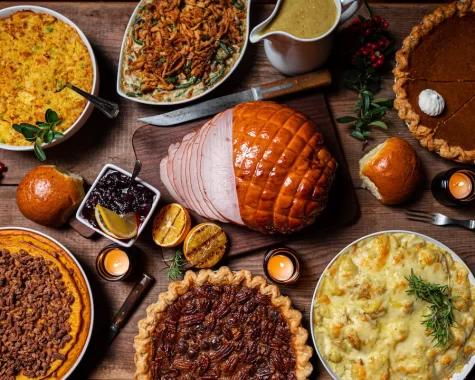 As the holiday season approaches and the cold weather starts moving in, students are already planning their trips home for the upcoming breaks. With daylight savings time ending and snow getting closer and closer, it is only a matter of time before students start leaving campus one by one to go home. Reporters for The Beacon and Beacon Web News took to campus to ask students about their plans for Thanksgiving break, how they're feeling about finals, and their feelings as the semester starts coming to an end.
For most students, home is not too far away, so the holidays are a time to relax with their family and take in the time spent away from campus. Delano Mills '23 shared in an interview with The Beacon and Beacon Web News that he's most looking forward to "resting, and not having to worry about assignments for a week."
Because finals are creeping up on students, relaxation seemed to be a common theme across campus. Freya Langley '26 also expressed her excitement to go home and just spend quality time with her family. She shared that her family doesn't celebrate Thanksgiving traditionally, but she still looks forward to going home. "I wouldn't consider it a big deal to my family," Langley said, but they still gather together and eat the traditional turkey dinner.
Turkey wasn't the only dinner students shared they'd be eating on the holiday, as a few have different traditions. Mills explained how his family is Jamaican, so most of the food filling the table on Thanksgiving for him will be Jamaican dishes.
Randy Adams '23 also shared his non-traditional dinner, saying his family gathers to make tamales for Thanksgiving, as well as having ham. "This is the first time I've celebrated Thanksgiving with my family in five years because I'm always at school," Adams said.
When asked about the rest of the semester, Adams said he's not necessarily worried about finals, but he's looking forward to the breaks and to spring semester. "Baseball season's coming so I'm excited," Adams said, before expressing his excitement to go back home and "go to the beaches".
For some students family is not as close as they'd hope, which is the case with Jayde Meribela '26 who hails from Hawaii. She shared her usual Thanksgiving traditions of visiting her grandparents' house to make pumpkin rolls, pumpkin pie, and cranberry sauce. "I'm not going home, but I'm excited to FaceTime with my family and see them all together in one house," Meribela said.
And as always, students are mostly just looking forward to finals being over and finally being able to go home. Mills shared that as an arts major, he only has final projects which are all art pieces, so the end of the semester is already planned out for him. Some students don't have that kind of luxury though, as tests and studying are looming over their heads.
Mike Bankowski '25 expressed his stress towards finals, saying he's working hard to get his grades back up and just looking forward to seeing his family again. Meribela seemed to be in a similar position, sharing her nerves towards her only final exam. "Studying for one class is better than studying for all of them," Meribela said, before saying that she's just ready to go back home to her "80 degree weather and beaches."