Video Games Club hosts first day of Super Smash Brothers Tournament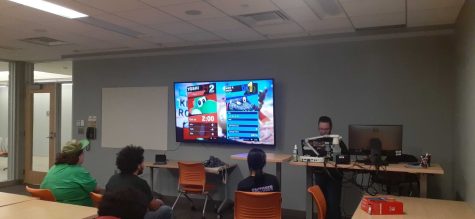 The Tabletop and Video Games Club's first end-of-semester Super Smash Brothers Tournament took place on December 2nd in Bowman 324. The event has taken place every December for the last few years.
Super Smash Brothers is a fighting game in which two or more players duke it out as characters from a plethora of different video game franchises from Nintendo's Mario to Ryu from Street Fighter to Pikachu from Pokémon, among many, many others.
Recently Smash Bros has become an e-sport, with professional teams and individuals around the world competing for monetary prizes and to see who possesses the greatest skill. This tournament was not as heavy as those undertaken by professionals.
The rules were simple: Whoever knocks the other out of the ring the set number of times (in this case the participants were given four tries) wins the match and the loser is reincorporated into a different bracket. TVGC president Leo Skoble oversaw the event and kept track of the winners in a bracket system. There were ten participants, half of them playing casually, with the other half having a previous idea of how the game worked before arriving. This combination proved to be fun for all participants and a welcomed distraction from the stresses of the last weeks of the semester.
The colorful visuals of the game, which pop and flash in a way that demands the viewer's attention, made even spectating the matches lots of fun. Although there would be those who won and those who lost, there was no animosity between players, as everyone was there to have a good time. Everyone cheered equally for those participants going head-to-head. There were many tense moments throughout, from sudden death overtimes, final smashes (a finishing move with lots of attack power) and surprise upsets in each match that was played.
Some of the participants were there to prove their skills, and it was those individuals who were the most knowledgeable in assisting the casual players on how to play. The attendance may not have been very high, but those who attended the event had formed a small community of people who gathered around video games in order to enjoy themselves for a little while.
As the fights continued the intrigue grew higher among the combatants. Who would be in the top four? Whose skills would prove to be the best out of the group? A little competition may be healthy even in a tourney as casual as this.
The final matches commenced and after all was said and done, four combatants were left standing. Jenni Murphy, Jason Herffernan, Roni Bella and Ben MacFadzen were those four. MacFadzen, playing as fan favorite King K. Rool (an anthropomorphic kleptomaniac crocodile), ultimately won first place. Congratulations were passed all around to those who took part, and MacFadzen will hopefully be able to make it to the second Smash Bros event on Monday, December 5th.
Even this late into the semester events are still taking place, and the Smash Bros Tournament serves as a reminder to all students to take time for themselves as the semester wraps up and to have some fun even as the workload increases.