From Hobart to MCLA, Edge reflects on time as student athlete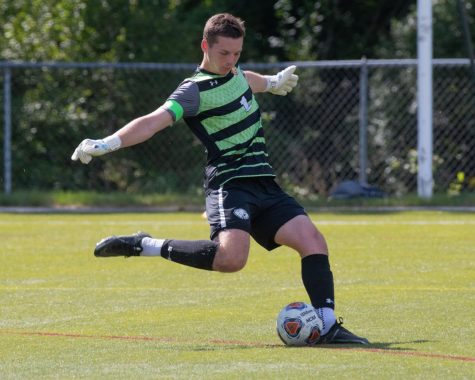 In an interview with The Beacon, Senior goalkeeper and captain of the Men's Soccer team reflected on transferring to MCLA and his time as a student athlete. Sam Edge is majoring in Psychology with a minor in Business Administration.
In his final season, Edge put up 100 saves, had 5 shutouts, and a save to shot pct of .775. The MCLA Men's soccer team finished 5th in the MASCAC and had a record of 5-11-1. Edge finished the season ranked second in saves made in the MASCAC, he also made the MASCAC All Conference Second Team, along with Marcos Lopez, SO. Edge was also voted onto the New England Division III Senior All Star Game, with fellow teammate, Wesley Call, Sr.
Overall, "we had a good season, we didn't finish the way we would have liked but there are a lot of positives…the future is bright for the team," said Edge.
Edge currently has an internship with the athletics department, where he assists Athletic Director Laura Mooney with a variety of projects and works basketball games. Through the internship he hopes to gain crucial experience in the athletic administration field. After graduation, Edge's immediate focus is to "work in an athletics department to start gaining experience and to soak in as much information as possible."
This is Edge's first year as the President of the Student Athlete Advisory Committee (SAAC). "SAAC is student athlete run organization that helps make changes in the student athlete experience, and an opportunity for student athletes to really voice their opinions in order to positively impact their experience," he said. Some events he has helped organize are Mental Health Day and the fall season Pride event.
Edge originally attended Hobart College but transferred to MCLA in the fall of 2019 due to, "having the opportunity to play soccer and MCLA is a lot cheaper than Hobart, and [Hobart] was a little too far away from home; being close to home is really important to me," said Edge.
Edge's biggest challenge was, "acclimating to MCLA coming from Hobart…[Hobart] is a very different school than MCLA, and it was a whole new social environment with new friends…so it was difficult navigating that at first," he said. This transition from Hobart to MCLA was made easier by the close relationships he made with fellow teammates and alumni.
Edge is from Williamstown MA, and is the son of Jane and David Edge. Edge's mother was born in Manchester, England, and his father was born outside of Dublin, Ireland. Having parents from Europe meant being introduced to soccer at an early age.
"I was born watching soccer, it was the only sport I was allowed to play…I had a tough high school experience and I quit the team at one point but ultimately my passion for the sport brought me back and moved me to transfer to MCLA after my freshman year…I play soccer for my family and for Coach Hildabrand who believed in my abilities and trusted me," said Edge.
Moving on from life as a student athlete is challenging and part of overcoming the loss, "is still trying to be a part of the game as much as possible through coaching or something like that. I was physically ready to be done with soccer… I am content and I don't have any regrets with how I played or how my soccer career went so I think I have closure in that," Edge said.
The overarching theme of the interview with Edge was that he was very happy with his decision to transfer to MCLA. "Very happy I transferred…I think division 3 is the great balance between academics and athletics…the athletic department does an excellent job at engaging with the student athletes. They are approachable and work very hard to make sure we have the best student athlete experience, and creates opportunities for student athletes to have success," said Edge.