Despite Slow Start, Women's Basketball Remains Determined and Hopeful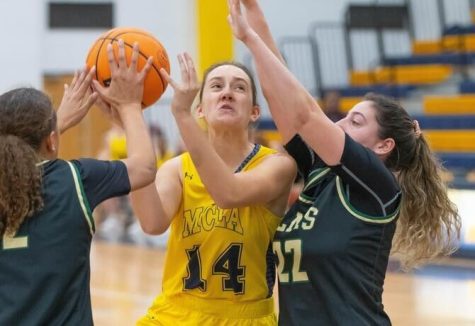 The MCLA Women's Basketball Team hasn't had the start they had been hoping for. Despite starting off 2-1 with wins over Lesley University and UMaine at Presque Isle, the team has dropped their next six, sitting at 2-8 on the year.
Lack of defense thus far has been a huge reason as to why the team has had this slide as of late but they believe that fixing the issue and developing the team chemistry behind it will help them to win more games and be competitive for playoff time.
"I think that defensively is where we really have to start to hold our hat," said Head Coach David Bostick. "We have to become better, become more aware of our surroundings, our rotations, and make sure we're in the right spots to stop giving up so many easy baskets," he continued.
A lot has changed between last season and this season. One obvious difference being the roster size compared to last year. With some members of the team graduating in the middle of the season last year, it made it more difficult for the team to be able to fully run practices based on the number of players available.
"Just being able to have a full practice and get ten women out here who can push each other and get a little bit better, it was so hard trying to run a practice with seven or eight women in practice, you can't scrimmage, no one knows how it is when someone else is in their face until a game," said Bostick.
The new roster includes eight new freshmen, with many of them already receiving huge minutes as starters or players coming off the bench. The transition from high school to the NCAA level is tough for any athlete, but Bostick feels that each of them has made the remarkable transition from the start of preseason all the way up to where they are currently.
"Being a freshman is tough, especially when you're going from a high school team where you might have been the best player or one of the top two players coming to a team where you have similar, equal talent around you on a consistent basis," he said. "A lot of people don't get the option or chance to play as freshmen, you get a chance to learn. With our makeup from last year, you're thrown right into the fire. You had to really learn quick, it's like learning on a job."
"I think our freshmen took on the challenge, and as each game has gone, we've gotten a little bit better, had a little bit more understanding, got a little bit more of live game reps, just getting a little bit more comfortable with each other and how we're going to play for the remainder of the season," he continued.
Not only have they been able to learn quickly, but many of the newcomers have had memorable performances throughout the season. Zaylee Ramos '26 has led the team in scoring in six of their nine games, with Kristie Zator leading in scoring in two of their games. Other players, including Hailey Peabody '26 and Meghan Stevens '26, have started multiple games for the Trailblazers as well.
However, leadership from the returning players, specifically Maddie Teta '23, Brooke DiGennaro '23, and Olivia Pressley '23 have been key for the Trailblazers both on and off the court. Bostick relies heavily on leadership and experience and feels that without them, the team would not be where it is today.
"When you're coming in, and you have eight freshmen on your team, you look to those senior leaderships," he said. "It was great that Olivia came back and did her grad year, her leadership has been absolutely needed, Maddy dealt with some injuries early, now she's starting to get back into it, and Brooke is Brooke. Brooke has always been that staple that's going to give me everything I need both on and off the court, so their leadership court, so their leadership has been invaluable, and without them, I don't know where I would be at," he continued.
At this point in the season, the team's main objective is to be able to make the playoffs and reach the final form they want to be in to be competitive and compete for the MASCAC championship. To do this though, they have set some smaller goals to reach along the way to help them on their way to the main figure.
"Our main goal is to make the playoffs," said Bostick. "But, to come into practice every day and compete better, understanding that the process is frustrating, there are sometimes where some things that you weren't asked to do in high school, I'm asking you to do college and just understanding that and knowing that it's going to be for the best overall for yourself and for the team what we're asking you to do.
"As we progress throughout the season, our goals are to make sure that everybody is contributing to the team in a positive manner, making sure that when times do get frustrating, that we are there to lean on each other and not let it get too frustrating to the point where we aren't enjoying this," he continued.
Overall, Bostick believes that with improvement on the defensive end and team chemistry, along with the already good offense the team provides, the Trailblazers will be able to have a great season and reach that ultimate goal.
"I think right now, we're going through some growing pains," Bostick said. "We're very young and we're trying to really fix all of our chemistry issues, so that we can start to play more of a cohesive unit," he continued.
The Trailblazers will finish off the semester with two away games, traveling to New York on Tuesday to play Bard College, followed by a trip to Boston on Saturday to play Wentworth Institute of Technology.