Meet Aspiring Student Musician, Jam Sauce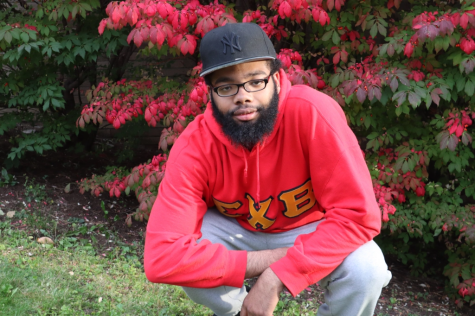 You may know him from your classes as Jamarri Young, you may know him from unaffiliated social events as Fritz. But it is most likely that you know him as the rapper Jam Sauce (in fact he is so well known as Jam Sauce that during the interview a passerby shouted, "Yo, Jam Sauce!"). Young is a senior and a business major from Boston, Massachusetts, and describes himself as a goofy guy and a lover of sounds.
Young got into music relatively young and says he has always been a fan of music. At the age of 14 he met his friend Jacobi (Stage name Svii) and they bonded over a mutual love of music. Young loved the way his friend's music sounded and through his encouragement he started making music, too. In his music, Young cites artists such as Roddy Ricch, creator of the song "The Box," as well as The Weeknd as his inspiration. Young also draws inspiration frome events happening in his own life, such as relationships and heartbreak.
To make music Young uses the program Studio One which was gifted to him for free by a fellow producer. Young said, "That's what kept me going with music." Studio One is an entirely digital music mixing software and is an incredibly powerful tool for those who don't have access to their own recording studio.
When asked, Young said that he does consider himself an artist. He also said that while he considers lyrics and delivery, he focuses on the sound of his music and how it makes a listener feel; whether that is making them feel good or making them feel sad. As for what is next for Young, he says he is in a place of transition musically. In his artistry he now has a focus on high energy music that makes people have fun. It is also his plan to stick with music after he graduates.
If you would like to become a listener of Jam Sauce, you can check out his SoundCloud under the same name:
https://soundcloud.com/jamarri-young-761769533.