February's First Friday: A Cozy Alternative to the Cold Weather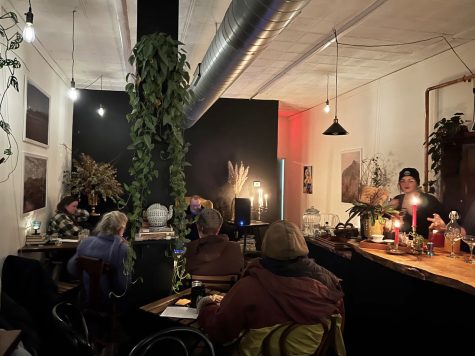 On Friday, February 3rd, small businesses and art galleries on Main Street and Eagle Street of downtown North Adams stayed open late to celebrate the First Friday of the month. Although temperatures were in the negative, this didn't stop the local shops from holding cozy Valentine's Day & "I Love North Adams" themed events, drawing people in and out of the cold.
Within Savvy Hive of 53 Main Street, a Valentine's Day themed pop-up shop, curated by Brooke Moore of Babe Botanics, held its opening night. A selection of vintage clothing such as silk blouses and other vintage items in the Valentine's Day color scheme, were displayed off on one side of the room. Customers were also able to put Valentines into little brown bags.
Jessica Sweeney, owner of Savvy Hive stated, "I asked Brooke to come and do a pop-up shop here." she then added, "Normally within Savvy Hive I have my own collection of second hand, pre-loved vintage, with a mix of handmade and local goods."
When talking about her intentions with the pop-up shop, Brooke Moore stated that the display was, "A little something to spread our love to North Adams. It's a little nod to elementary school. When you would have students with little brown bags on the wall with Valentines. It's our way of bringing that back to the community. We're really excited."
Just up the street, The Plant Connector was holding a Valentine's Day themed event of their own.
Emilee Yawn, co-owner of the shop said, "We're doing a little Valentine's Day scavenger hunt. So, throughout the store we have little fortune cookies that have coupons and free terrariums and little surprises and prizes within them."
The Plant Connector has been involved in First Friday events for a while. "This is our 21st First Friday. We used to have artists take over the space, but now we have people come by and make art. It's a fun type of little event," said Yawn.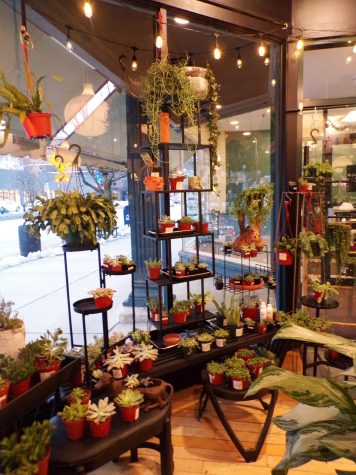 When talking about First Friday events in general, Yawn stated, "It's so cool to know that every place has something really fun going on," and then added, "The community really stands by its small businesses."
Just down the road, within the gallery space of 40 Eagle Street, Alison Pebworth spoke about the event she was hosting within her studio space.
Pebworth, who is within "a yearlong research and development residency with MASS MoCA" said, "To be in alignment with the First Friday's, I've been trying to do something different each time. Tonight, I invited Beth and Phil to play. They're going to be doing improvisations of violin and guitar while I'm doing spirit drawings."
This combination of artmaking and live music worked well to bring in a crowd from the cold. Pebworth explained, "We're doing everything we can to make it warm and cozy for people in here."
Right across the street, within Future Lab(s) Gallery of 43 Eagle Street, Sonia Domkarova was hosting a First Friday reception for a exhibition titled "Hot Colors." This vibrant display included acrylic paintings, collage art, and a sculpture.
When asked about the display Domkarova explained, "The exhibition topic was "Hot Colors", and artists were supposed to submit work related to the topic. I'd say 95% of these artists were from North Adams, Adams, or Williamstown. And there are about twenty-plus artists being displayed."
According to Domkarova, all pieces in the gallery are usually displayed for around a month.
The final location hosting a First Friday event was the tea shop and healing and arts lounge, Hearts Pace, of 15 Eagle Street.
Beau Barela, of Heart's Pace said, "We have mocktails that are all inspired by our tea list, and we have a musician joining us tonight. His name is Todd Reynolds and he's a violinist." Barela also said that the shop usually has live music and mocktails for all First Fridays.
When speaking about the cold conditions of the evening Barela stated, "The weather may at first be a deterrent. But also, since we're offering hot tea and music so it might be nice to get out of the house and enjoy downtown festivities and hang out."
To that he was right. When Todd Reynolds began to play his improvised violin pieces, the candle lit tea shop filled up with over fifteen customers sipping hot tea, mocktails, and enjoying soothing music on the frigid February night.
First Fridays are held on the first Friday of every month, rain or shine. If interested in seeing great community building events like those explained above, be sure to swing by downtown North Adams on the evening of March 3rd.