MCLA Basketball: Despite setbacks over break, strong return to the season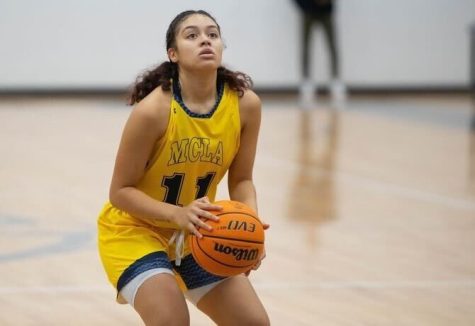 For most students and professors here at MCLA, winter break serves as four weeks to relax, catch up with old friends and family, and start preparing for the spring semester. However, for student-athletes and coaches, specifically Men's and Women's Basketball, a season still needed to be played.
As a result, both teams returned to the Berkshires shortly after Christmas to prepare for their 2022-23 seasons.
For many of the players, it was certainly an adjustment to make, with nobody else on campus, and little activity going on in North Adams. As a result, it helped both teams to really come together with their chemistry on and off the court, along with the motivation to perfect their craft without the stress of academics.
"As I found over many years of doing this, the greatest benefit that time period has with the environment just being [the players], is just a lot of those guys really get to know each other pretty well for the first time," said Men's Basketball Coach, Derek Shell. "When you have classes, yeah you are practicing together all the time, but you got to practice, and generally freshmen aren't going to hang out with seniors or vice versa, but during that period of time, it's just them."
The players also agreed. Without having the worries about managing practices, going to class, and completing assignments, it allowed them to fully focus on the court, creating an easier transition to get back into the swing of things.
"We were actually very glad that we got to come back early because we were like 'okay, we can get back into the swing of basketball without having to worry about other things,'" said Zoe McGee '26. "I think it did help us to focus on basketball and just basketball, because we did get to learn a lot of new things, and we could pick apart those things and run through things that we needed to."
For the women's team, that time was extremely valuable, as they got the chance to do activities both on and off the court every day during that free time, which as a result, helped to grow the bond amongst the players, especially with how young their roster is.
"I think team chemistry is huge for this team because we are so young," said Women's Basketball Coach, David Bostick. "We pretty much eat our meals together and practice together all day, and because it's really just us here in the townhouses, they pretty much hang out," he continued.
Nearly every day, both teams would have two practices, one in the morning and one at night, to learn plays and apply them in game situations on the court. Additionally, both teams played several games during those two weeks as well.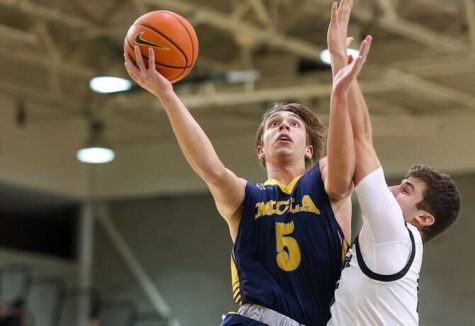 The Men's team went 2-1 during that stretch, picking up wins against Westfield State and Framingham State. On the Women's side, the team went 0-4 during that time.
A factor that may have been overlooked during that stretch was the fact that there were not many fans at the home games during the break. For some players, it did not have an effect, especially since there was a time last year where fans could not spectate due to COVID. On the other hand, other players, especially the younger players, were not used to it.
"I play off a crowd, so if the crowd's there getting hyped, then I'm like 'okay, let's get into this game,'" said McGee. "So, it was just the men's basketball team cheering us on, and we're all like 'man, I wish we had people here,' because it felt like we were still in COVID when people couldn't come to games, so it definitely felt weird."
While both teams experienced triumphs throughout the year, they also had to over adversity as well. On the men's side, Dylan Morris-Gray '23, who has been the second-leading scorer for the Trailblazers, suffered a concussion during the break and has not been able to partake in any games since then.
However, he has still been able to have an impact on the team off the court, and it has allowed for younger players, such as Korey Greenland '25 and Jojo Garcia '25 to fulfill his role and gives them a chance to earn more playing time for the future.
"Dylan on and off the court, it is his positivity and energy that really shines through," said Shell. "Despite the fact that he hasn't been able to participate with us much during practices or games, he is still always at as many functions or events as he can, and he's always super positive and supportive of the guys."
For Women's Basketball, three players, due to different circumstances, left the team during the middle of this season. With an already younger roster and only seven players in the starting rotation, it has created more opportunities for minutes and new roles throughout the entire team.
"I think everyone had to take essentially a check on what they were going to be a part of on this team and had to really advance their roles," said Bostick. "With the smaller roster, everyone needs to contribute something… They all have stepped up and played a different role than what we talked about at the beginning of the year."
As the regular season begins to wind down with only four games left each and each looking to secure a spot in the MASCAC playoffs, the Men's team, sitting at 7-12, and the Women's team, sitting at 4-16, both travel to Framingham State on Wednesday to play the Rams.