The Countdown to Commencement Continues, Less Than 100 Days Left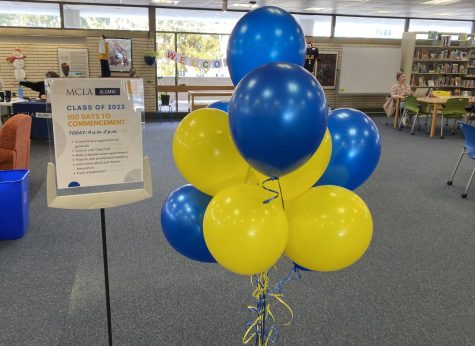 On Thursday, February 2nd in Freel Library, various students, faculty, and staff gathered to celebrate the 100-day countdown to commencement. The event allowed seniors to celebrate with their classmates, and check off tasks on their lists in order to be set to graduate in May.
The event had multiple resources for seniors, including free professional headshots, the vote for the Class of 2023 gift, the ability to apply for graduation, a table with Career Services to review resumes, information about the Alumni Association, and more.
Although 100 days may seem like a long time, President James Birge insists that it goes by fast, and for seniors to really soak in their final semester. "It's a busy time for sure, but it's also really exciting to think about what's after for students in their lives," said Birge.
He added that the countdown event is one of the easiest ways for seniors to ensure they have all the assets they need to graduate, all in one place.
Josh Mendel, Director of Corporate Engagement and Strategic Planning, agreed upon the significance of this event to seniors. "This is a great event, and a really nice opportunity for our seniors to have these types of resources available," he said.
Mendel was also promoting a Networking Social event being held on February 16th in Murdock 218 from 12-1pm, which is bringing multiple local Berkshire County businesses to promote summer jobs, internships, and full and part-time positions to students on campus.
He stressed that this event was not only for seniors, and that students of all grade levels were welcome to network and have conversations with these local businesses.
Ian Crombie, Treasurer of the 2023 Class Council, was also present at the event, with a table allowing seniors to vote for their class gift. He explained that the options this year included a swing set, picnic tables, and new and updated campus signage.
He also noted that if seniors couldn't make it to the event that day, that an email would be sent allowing everybody to vote on the class gift.
Also present at the event was Doreen Kleinman, the Associate Director of Alumni Engagement. Her table offered a QR code linked to information about Commencement, pamphlets detailing everything about the Alumni Association, and information on upcoming programs run by the Alumni Association.
Kleinman wanted to really emphasize the importance of becoming an alum to seniors, and make sure they're all welcomed as soon as they cross the stage.
When asked about what seniors can take away from the event, she said she hopes that "They can start to hear the word alumni and become familiar with it, and hopefully remain active when they graduate."
With over 19,000 members and growing, the Alumni Association is always reaching out to students to make sure they're as prepared as they can be before May comes around.
"The school is working together to get all of this valuable information to them and make it as easy for them as they can," Kleinman said.
With less than 100 days left until another class of students graduates, President Birge reflected on the class of '23, and what it's like to see his students cross the stage year after year.
"I want them to feel like even though they're graduating, they're not leaving the institution, they're just taking a new chapter in their life," Birge said.