URINETOWN: A Heartwarming Comedy About… Pee?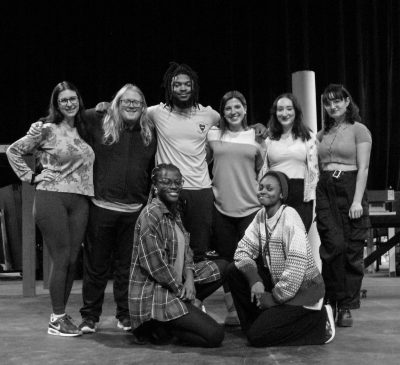 The MCLA Theatre Department is presenting its first musical since the pandemic, and it is not one to miss.
According to the department, URINETOWN features the story of "a dystopian city, (with) a terrible water shortage, caused by a 20-year drought, has led to a government-enforced ban on private toilets. The citizens must use public amenities, regulated by a single malevolent corporation that profits by charging admission for one of humanity's most basic needs. Amid the people, a hero decides that he's had enough and plans a revolution to lead them all to freedom!"
A multi-Tony awarded show, URINETOWN is an irreverent satire that critiques capitalist systems, corrupt governments, and greed. MCLA's production of the show will be directed by Associate Professor, Laura Standley.
Here at MCLA, the Theatre Department is pushing boundaries and is "finding inspiration in our current moment, taking cues from modern pop star icons like Lizzo and Cardi B, and skewering that strain of extremely wealthy tech-bro billionaire that seems to dominate the news cycle these days."
This follows trends of popular films with similar anti-billionaire themes like Glass Onion and The Menu, demonstrating how MCLA's theatre department has its finger on the pulse of what audiences want.
Assistant Director Georgia Dedolph '24 states "this project is an important critique of monopolization and capitalism, yes, but ultimately, we as artists needed to have a good time and laugh together in a world where fun is not the priority. Sometimes you need to make fun of the ridiculous world we live in today."
URINETOWN may be "taking the piss out of" mega-cooperations and the ultra-rich, but the show doesn't take itself seriously and encourages the audience to laugh at the ridiculousness of these issues.
There would be no show without wonderful and talented actors, and they are elated at the opportunity to reinvigorate the MCLA Theatre Department with their first musical in years and are eager to perform for the MCLA community.
One such actor, Madilynn Brothers '26 shares, "Throughout the pandemic, I think we all felt not only lonely but silenced. URINETOWN has given us a chance to come together and not only be a community but make each other laugh by doing something we all enjoy."
Aeden Maginnis '25, who is playing two characters (Old Man Strong and Hot Blades Harry), is thrilled with the rehearsal process so far. "We've been learning the songs with our musical director, Trevor Wheelock, then we block the scenes and dance numbers, and now we are in the theater to begin bringing all the pieces together. With a breakneck pace, the rehearsal process is going well, and the cast cannot wait for opening night," Maginnis said.
Rachel Lamarre '25, who will be portraying Penelope Pennywise encourages students to come out and support the show. "It is a satirical show, there are so many good funny, yet heartwarming moments in the show and if you come you will be laughing. Also, the songs are amazing, you will leave with them stuck in your heads," she said.
Ysabel Cardona '25 is enjoying the rehearsal process, "it has been really smooth so far, and it is really nice for everyone to come together to all work on something we are so passionate about!"
Finally, a new addition to the MCLA Theater Department, Alison Blakeslee '24 is joining the cast as Hope Cladwell, the heroine of our tale. Alison is joining the MCLA Theater Department as a cast member for the first time and "feels extremely welcomed by the theater community here". Alison encourages students to come, she feels that people will "come for the potty humor but stay for the heart".
You can catch the opening of URINETOWN: THE MUSICAL on April 21st at 8 pm in the Venable Theater. The show will also be run on April 22, April 28th, April 29th, and April 30th, all at 8pm.