Travel Course Sets Sights on Ecuador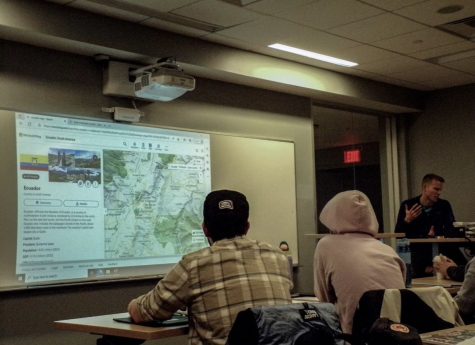 MCLA's spring break travel course has had to shift gears and choose a new location amidst the political unrest happening in their initial destination of Peru.
The class, led by Professor David Cupery —professor of Political Science, had originally planned to travel to Peru and visit places such as Machu Picchu and the old city of Cusco. However, in December of last year, an attempted coup resulted in the arrest of Peru's former president, Pedro Castillo, and has led to many protests by Peruvians.
"Peru is in the midst of a nationwide social protest movement," said Cupery. "What that means is, lots of roads are blocked, airports are not always open, and no access to certain sites that we were going to go to."
Early into the semester, it became clear that traveling to Peru would not be safe, so the class was able to choose between two alternative options – Mexico and Ecuador. They ended up voting on the latter.
"We switched to Ecuador because it's a country that has a lot of similarities to Peru in the sense that they're neighbors, the geography is similar, there are some historical and cultural similarities," said Cupery. "So as far as the things that attracted students to both the destination of Peru and the things that they'd study, switching to Ecuador wasn't a full 180."
Despite the similarities between the two countries, Dr. Cupery did have to adjust the syllabus of the class to focus on Ecuador rather than Peru, something that he said was challenging to do in the middle of the semester. However, students in the class had nothing but praise for how Dr. Cupery handled the situation.
"All praise to Professor Cupery because in a matter of about two weeks, he created a whole new syllabus for the class, rescheduled all of our flights, rescheduled all of our hotels, and came up with a whole new itinerary for the trip," said Jack Anderson '23. "He really turned something that seemed like a negative into a positive."
The group will fly into Quito, the capital of Ecuador, where they will be able to sight-see in the city and also will be attending a soccer game. Then they will travel to the Galapagos Islands to observe the wildlife and biodiversity and take part in activities like snorkeling, hiking, and going to the beaches. Finally, they will be going to stay in an Eco Lodge in the Andes Mountains, which is owned by an MCLA alumna.
Although the changes were last minute, students shared that they are happy with the new itinerary and are excited for the trip. Domenica Gomez '23, another student in the class, is originally from Ecuador and is looking forward to returning home.
"I am hopefully looking forward to seeing my family that I haven't seen in a little bit, and then also going to the Galapagos because I've never been there before even though I am from Ecuador," said Gomez. "I think that my country has a lot of really rich biodiversity and I'm excited to be able to spend some time in the warmth."
"For me, it's a lot of weird simple things [that I'm looking forward to]," said Anderson. "Like, I've never been to the Pacific Ocean, and I've never been outside the country besides going to Canada. I'm really looking forward to the cultural immersion aspect, and being able to see, listen, taste, and feel what it's like to be in another country."
The class, which meets every Wednesday, covers a wide variety of topics about Ecuador, including politics, history, and culture, among other things. They regularly do current events presentations in which they can share information about Ecuador relating to any field of study. They also have an optional Spanish group for students who are interested in improving their Spanish speaking skills.
There will be 16 people going on the trip, including 14 students and two professors – Dr. Cupery and Dr. Eric Doucette – and they will be gone for 11 days total.
The travel group is looking for student van drivers who will be able to transport them to and from the airport. The process of getting van certified typically takes a week and is an opportunity for students looking to make money. Anyone interested in being a van driver should reach out to Public Safety.