Dance Company's Resurgence Post-Covid
Lily Richard, Arts and Entertainment Editor
February 16, 2023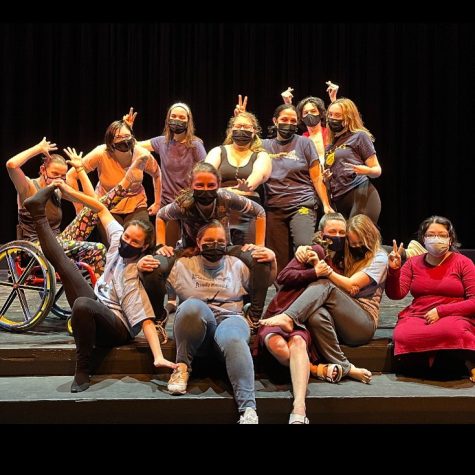 The MCLA Dance Company is hoping for its biggest show yet in its first upcoming showcase this year.
"It's the first time in about 20-something years that Dance Co. has been around that there haven't been two shows in a year. So, we're really trying to make this like a big, fun, exciting show, more than we could in the past," said Charlotte Kane '23, Co-President of Dance Company.
Due to construction in the theater space in the Fall 2022 semester, Dance Company decided it best to wait until the current semester to have their showcase and aspire to have something for everyone in it. They also hope to use both semester budgets to revamp their costumes and have technical help with the showcase.
"When you're a student choreographer you have the option to do whatever style you're interested in. In this showcase we have contemporary, there's hip-hop, tap, character ballet, there is a very wide range of dances and something for everyone to come in and enjoy," said Rachel Lamarre '25, Treasurer of Dance Company.
The performance will have seven dances, two of which have been choreographed by MCLA and Dance Company Alumni. The club currently has 14 members and is always open to recruiting more people.
Referencing her freshman year in 2019, Kane said in an interview with the Beacon, "We're always looking for more people…we were in the club when there were over 50 students in the club."
Since the pandemic, club numbers have decreased, though recently they have seen an increase in interest, including from potential incoming students. The club strives to be something for everyone.
"We are a very accepting and open club; our members range from people who have been dancing for almost all their lives to people who have little to no prior dance experience. The kind of dancing that we do is conducive to everyone earning from all different levels of experience…I think that's really important because it shows that we're a family, our own community," said Grace Krzancik '23, Secretary of Dance Company.
They have recently updated the way to join the club, to make it less intimidating.
"Something we implemented and changed for this semester was that we aren't doing auditions anymore, we have an open call where anyone can join and we talk about what the club is about, what we're going to do, and the types of dances… we decided to do it in a way that is less intimidating," explained Domenica Gomez '23, Vice President of Dance Company.
The open call was held in January, but they encourage anyone to join. For the next two weeks, there is time for people to join and still be in this semester's show. The club has weekly meetings at 6:30 on Sundays in the campus dance complex on the first floor of the Campus Center.
You can stay updated through the semester through their Instagram, @mcla_dance_company, and their Facebook "MCLA Dance Company."