Spring Sports are Starting Soon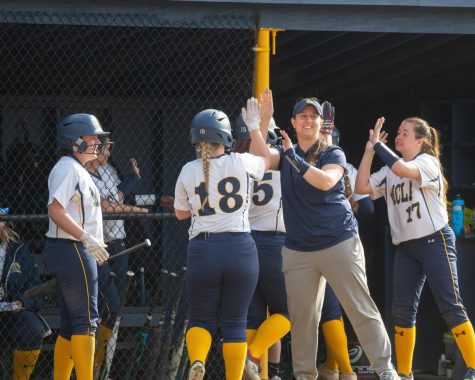 Baseball:
The team is emphasizing the aspect of being "family" this upcoming season, both on and off the field. Coming off an 11-27 record, the team felt separated at times and has worked hard to strive for the same goal of a MASCAC title in 2023.
"I feel like last year, a lot of us were kinda close, but at the end of the day we weren't family," said Matt Belfance '25. "I think one goal we're trying to strive for this year is trying to be more of a family, be more of a cohesive unit, and just trying to get the job done both on and off the field."
Much of the team looks different within the last year as well. However, one crucial element that has remained is the leadership of the team. 2022 captains Bryan Rosario, Randy Adams, and Austin Rachiele have all returned to their respective roles this upcoming season, and with their experience of going through last season, have the knowledge and motivation to not let it happen again.
"Our captains are extraordinary," said Belfance. "Bryan is like a family guy, he's always checking in on me, checking in on everyone, making sure everyone is doing alright, and that's the same kind of thing with Randy…now that Richele is back, he's been on at helping every guy with their swing and everything else."
"I think it's been a huge comeback for us. I think we definitely needed all three of them, and they each do their own role to help us develop and get better," he continued.
While many players from last season have graduated or transferred out of MCLA, the team has brought in a talented freshman class and incoming transfers that can contribute right away for the team. With added depth, the team has different options at positions and guys who can contribute off the bench.
"It's definitely nice to have a good recruit class coming in, they all work hard," said Belfance. "We're all hungry for a spot, we all wanna play, and I think that's a great motivator."
The team has recently come together from winter break and has gone straight to work. Weeks for them consist of lifts in the morning, bullpens and batting practice in the afternoon, and team practices at night almost every day of the week.
Players have also been focusing on attacking their weaknesses as individual players, in order to be well-rounded as a whole during these practices and believe it will be key to creating even more depth as the season goes on.
The team begins regular season play, with the team starting out their season on a trip to New York City, where they play a doubleheader against the Yeshiva University Maccabees on February 26.
Softball:
The team is coming off a 5-30 record entering 2023, with many different obstacles they had to endure. With a few injuries occurring with some of their players and with a smaller roster, the same lineup and rotation would be put out, which affected players physically and mentally with everyday play.
However, many distinct aspects this season look to have the team turn their fortunes around. Much of the previous season's roster is returning, including All-MASCAC second team member and stolen base record holder, Maddy Teta '23, along with captain Sarah McMahon '23. With a talented and deep freshmen class joining the team this spring, the leadership they have been able to bring has been crucial to their development within the program.
"The leadership from the senior team has been very strong from what I've seen, not just on the field but also off the field," said Hailey Peabody '26. "They know how to manage, influence, and inspire everyone on the team. I've seen our players handle difficult situations and keep the team engaged and focused."
In addition to the leadership they've brought onto the field, the seniors have been crucial in the development of team chemistry as well, whether it be in a school setting, athletics, or just hanging out with one another.
"We have been able to develop our team chemistry by hanging out with each other in class, outside of class, or even playing on another sports team together," said Peabody. "I would say that we have a really strong and connected team chemistry."
As they enter the season, keeping composure and a clear mindset while continuing to work hard on and off the field serves as the crucial goals for them as they look to compete for the MASCAC title.
The team begins their road to the title in their annual Florida trip during spring break on March 11, as they play a doubleheader against the Finlandia University Lions at 9:00 AM, followed by the University of Wisconsin-Superior Yellowjackets at 1:00 PM.
Men's Lacrosse:
Since its inaugural year in 2020, the Men's Lacrosse team here at MCLA has slowly, but surely, been building up a core. Over its four-year history, the program has experienced many highs and lows, with two of the seasons having been canceled due to the COVID pandemic. The program played its first full season last year and finished the year 4-9. The team also has had many different players come and go already in the short span.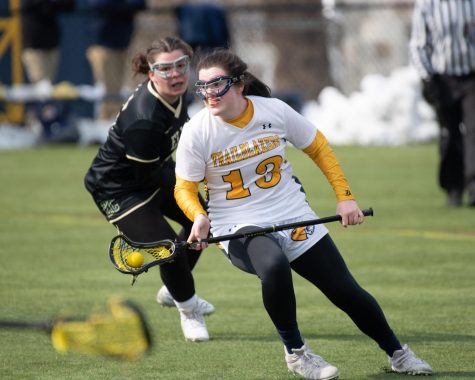 "It has been hard because COVID really was unfortunate," said Matt Ortiz '23. "We had a lot of guys at that time and then due to COVID, we lost them."
However, with the work Coach Kevin Pezanowski has put into the recruiting side, the team now has 20 players entering 2023, the most since the team had 15 players in 2020. With added depth, the team can have players stay fresh throughout the games and will be key down the stretch.
"Having this new squad of guys, it's nice to see how much we have improved and how much we've come together, we've been a whole lot closer than in previous years," said Ortiz.
In addition to Ortiz, who will be serving as a team captain this year, many players from the program's first season are still here, including seniors Brandon Murray, Matthew Wallace, Daniel Smith-Colquit, and Nate Allen —who is also serving as a team captain. The team also has reigning NAC Rookie of the Year winner, Nate Haley '25, and eight new freshmen coming into the program this season. The mix of veteran leadership, youth, and depth looks to be key for the Trailblazers.
The team has gotten straight to work since coming back from winter break, with film analysis and practicing being key parts of their preparation.
"We've been watching film a little bit, definitely been looking at different formations we will be going up against, and Coach Pez has been working real hard with us, offense, defense, and trying to prepare us for this new coming season. As a team, we've been hard working from the start, and the fact we've gotten this time is very crucial," said Ortiz.
The team's mindset is to just take it "one day at a time," both on and off the field. They hope by continuing to work hard and going daily with their progress will help them achieve the goal of winning the NAC title.
The team will put their work to the test with a scrimmage this Saturday, February 18, followed by their first regular season game at home, as the Mitchell College Mariners travel up to the Berkshires from New London, Connecticut.
Women's Lacrosse:
The women's team is coming into 2023 off of their first full season in three years, with a 1-11 record. The team, unlike other schools, is open to players who have played all their lives or those who have never picked up a stick before. One of those players, who is joining the team for the first time, is Domenica Gómez '23.
"I've always liked to try new things, and I never thought that I would end up playing lacrosse, but some of my friends are on the team, and they thought I would be good, and it'd be nice to try it out, so I decided to do it," she said.
With a smaller roster and much inexperience, leadership for the team is more valuable than ever. Led by Coach Allyson Baribault and captain Skyelyn Haynes '23, along with players with lacrosse experience including Danielle Coe '25 and Summer Nichols '25, newer players are able to learn and develop, and help to serve as resources to go to for anything on and off the field.
"[Skyelyn] is very friendly, very supportive… I think the entire team has been supportive and trying their best to teach the new lacrosse players to be able to have a good season," said Gómez.
The team has continued looking for players since the semester began this year, which ended up delaying official practices until the past week. Despite the uncertainty in some areas, the team is ecstatic to finally get back on the field and get back to work.
"We were having a little trouble finding more people to join… but we're still trying to make it work and just doing our best, and Coach Baribault has been really helpful and supportive with that," said Gómez. "We were able to go to the turf since the weather has been a little bit better, we've been doing a lot of stick work. Wednesdays we're doing lift or going on a run, we're wanting to do a lot of cardio, and just trying our best with working together," she continued.
Going into the season, the players have continued to stay prepared and stay on top of what needs to be done and be successful, with communication on the field being an aspect the team continues to make strides on.
The team gets on the field for the first time this season in Aurora, New York on March 9, as they travel to take on the Wells College Express.