Mahomes, Kansas City Chiefs Win Super Bowl LVII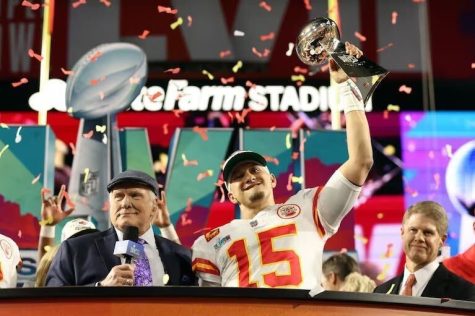 There is a new dynasty brewing in Kansas City, as the Chiefs have gone on to win Super Bowl LVII over the Philadelphia Eagles, by a final score of 38-35. With the win, Super Bowl MVP Patrick Mahomes joins an elite class of quarterbacks, becoming just the fifth player in league history to win multiple regular seasons and Super Bowl most valuable player awards.
The game was anything but a blowout, as the first half of the game looked to be in the Eagles favor. Led by the likes of Jalen Hurts, who set Super Bowl records for a quarterback with three rushing touchdowns and 70 rushing yards, Philadelphia would lead 24-14 going into halftime.
The event was not complete without the halftime show, which was performed by popular pop singer, Rihanna. Performing on a floating stage, many of her biggest hits, including "Where Have You Been," "Rude Boy," and "We Found Love," were sung, among others.
At the time, teams entering the half that are down by ten or more points have gone on to go 1-26 entering the game, but the Chiefs looked to defy the odds, and they certainly did. Mahomes, who was playing on an aggravated high ankle sprain in his right leg, would go on to finish the game completing 21 of 27 passes for 182 yards and three touchdowns, two of which came in the second half.
Of course, the game did not come without controversy. With the game tied 35 all with 1:54 left to play, Mahomes would throw a pass over the head of wide-receiver, Juju Smith-Schuster. It would seem that Kansas City would go for the field goal and give the Eagles a chance to tie or even win the game. But a holding call on Philadelphia cornerback, James Bradberry, would give the Chiefs an automatic first down.
With the call, Kansas City was able to run out the clock, and a last-second field goal by kicker, Harrison Butker, would be the dagger. It would become the second Super Bowl victory by the Chiefs since their 2020 win over the San Francisco 49ers, and has put players such as Mahomes, tight end Travis Kelce, and defensive tackle Chris Jones in an elite category of winning multiple Super Bowls.
The NFL is projected to reveal the schedules for each team for the upcoming 2023-24 season on Wednesday, May 12.