The Networking Social Showcases Berkshire Job Opportunities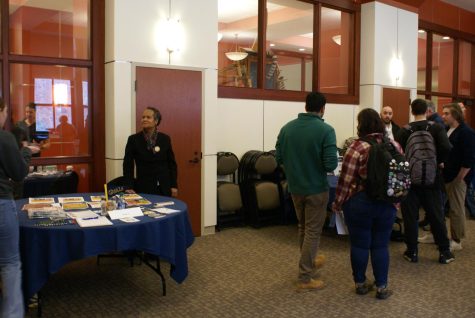 On February 16th, 2023, MCLA hosted The Networking Social, an event where students were able to practice their networking skills and learn about internships and career opportunities.

The creation of this event stemmed from the MCLA Advisory Board's decision to have more involvement in the overall livelihood of the student body.  

At this event, students were given the opportunity to browse, have some refreshments, and converse with representatives from various Berkshire-based organizations and businesses. These entities showcased various summer internships, jobs, and part-time or full-time career opportunities.  

Joshua Mendel, Director of Corporate Engagement and Strategic Partnerships, believed it was important for The Networking Social to encapsulate a variety of fields. He highlights the importance of job-searching across different disciplines, stating that, "you might have an IT background, but there's a job for you in North Adams Public Schools, or you might have a business background, but there's a job for you with the organization United Way."  

Students attending this event could discover a plethora of opportunities in banking, non-profit organizations, science, social science, education, technology, the arts, and many more categories. The organizations showcased included but were not limited to Bridge Inc., The Clark Art Institute, Mezze Inc., and Greylock Federal Credit Union.  

When asked if the assumption that there are very few career opportunities in the Berkshires is a true statement, Mendel firmly disagrees. He expresses that there are lots of opportunities in the county, and the number continues to grow.

Specifically, "in the Berkshires, we're seeing a major rise in advanced manufacturing industries." But students studying within other disciplines shouldn't fret, as, "[these] jobs aren't just science-based, [these] jobs are also the business side of things, the marketing side of an organization, the public relations, the communications jobs."
Mendel wants to not only share these jobs with students that are local, but also with students who are from different areas. "So many of our students are not necessarily from the Berkshires," said Mendel, "so how do we introduce all these opportunities that are right in the students' backyards?" He wants students from out of town to realize that they have a lot of opportunities, "so a student who's coming from Boston or New York City can identify that this is exactly the energy, the excitement you want here in the Berkshires and be able to connect to to the jobs that are right here." 

When asked what he hopes this event will accomplish, Mendel highlights a few main factors. The most important outcome is that "students' opportunities come first and foremost, so providing the means and exposure to part-time jobs, full-time positions, [and] internships." Secondly, Mendel wants to connect the staff and faculty to the participating organizations regarding various opportunities, such as research projects and training.  

Lastly, Mendel wants to reach out a hand to the Berkshires' local businesses and organizations to provide support. Within the job market in Berkshire County, "there's so much life and energy, it's just being able to expose our students to that."