From Baseball Player, Kyle Milligan, to Coach Milligan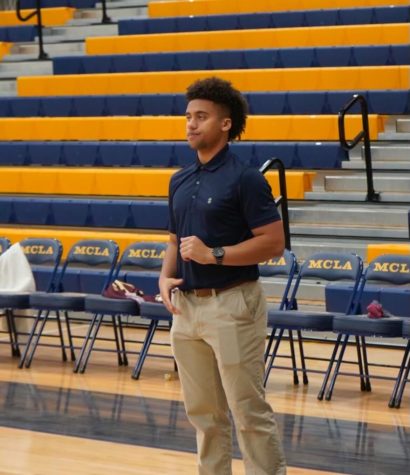 Things do not always go according to plan. It is a life lesson that current MCLA senior, Kyle Milligan, has had to endure as part of his tenure here.
The original plan for him was to be a four-year member as a pitcher of the Trailblazers baseball team. Now, he serves as an assistant coach for the Trailblazers Men's Basketball team and head coach of the 15U Cap City Scrappers AAU Basketball program. The question is, how did he exactly get here?
Milligan grew up in Cohoes, New York, a small town in the Capital region with a population of just under 18,000. He describes the town as a "family and friendship-oriented" place, where everybody knows each other, and with the help of his family, especially his mom, made him into the person he is today.
Growing up, Milligan's family was always involved with sports, citing his Uncle Dan as his main influence and where he gained the love of many different teams, including the New York Yankees and Dallas Cowboys.
"That's really where I got that love and appreciation for growing up," he said. "My uncle really taught me a lot about the game and stuff through watching them, and I would try and imitate them on the field and off the field and court."
Milligan's biggest influences on the playing field were the late Kobe Bryant of the Los Angeles Lakers and Derek Jeter of the New York Yankees. In addition to learning about their statistics and information about them, the biggest takeaway he got from them was leadership, which would be a foreshadowing he would carry on and conduct for the rest of his life.
Being a three-sport athlete, watching, playing, and even playing video game versions of sports day in and day out for Milligan would be pivotal, as he realized that he wanted to be surrounded by sports for the rest of his life.
"I think watching sports growing up and watching the Yankees and the Cowboys, or whoever it was, just seeing that people do this for a living, like these are grown men playing a child's game," he said. "It really made me realize that sports are going to be a part of my life, no matter where I end up, no matter what I do, sports will be involved with my life."
Milligan would then honor his athletic talents by playing three sports at Cohoes High School. While there, many of the teams he played on were not the most competitive, as they struggled to get wins and overcome many levels of adversity. However, as he continued competing on summer teams against the best of the best and seeing his talents matching up with them, it would end up making him hungrier and find a way to continue doing what he loved by playing at the next level.
That opportunity would come here at MCLA, almost by chance. He would have an encounter with current MCLA Baseball head coach, Mike Gladu, after one of his summer games.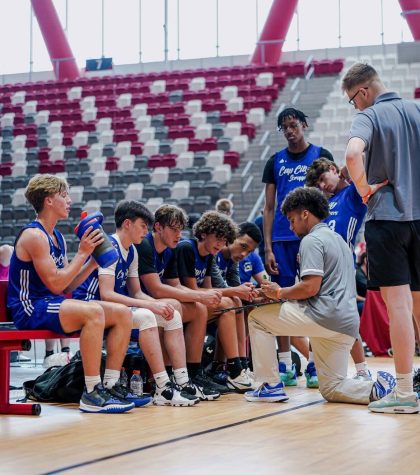 "Danny Buchanan, who actually came [to MCLA] a year before me and went to Cohoes High School…we played on a team called the Frozen Ropes, and we had a game, and [Gladu] was actually there to watch Danny," he said. "We connected, and we just stayed in touch, and I ended up visiting the school."
"I visited other schools, but I felt like MCLA was closest to what my community in Cohoes felt like, and that's kind of what I was looking for, I wasn't ready to get outside of the box of Cohoes yet and it was somewhat close to home, but also far enough to not necessarily still be in town every weekend, so it was the closest I could get to that kind of feeling, and what I loved about Cohoes is what I was going to love about MCLA," he continued.
However, the plan of playing a sport at the next level did not go according to plan. Both Milligan's freshman and sophomore seasons as a part of the Trailblazers would get cut short because of the COVID-19 pandemic, as he only got to pitch one inning during the stretch and would have to overcome more adversity and persevere.
"It really had a huge toll on me mentally," he said, "All of my excitement about playing at the college level and something I worked so hard for, just turned into complete disappointment and that was two years in a row."
He would find ways to still connect with sports, as he created Capital Sports Media Network, which was a platform that would cover all high school athletics in the Capital region of New York, and also got an internship with ESPN over the summer of 2021. These experiences, along with the worries of not getting to play, helped him make the decision to end his playing career during his junior season.
"It was overdue a little bit, heading into that third season… I did everything I could to push through it, I really did, but I had a sit-down with my family and my friends, some of my teammates and Coach Gladu, and realized that I wasn't doing it for myself anymore. I didn't have the same desire, I wasn't doing it for myself I was doing it to not let down my teammates, and it just felt like that's not necessarily the right reason to keep going."
But as one door closed, another one opened. Through the help of his advisor, Peter Hoyt, Milligan would start to think about the idea of coaching, citing the idea of using his leadership growing up and wanting to teach the next generation of athletes. The opportunity came through contact with Bobby Shields, who currently serves as the program director of the Cap City Scrappers AAU basketball program.
When making the decision to join, he felt that their program had the best people and the overall desire to win.
"I felt like I still had so much left to offer and even at such a young age, I was ready to teach, I was ready to lead, and I was ready to learn about what it takes to be the best coach I can possibly be," he said. "They shared a passion and vision that I had, I wanted winning to matter, even at the youth level I think winning should matter, and it does there, and I wanted a chance to show people that I could teach and lead at a high level, and that was really the opportunity that gave me a really good team at a high school age, and I jumped at the opportunity."
Winning they did, as during his tenure as the 15U head coach, Milligan's team has gone on to win over ten championships in his first calendar year, including winning the 2022 Fall New England Hoop Group Jam Fest. Additionally, he has taken his coaching talents over to MCLA as well, serving as an assistant coach of the Trailblazers men's basketball team.
Despite not being on the team anymore, Coach Gladu assisted Milligan through the process.
"Coach Shell came to me out of the blue, I got a phone call from him, and he said that Coach Gladu actually told him that I was coaching basketball, and he asked me if I would be interested in helping," he said. "My role has really been player development and defensive schemes and stuff, so Coach Shell wanted to give me the opportunity to do what I wanted to do at a high level and I'm really appreciative of that."
With Milligan's help, the Trailblazers finished the regular season at 7-16 and will be the number six seed in the upcoming MASCAC tournament. Despite the season drawing to a close, Milligan's future in coaching and in life looks bright.
Upon graduation, Milligan will receive his bachelor's degree in communications, with a minor in coaching. In addition to looking to coaching basketball at the college level, he also will work towards his master's degree in organizational leadership with a focus in sports management.
As he reflects back on his time at MCLA, he believes that the school has made him a "well-rounded" person and has nothing but great things to say about the professors, advisors, and friends that have walked in his life.
"I'm gonna use my communications major in athletics, doing social media and stuff. You can't be inside an athletics department anymore and not know how to do the things that I've learned here from communications," he said. "I truly have built relationships that have gotten me to this point and will get me through the rest of my life, and I've gotta shout out Coach Gladu for making this all possible for me."