MCLA Food Pantry Committed to Helping Students Facing Food Insecurity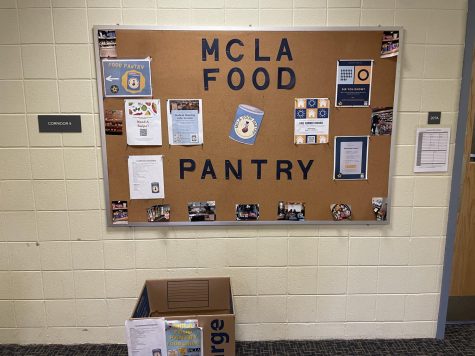 MCLA is committed to helping to meet student needs. One resource for students is the on-campus food pantry. Located on the second floor of the Campus Center in room 206, the Food Pantry is open between the hours of 7:00 am and 12:00 midnight to all MCLA community members who need access to food or hygiene items.
The Food Pantry was first opened in 2017 and has only grown since then. It was originally created by Spencer Moser, Director of the Volunteer Center, and his students as a project in a capstone class of his. Moser said that that group of students was "very aware that there was student food insecurity that existed on the MCLA campus because they knew it from personal experience as well as having friends that faced it."
Between September of 2021 to March of 2022 the pantry received over 350 visits. They also average about 4,000 items received by the MCLA campus community.
When asked about the Food Pantry's long-term goals, Moser said "to do our part to address this human inequity that exists in the world. No one should be without food, no one should be without heat, no one should be without a roof over their heads. I feel we are doing that part. It's basic human rights."
On the MCLA Food Pantry canvas page there is information available about benefits and resources that some students may be eligible for such as SNAP, assistance for graduating seniors, mental health resources, housing assistance, and scholarships.
Students can also now apply for free meal swipes to be added to their accounts using the MCLA Food Pantry Canvas page. This program is a partnership between the Volunteer Center and MCLA Dining Services that will add meal swipes onto the MCLA IDs of students facing food insecurity. All students can apply, and those approved will receive an email with further instructions.
Anyone who wishes to donate to the Food Pantry can do so by either leaving the donations in the Food Pantry or bringing them to Moser in room 308 of the Campus Center. Recommended donations are non-perishable food items such as ramen, pasta, cereal, granola bars, pop tarts, etc., and all kinds of toiletries.
More information about donations or access to the link to make monetary donations can be found under the Food Pantry Donations module of the Canvas page.
The Food Pantry currently has both paid and volunteer positions available for anyone who would like to get involved. The application can be found on the canvas page and any questions can be sent to Moser.