DJs Wanted: WJJW Looks to Increase Membership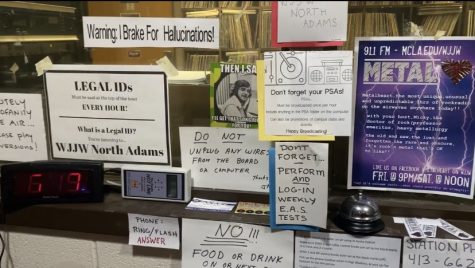 The E-Board of WJJW are excited for the semester ahead and to begin rebuilding club membership following a decline in interest during the pandemic.
WJJW is MCLA's radio station, which broadcasts content seven days a week. Radio shows are hosted by students, alumni, and community volunteers, and can be enjoyed on 91.1 FM or via their website, www.wjjwradio.com.
WJJW President Liza Marsala '23 said that she is hopeful for this semester and feels that things are already off to a smooth start. This semester has marked a change in leadership for WJJW, as longtime adviser Jim Niedbalski left the college following the Spring 2022 school year and has been replaced by Professor Darren Johnson. The club held their first general meeting of the semester on Wednesday, February 15, where new and returning DJs could get together, discuss the upcoming semester, and select time slots for their shows.
Club membership fluctuates regularly, but Marsala estimated that they have about 15 DJs this semester, an improvement from the initial years following the outbreak of COVID-19, when membership steeply declined.
"We actually do have a good number of members, even though it may not look like it," Marsala said.
One issue that the club has run into is new DJs getting anxious about doing their shows live in the studio, so the E-Board is currently considering adding an option to do pre-recorded shows remotely to ease some of these nerves.
According to Marsala, the process of becoming a DJ for WJJW is very simple and quick. New DJs will undergo a training session where they will be taught how to use the equipment in the studio, and following this, they will be able to select a time slot for their show and get started. Students have the option to join WJJW either as a club member or for class credits through the Radio Practicum class taught by Johnson.
This year, the station will be celebrating its 50th anniversary, so the E-Board is planning on hosting a party in April to commemorate the occasion.
A major goal for the club is to better promote themselves to the campus community, a task which is mainly overseen by Public Relations Chair Alison Blakeslee '24, who makes posters to draw attention and raise awareness of the station. Additionally, the E-Board encourages DJs to create posters promoting their shows which will then be posted to WJJW's Instagram page, @mcla_wjjw. However, Blakeslee and Marsala agree that the most successful promotional tactic has been word of mouth.
"I'd like the station to get a little bit more attention," said Marsala in reference to her goals for WJJW. "I think sometimes people forget that we're here and that we're part of the department. It can be easy for incoming freshmen to just not know that we're here."
"I'd love for more people to join," said Blakeslee. "I just want people to know that it's super fun and that they have a lot of agency in what they choose to do."
This agency that Blakeslee describes is seen through the wide variety of programming featured on WJJW. There are the classic music shows, such as Marsala's rock variety show titled Around the Dial, Emo Kid Hours with Jack Vezeris '23, and Soundbox with WJJW Secretary Audrey Purdue '23, among many others. However, there are also several podcasts on the station, including sports talk shows The Touchdown Dance with Kyle Milligan '23 and The Count It and One Show with WJJW Vice President Owen Brown '25, as well as the true crime show Case Closed with Casey Young '23 and Jaden Jackson '25. WJJW's complete weekly schedule for the semester is available on their website.
Marsala and Blakeslee encourage people who are interested in the club to reach out and give it a chance.
"I would say [to anyone interested in joining], just come in [the studio] and say hi," said Marsala. "Just see how it is, you might be really surprised by how much you enjoy it."
"I think that if you even have a little bit of interest, it's something to look into and explore, especially if you're a big music fan," said Blakeslee.
Anyone interested in hosting a radio show on WJJW should email Liza Marsala or Darren Johnson. Be sure to tune into the station on 91.1 FM or wjjwradio.com.