Nexxus Steps Up and Brings Step Dance to MCLA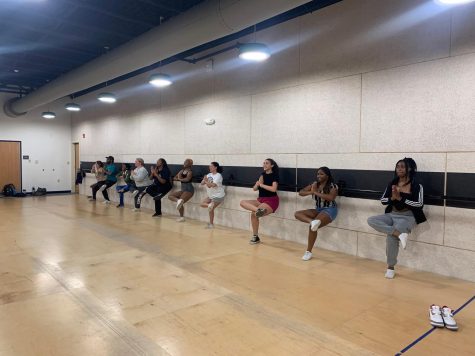 MCLA has a lot of interesting clubs and organizations on campus, including Nexxus, which culminates in the form of a step dance team.
Step dance
is a unique form of physical art; it possesses similarities to tap dancing, but also utilizes clapping and stomping to create complex and beautiful rhythms.
As Nexxus Vice President Sajaira Hudson '24 puts it, step "originated from an African dance, but it's used as a form of celebration, but also as a form of community," and it is "so physical, but yet so graceful at the same time."
The step team at MCLA has existed for many years but saw a drop in members due to the COVID-19 pandemic, which also created challenges for the club's leadership.
"This year was definitely a learning experience, because COVID kinda messed everything up, especially for us because you don't get those learning years of being a general member and seeing everything," said Nexxus President Taylor Hope '24.
Despite this, Nexxus thrives with a group of dedicated, hardworking members and leadership. For Hudson, being part of the leadership team is absolutely rewarding, but it does, "[take] a lot of patience and really humbles you, being a person who is in charge of a club, especially at a college campus."
Hope stated that at a typical Nexxus practice, which is held every Monday through Thursday from 7 pm to 9 pm, the meeting, "start[s] off with a stretch, and that's usually for a good 30 minutes where we stretch out the body because you always gotta stretch before you do anything. After that, we either go over any previous steps we learned or learn a new step."
Students curious about Nexxus shouldn't be hesitant though, as the leadership team stresses that Nexxus, and step dance in general, is for everyone, even if you have no prior experience in step.
"Most of us didn't have a background in step, like we didn't do this from a little kid all the way to [now], so we're still learning… It's like a big community, we love having loud music on so it's just community [and] dancing," Hope said. Hope highlighted that, "everyone [says] they don't have rhythm, but if you can count and hum you can do it."
If students are interested in joining, there is an open call each semester. This open call, as Hope describes, "[is] not really tryouts, more like you get a vibe for what the step team is and [you can] make sure that you are comfortable with it."
If a student is interested in finding out more before the next open call, they are welcome to pop in as they always have practice and are always willing to teach people.
When the leadership team is asked what their favorite part about Nexxus is, Hope said that she, "made all her friends through Nexxus." Hudson said, "when we clap our hands and use our bodies and see each other doing it together, it's really cool, it's my favorite part."
Hope and Hudson are hoping to hold a Nexxus showcase on April 29th, around 5 pm. The showcase will be held at MCLA's Church Street Auditorium. Admission will be free and available to all students, most likely utilizing an RSVP system. There will be a concession stand where students can order snacks and food.
Hudson wants the campus to know that Nexxus is, "here to show out, and if in future places you want us to perform, just let us know. We wanna have our voice and for people to know that Nexxus is here."
Students can follow the Nexxus step team on their Instagram page (@mcla.nexxus) to keep up with their future announcements and performances.