MCLA Freshman Creates a Poetry Club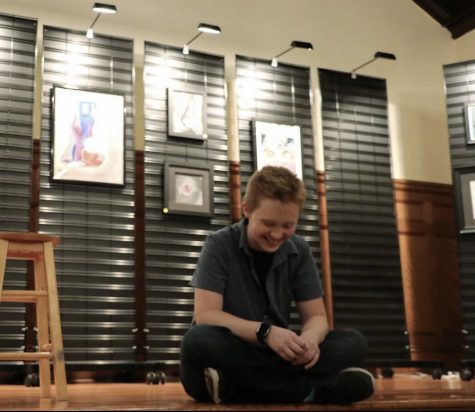 MCLA Freshman Matthew Lewellyn '26 has been making a splash with the introduction of the new Poetry Club for those who have a longstanding love of writing poetry, as well as those who are completely new to the craft.
The Poetry Club E-board consists of Lewellyn as President, Casey Vieria as Vice President, Juno Post as Secretary, and Treasurer Eleanor Gubbins.
Lewellyn was inspired to create a poetry club at MCLA because he was president of his high school's poetry club. He said, "I came into poetry club as a short emo eighth grader, and I left as a taller emo twelfth grader."
He explained that poetry club "really became a haven for me where people could sort of just show up and write and all that was expected of you was, like honestly nothing was expected of you, you didn't even have to show up every meeting. As long as you came every once in a while, people were just happy to see your face and hear your voice. The idea of being somewhere without that is kind of really sad so I thought I'd carry it with me."
Lewellyn said he was inspired in part by one of his high school teachers, but the idea to start the club here was his idea.
"I sent an email to the SGA and said 'hey, how do we do this?' and they were like 'hey, here's how you do this,' so, then we all sort of got together, we made a constitution, we essentially checked all the boxes and crossed all the Ts, so now we're a club," said Lewellyn.
About the club's activities, Lewellyn said, "The general format of the club right now is there are four meetings in a month, three of those meetings are going to be we show up, we write together. There are going to be five prompts on the board, you can choose from those prompts, you can not choose from those prompts, it's really just sort of an excuse to be in a room with other writers, and at the end we open it to share-outs if people want. The fourth meeting of that month would be a more intensive workshop either planned by one of the officers or an approved club member who came to us with a plan."
Lewellyn also said that one of the club's long-term goals was to have a few official readings every year. Beyond that he said that the future of the club was to be left up to the attendees and that "the people who show up can sort of help decide the direction we want to go."
The first meeting of the Poetry Club will be on Thursday, March 2nd in Bowman 205 from 6:30 pm to 7:30 pm. The club will continue to meet at the same time and place on Thursdays throughout the semester.
Any students who are interested in learning more about the Poetry Club can follow the official club Instagram @mclapoetry.