SGA Brings the Carnival to MCLA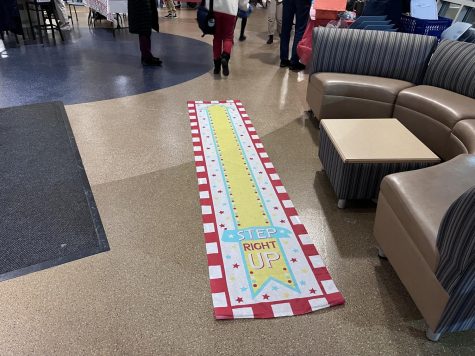 Many students may be feeling the woes of winter, but MCLA's Student Government Association (SGA) aims to combat that with Winter Week. Winter Week is a week of exciting events for students to attend on and off campus. 2023's Winter Week consists of 2 events; The Campus Center Takeover, and Winter Week: Ice Skating.
Initially, there were supposed to be 3 events, but the Trivia Takeover on Tuesday, February 28th was canceled due to severe weather conditions. 
Winter Week: Ice Skating was held on Saturday, March 4th at 2 pm at the Veterans Memorial Ice Skating Rink in North Adams. Students were transported by bus from the Hoosac Hall parking lot to the skating rink for 2 hours of skating. As Allison Williams from Student Affairs puts it, "the goal of winter week is to get involved [by] doing different activities throughout campus."
The Campus Center Takeover was held on Wednesday, March 1st at 7 pm in the Marketplace of the Amsler Campus Center. Students were treated to a carnival-themed event, complete with carnival-themed decorations, fresh bags of popcorn, and various games including ring toss and bowling. Many organizations from campus were in attendance, such as Ski Club and Tabletop Video Game Club.
"This year in particular [SGA] tried to work with different clubs across campus," Williams said. Each organization had a table where they each offered a game or activity. If a student won the game, they would receive a ticket(s), which could be entered in various raffles. Items such as a self-care basket and a Squishmallow basket were displayed and raffled off. Other offerings at the event included hot chocolate and make-your-own waffles. 
This year's Campus Center Takeover had a large turnout compared to other campus events. "We had a great turnout," says Williams, "we had about 50 students that came, just a little bit over it, which sounds like a small number, but compared to the rest of the events that have been happening all year [it] was a huge turnout." 
The creation and execution of the Campus Center Takeover have typically been the work of the Resident Hall Advisory or RHA, but this year SGA collaborated with RHA to put on this event. Williams elaborates, "typically the campus center takeover is run by groups in Res-life. This year we've partnered with them because [there are] not very many people in each group."
Williams further explains this decision, stating, "what better way to get this to happen than to work together, as SGA has a lot of connections with clubs and organizations so we thought we could use our side of it to get people to participate and it worked."