First Bites: March's Food Filled First Friday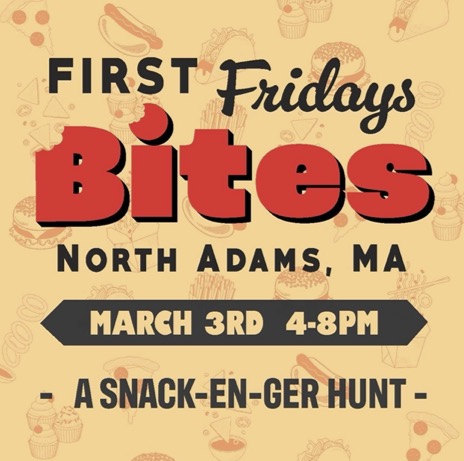 On Friday, March 3rd, a variety of businesses, gallery spaces, and restaurants participated in downtown North Adams' monthly First Friday. The theme of this First Friday was First Bites, combining local shopping with eating local. Many businesses added snacks and drinks to their Friday events, and restaurants offered special menu items and deals. 
Shawnette Smalls, the gallery assistant at Gallery 51 on Main Street, stated, "Tonight, we have a gallery opening for our collage show. Which coincides with First Fridays in North Adams. We're giving out pins for the North Adams First Friday Restaurant theme." 
The gallery itself was packed with people looking at the "Layer/Build: Collage Explored" exhibit. This collection was unique, as it brought a bunch of different artists' work to one central space. 
"The artists in the collage show are Todd Bartel, Brandon Brewer, Niki Haynes, Juan Hinojosa, Heather Polk, and Evita Tezeno," said Smalls. 
Just up the street within the secondhand clothing store Savvy Hive, owner Jessica Sweeney was hosting a First Friday event of her own. "Tonight, I'm doing a shop and sip. So, folks who are of age can have a glass of prosecco and do a little bit of shopping," she explained. 
Sweeney then added, "I'll also be talking to people about my new rental program. Where if anyone needs a gown, costume, or suit, they can rent it here affordably rather than buying a really expensive grown, for say a one-day thing." 
When asked about the theme of First Bites, Sweeney said, "I love the theme. I think it's a great way to connect First Friday events to the food industry here. Often First Friday's focus more on the retail establishments. So, to make that shift is really great. And to see other businesses, such as Bailey's Bakery, be open later is awesome." 
Nearby Erika Bailey, owner Bailey's Bakery talked about offerings she had for First Bites. 
"So, tonight is First Bites. I don't have a special item, but I did do a couple of gluten free options… a gluten free muffin and gluten free cupcake. And then I also have a special chocolate cupcake with peanut butter frosting," she said. 
"I like the theme. I think it gets people thinking of different areas of downtown, and maybe brings them out for a night out that could be a bit less expensive than doing a full meal for their family."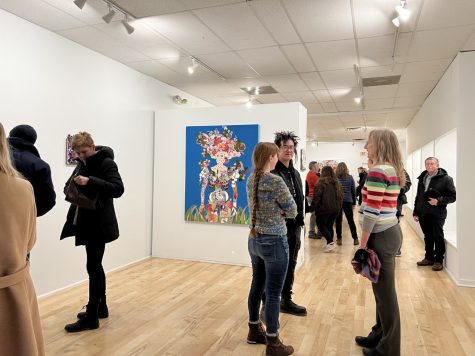 Further up Main Street, Emilee Yawn of The Plant Connector talked about what the business was doing for First Fridays. "Tonight, we're doing little DIY seed bombs, we're giving free bites of food, and staying open late," she explained. 
Yawn then added, "It [First Bites] a great theme for all of the restaurants and other eateries in town. It's really fun to see different types of businesses engaged in the events." 
On Eagle Street, Future Lab(s) Gallery was holding an opening reception for First Friday. The space included works of art by Anna Vojtech and Maria Denjongpa. 
"This is one of our first two artist shows. The show is called Unexpected Encounters. It's these two ladies who met to make a book. One is a writer, one is an illustrator, and they are both artists. When we wanted to make the show, we were looking at how to make their art speak to each other. To make a conversation," said curator, Sonia Domkarova. 
And looking at the pieces on the walls, the relations between the two artists' works could be seen. The space was filled with many viewers during the opening reception. 
Right across the street within Alison Pebworth's Eagle Street Studio space, Pebworth sat with two other women, Stephanie Campbell and Molly Rideout, talking about what she had done with the space for this month's First Friday. 
Pebworth explained, "I've opened up my studio and project space. I'm trying to change the installation every month to coincide with the First Fridays. It brings people out here, and I want to meet new people." 
Regarding the artwork itself Pebworth stated, "Everything came out of the dump. It's the opposite end of all our consumerism and it is creating life out of it. Growing what you can with the materials you have around you creates food for thought and consumption." 
On the subject of First Fridays in general Rideout stated, "I think it's a great thing, and especially wonderful that it's happening through the winter too. It gives us a little bit of hope during these cold months." 
Pebworth then added, "I was impressed that they made that decision, to open throughout the year, every First Friday rain or shine. And I love that. It's nice that you can always know that the First Friday will be there for you." 
If interested in attending the next First Friday, be sure to head downtown on the evening of Friday April 7th.