Establishing Team Culture: Beeckman Speaks with MCLA Athletics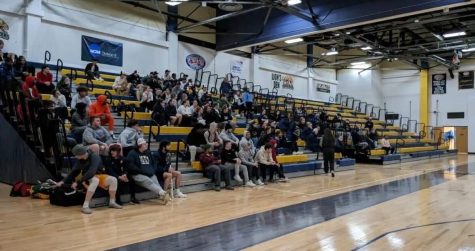 On Thursday, March 2, the MCLA Athletics Department welcomed motivational speaker and current team consultant of Western Michigan University, Theresa "Tree" Beeckman, to come and speak with the coaches and student-athletes who rep the blue and gold on the playing field. 
The idea for Beeckman to speak here in the Berkshires was formulated nearly two years ago when she spoke at a national soccer convention. Among those in attendance was current MCLA Women's Soccer Coach, Deb Raber. 
"Deb actually made it happen," Beckman said. "She saw me speak at the soccer convention two years ago and has been working on it ever since, and then she reached out before this year's soccer season and said, 'I think we have the funds to do it' to speak with the student-athletes, so your athletic department made this happen, and that was the connection." 
During her day visiting the Berkshires, Beeckman spoke with all the coaches of each sport for about three hours, with them going through training and presentations about the work they are doing, and how they can improve. Afterwards, she met all student-athletes for an hour-long lecture, discussing mental health and establishing a team culture. 
She explained her experiences both as an athlete and as a coach to get to where she is today. Growing up, she played high school football as a wide receiver and free safety, along with softball, and would continue playing at Saginaw Valley State University. While there, she would get into the aspect of coaching volleyball, starting off at the high school varsity level, and working her way up to becoming an assistant coach at Central Michigan University. The biggest takeaway from her experience of coaching was the idea of establishing team chemistry and the ability to play as one, something she shared with the student-athletes during the lecture. 
"I created a model for team culture, and I traveled the country and I've worked with athletic departments, and I've worked with individual teams," she said during the lecture. 
 "My whole thing is that at the end of the day, I realized this; when I look back at my coaching career and what I do during these last eight years, if you all can get to the end of your seasons, and you just want one more day, you just wanna fight and scratch and claw for one more day because you're so connected to your teammates, and your experience is so fulfilling, I just feel like that is a better way to go about doing things," she continued. 
In addition to sharing her experiences, Beeckman shared the lessons of understanding your role on the team and lifting others, to create the team culture she wants to see in teams worldwide. 
Student-Athletes also participated in activities she set up during the lecture, including would you rather, rock paper scissors, and playing the video game, Just Dance. While so simple, the goal for her was to have student-athletes be able to communicate with each other, eliminating the elephant in the room and working together, across different teams. 
Student-Athletes felt that these tools and the information Beeckman had to share will help them not just in the team aspect, but also as life lessons off their respective playing fields as well. 
"I liked it, she made a lot of good points about maintaining team chemistry," said MCLA baseball player, Billy Walsh '25. "A big thing I took away from it was how toxic side conversations can be for a team. Also, she made some good points on keeping a positive mindset and trying to pick up your teammates to help them succeed."  
"I thought it was a very fun experience and not what I was expecting at all," said MCLA baseball player, Bobby Lane '24. "Right now, I am sidelined due to an injury, and I feel what she had to say really motivated me to be there for my team in any way I can even though I cannot be on the field." 
Additionally, despite the lecture taking place not that long ago, teams are already coming together and using the tools to help better themselves for both their current and future seasons that lie ahead. 
"As a [lacrosse] player, I would say in our current team's atmosphere, her piece about being selfless and kind of getting rid of your ego is incredibly healthy for everyone, and I'd like to see more players get into that mindset," said MCLA Men's Lacrosse player, Craig Dowd '24. 
"We talked about it as a team, and we think there are several good tips that we can implement in practice," Walsh commented.  
As she reflects on why she wanted to begin this experience of inspiring others to establish team culture, Beeckman credits her experience in a player and coach position to understanding both sides and finding the common middle ground. 
"Honestly, I think if you consider the fact that I played college softball, but I ended up coaching volleyball as a profession for a couple decades… the thing that's always been true of me is the idea that Aristotle says 'You want the whole to be greater than the sum of the parts,' and that whole feeling of a team synergizing to be better than the individual parts is the most fascinating part of athletics to me," she said.  
"When you feel it, if you're on a team, when that happens, you're just like 'that's amazing,' or you see it, like when a team either upset somebody or have a dynasty, that human stuff is what usually gets in the way, and that is just fascinating to me and it feels so good," she continued.  
Although many points were shared during the lecture, the main objective Beeckman hopes MCLA student-athletes can take away, is the idea of trusting one another in all that they do on their respective playing fields. 
"I think at the end of the day, trust is the fundamental, the single most important thing, to a team's culture, and making sure that you're behaving in the way where you're trustworthy, and you're trust willing towards others, that's the most important thing to making this experience," she said.  
While she may not be in the Berkshires any longer, the lessons and experience Beeckman was able to bring will help MCLA athletics not just in the present, but in the future among coaches and student-athletes.