"I am You," A look at Joe Dwinell, the Latest Hardman Lecturer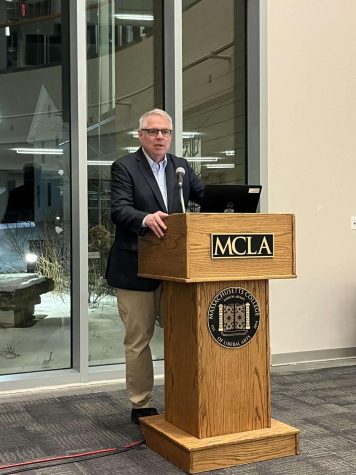 "I am You." Three words have stuck since Joe Dwinell visited MCLA for the Hardman Lecture series. Dwinell repeated this phrase numerous times throughout his visit to the Beacon meeting and his Hardman Lecture.  
As an alumnus, class of '82, Dwinell felt a personal connection to the students who attended his lecture, especially the numerous Beacon staff writers who were in attendance. This connection formed the basis for Dwinell's presentational style, often feeling like he spoke directly to today's new group of Trailblazers.  
The Hardman Lecture series is all about journalism, and no one is more qualified to share their knowledge on the subject than Joe Dwinell. He began as a reporter here, for the Beacon, then continued on as a free-lance journalist, a reporter for MetroWest News, a nightly on-air contributor for WB56 Boston, and now holds the title of executive editor of the Boston Herald.  
Dwinell has had a deep passion for the art since his college days when he drove around North Adams in his van to distribute the paper across campus and to local businesses. He confesses, "My first love has always been writing and investigative journalism." This is clear when listening to Dwinell speak, his words are so full of emotion and impact that many audience members were moved by the end of his lecture.   
Dwinell commented on the necessity of the Beacon within his lecture, "The Beacon is vital. You need the Beacon; you need a newspaper."   
Dwinell's encouraging words come at a critical time as many college newspapers did not survive the pandemic and collegiate journalism is on a decline. Besides commenting on the necessity for the Beacon, Dwinell also praised the new food pantry and fitness center; "When I was here, I really could have used that (referring to the food pantry), it was a struggle." 
Besides personal anecdotes and directly encouraging a new generation of Beacon staff, Dwinell spoke on how to sustain success as a journalist. He introduced a seven-step process he believes is the key to any paper being successful. 
Serve a targeted audience with targeted content and give the people what they want!

 

Publish on platforms your audience uses, you must find where your readers are and go there.

Produce and publish consistently, people want to feel as if they can rely on you. 

 

Funnel occasional viewers to meet audience needs, essentially turning sometimes customers into loyal and consistent customers. 

 

Diversify and grow the way you earn revenue, make sure to have multiple types of revenue for your paper including online versions, newsletters, and print ads. 

 

Partner to expand your pool, and establish both power and flexibility, journalism is all about change and you must be willing to adapt. 

 

To drive audience growth, you must go out and be the one to push for your paper and find creative ways to expand your customer base

 
Dwinell believes in the future of journalism he believes it is "alive and well!". The future of journalism fascinates Dwinell due to the rise of new technology with the invention of writing AI like ChatGBT. While he does not agree with the thought of computer-generated writing, Dwinell does believe in the value of AI stating that the Herald uses it for consumer analytics. He believes that younger journalists are "going to see a revolution in journalism!".   
After the lecture, English Professor and former Beacon advisor, Paul LeSage had this to say, "I remember when he came here, a colorful guy who used colorful language and was loved by a lot of people." He continues to echo what Dwinell has been saying all along "It is inspiring to see a student, someone just like all of you coming back after their success." 
Joe Dwinell is one of us, a writer, a person who believes in his industry above all else, and a Trailblazer.