How Osowiecki's Love of Writing Has Led to Success at MCLA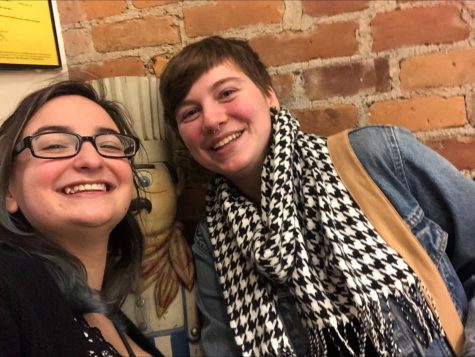 This past week, the Beacon had the pleasure of interviewing Gabrielle "Gabbi" Osowiecki regarding her time here at MCLA! 
Osowiecki, a current senior graduating in May, is an English Major with a concentration in writing. She grew up in Windsor, Connecticut in the suburbs. 
"I actually started out college at Landmark College [located in Putney, Vermont], which focuses on people with learning disabilities. I have learning disabilities, and I needed to figure out how to manage them. Almost no one graduates from there, and they leave and transfer to a new school after they figure out how to work with their disabilities," Osowiecki told the Beacon. 
"[When transferring to MCLA] I knew at that point that I wanted to study English, but it took a long time to get there. Once I found my love for creative writing again, I knew that I wanted to do something in English," exclaimed Osowiecki, "I knew MCLA was also for me, because it was a small, close-knit campus, which I like because Landmark was the same way, but with much less people. I toured campus right before Covid hit, so it was an empty campus. During that visit, my dad and I looked at each other and instantly realized that this was the right place for me to be." 
It's clear to anyone who has met Osowiecki that she has a great love for writing, though she wasn't always sure that it was what she would study. 
"I had no idea what I wanted to do when I was in high school, partly because I wasn't sure if I was going to attend college or not. None of my learning disabilities were diagnosed until I was eighteen, so that made it very difficult for me to decide if college was the right thing," she said. 
After Osowiecki learned about her diagnosis(s), it made the decision much easier for her to choose the path of furthering her education. 
"Once my mom found out about Landmark college, I applied. Within maybe three days, they accepted me after reading my essay, which they loved. I moved in only three days later, which didn't even allow me the time to get anxious about going. I was just there," said Osowiecki, "It was very helpful, because there was a mandatory class that taught you how to manage your brain specifically, along with teaching you life skills that you need." 
Osowiecki spoke on her acceptance to MCLA, telling us about how she always had an interest in writing, "It had always been English once I got here. I chose a concentration in writing because I was just so interested in the creative writing courses being offered here." 
Once Osowiecki was accepted into MCLA, her focus was on her writing and taking advantage of the opportunities the English and Communications department affords its students. 
"I love proofreading," said Osowiecki, "I am the student manager of the Writing Studio over in Murdock. It's such a fun job because I get to work with writers all the time. So many people were beaten down by high school teachers about their writing, so I love being able to help people brainstorm and figure out their papers. I am also the Co-Editor-in-Chief, along with Liza Marsala ['23], of Spires Student Literary Magazine, which is also super fun and exciting. It is a lot of work though, as we're taking submissions, making flyers, organizing events, and sometimes even editing submissions. I usually send out emails and handle more of the logistical aspects of Spires. It became really busy this year because we had so many winter submissions." 
Osowiecki has a self-proclaimed "weird philosophy" about what she'd like to do after commencement. She said, "I believe in working to live, rather than living to work, so I don't really care what I end up doing, as long as I can live comfortably… I could be anything, and I'll be happy if I get to write some poetry at night. I don't dream of labor. An English degree is so versatile these days, so the ultimate goal for my career in English is proofreading any type of writing I can get my hands on. I would also love to someday publish a series of short stories or even a poetry book. As long as I'm in the mountains living my life the best I can, I will be happy."