The 2023 Oscars: Exactly as Expected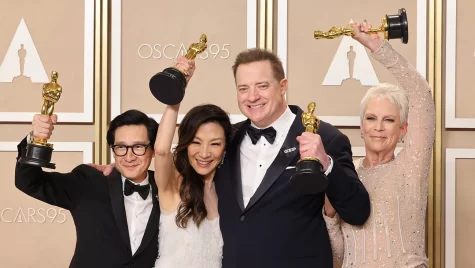 Of course, I'm referencing the Oscars here, which is always jam packed with so many celebs and fun cameos that even if you aren't a big movie fan, it would still be entertaining to sit down and watch a chunk of it. 
For me it went a little different this year — I've always been a huge fan of film my entire life, but it wasn't until I became a communications major and took my first film class that I really started to appreciate the finer details. 
Thanks to that newfound love, I started tracking movies I've watched in an Excel spreadsheet and giving them rankings. Three years and 148 movies later, it's still going strong, along with the note in my phone full of movies I plan to watch in the future. 
So, because of this ever-growing Excel spreadsheet and love of cinema, I had seen almost all of the films that were nominated this year. And because I had loved them all, I was fully prepared for the night. 
Of course, I had my ballot printed out and my predictions set ahead of time, expecting the sweep of Everything Everywhere All at Once and All Quiet on the Western Front, but still longing for some recognition for the Banshees of Inisherin and The Fabelmans. 
While I was all strapped in and ready to go hours before the show started, I watched the red-carpet live stream to get a hold of what the nominated stars were wearing for their big night. Being the nerd that I am, I put on my senior year prom dress and had a mini red carpet of my own in my living room. 
The dress brought some extra excitement to the night as the clock ticked down to 8pm, and I started to get nervous when the show began. I'm very passionate about the films and actors that I like, so knowing some of them would leave the room without awards that night genuinely made me a little upset. 
But breaking that sadness was the realization that they would announce every single award on screen this year, bringing recognition to the lesser-appreciated awards like Makeup and Hairstyling, Sound, and Production Design. 
Although I can't say I'm surprised, as soon as Jamie Lee Curtis won her award for Actress in a Supporting Role for her portrayal of Deirdre Beaubeirdre in Everything Everywhere All at Once, I knew they had every nomination in the bag that night. 
The film ended up with seven Oscars by the end of the night, for Actor and Actress in a Supporting Role, Actress in a Leading Role, Directing, Film Editing, Original Screenplay, and Best Picture. 
Ke Huy Quan took home Actor in a Supporting Role, and by the time he left the stage I was in tears — but that is common with all his acceptance speeches. His story is so profound and one of a kind, it will make anyone tear up who hears it for the first time. 
And the other first-time winners of the night, Brendan Fraser and Michelle Yeoh, both had speeches that kept everyone on their feet, and gave a sense of pride for everyone watching. 
I admit at first, I was a little salty, because I loved the Banshees of Inisherin and thought Colin Farrell, Brendan Gleeson, Kerry Condon and Barry Keoghan all did an amazing job in the film, I understand why it was ranked lower by the Academy. 
I was also shocked when Steven Spielberg didn't win for The Fabelmans, because it is quite literally the story of his life and his movie making history. But I guess the movie about the everything bagel and crime-fighting husband in alternate universes does make a better pitch for the awards. 
Following in its footsteps, All Quiet on the Western Front left with four awards on the night, and all other awards were spread throughout the nominees. 
Cinema is always changing, and the rules are always being broken, which leads to some of the greatest films of our time being made year after year. The creativity of filmmakers will always keep me coming back for more, and going back to the originals that paved the way to get here now. 
All Winners: Actor in a Leading Role, Brendan Fraser; Actor in a Supporting Role, Ke Huy Quan; Actress in a Leading Role, Michelle Yeoh; Actress in a Supporting Role, Jamie Lee Curtis; Animated Feature Film, Guillermo del Toro's Pinocchio; Cinematography, All Quiet on the Western Front; Costume Design, Black Panther: Wakanda Forever; Directing, Everything Everywhere All at Once; Documentary Feature Film, Navalny; Documentary Short Film, The Elephant Whisperers; Film Editing, Everything Everywhere All at Once; International Feature Film, All Quiet on the Western Front; Makeup and Hairstyling, The Whale; Original Score, All Quiet on the Western Front; Original Song, Naatu Naatu; Best Picture, Everything Everywhere All at Once; Production Design, All Quiet on the Western Front; Animated Short Film, The Boy, the Mole, the Fox and the Horse; Live Action Short Film, An Irish Goodbye; Sound, Top Gun: Maverick; Visual Effects, Avatar: The Way of Water; Adapted Screenplay, Women Talking; Original Screenplay, Everything Everywhere All at Once