A "Business Trip": Baseball and Softball Wrap-Up Annual Florida Trip
Spring break for college students serves as a week for students to sit back and relax from the stresses of school. Whether they are returning home to visit family and old friends or going on a trip to gain new perspectives and experiences, the week gives students a breather before enduring the second half of the spring semester. For the members of the baseball and softball teams, it was all gas and no breaks, as they used the week to go on their annual "business trip" to Florida, where they got to both enjoy the warm weather, while also partaking in playing regular season games.
The teams return back to the Berkshires this past week after spending roughly a week in the sunshine state, with both teams competing against fellow NCAA Division III schools all across the country, different from the typical MASCAC opponents they are accustomed to seeing. With baseball taking part in eight games and softball taking part in ten games, the teams played all around the state of Florida, including Naples, Auburndale, and Davenport.
Baseball:
After weeks of morning lifts and team practices at night since the semester began, the Trailblazers would embark on their trip leaving late Wednesday night on the eighth, the team would begin practicing not long after landing in the state. Entering the trip 2-0 with a late February series sweep over Yeshiva University, the team had high expectations for their play on the field, and they certainly would be battle-tested, playing eight games over a week-long period.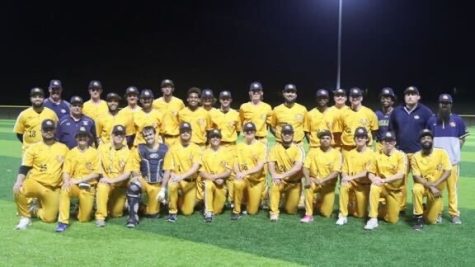 The Trailblazers would continue right where they left off, winning four out of six games, scoring a combined 51 runs in those wins. However, the team would lose their final two games, going 4-4 overall on the trip and entering MASCAC with a 6-4 record.
Despite the .500 record, the team feels an uproar of confidence and defying expectations as they begin playing games up in the Northeast. Particularly, the experience of playing against competitive Division III schools they would not normally face makes them feel prepared for different types of situations as they continue competing.
"It was cool, because up at Florida, we faced all different types of pitching, whether it would be like some dude throwing sidearm throwing like 70 [mph], to our last game going against a top Division III school in the nation, who had a guy throwing 88 [mph], so it was really cool because we really got to experience everything, so we can all really prepare for what we're about to face when we come back to conference," said Mike Wormuth '26. 
In addition to being able to prepare for different types of pitching on the offensive side, the team was also able to learn more about themselves and what adjustments they have to make as the season continues.
One key aspect the Trailblazers want to improve on is the idea of capitalizing on moments, specifically in doubleheaders, as the team was not able to complete a sweep during doubleheader matchups during the stretch.
"Doubleheaders, we have to be able to play the full 14 innings, we can't just play a seven-inning game, because if you look at how it went, we split every doubleheader, we didn't sweep, and that's kinda the alarming issue and that's something we were trying to figure out down there was, why are we so lackluster," said Garrett Brunette '25. 
The idea of doubleheaders also trickles down to being able to stay with the approach through the highs and lows and continuing to stick together, whether a player is a starter or coming off the bench.
"You could have your good days and your bad days, but the one thing that I really realized about this game, is that it's such a mental game because no matter if you have a bad or good day, your approach should never change when you go on that field," said Wormuth. "We're all one family here because there's three different aspects of the game; there's the hitters, the [pitchers], and the guys on the bench, without all three of those things connecting, you're not going to have a full team, which is something I feel we're all starting to really develop." 
While the team was able to find key points to improve upon for the future, a lot of things went right for the team, particularly on the offensive and pitching sides.
During the week, outfielder and captain, Austin Rachiele '23, along with Wormuth, won the MASCAC Player and Rookie of the Week Awards, respectively, with Rachele picking up 13 hits, including three home runs and 10 runs batted in, and Wormuth picking up eight hits, a homer, and six runs batted in, all of which came during the trip. 
Other players did their jobs too. Shortstop and captain, Randy Adams '23, currently has a ten-game hitting streak, and currently leads the team with a .464 batting average, after collecting ten hits, two home runs, and ten runs batted on the trip.  Outfielder and pitcher, CJ Givhens '24 also had a pair of homers and 11 runs batted in.
On the pitching side, captain Bryan Rosario '23 and Rob Correia '23 have served as the workhorses of the rotational staff, each starting three games, with Rosario leading the team in innings pitched (12 ⅔), wins (3), and strikeouts (14), with Correia not too far behind in each of those statistics. 
Out of the bullpen, Brunette, Givhans, and James Sneyd '23 provide the relief and keep the fire burning, with each of them ranking in the top 3 of ERA, with at least three innings pitched, for the team. 
While the main objective was to be on the field, players also took advantage of the time off it as well. Splitting up into three houses during the week, highlights for them included going to the beach, attending the Boston Red Sox versus Detroit Tigers spring training game, watching the World Baseball Classic tournament on television, and overall spending time with one another.
Being forced to spend time together has created new bonds and relationships between the players as a result, and ultimately created team chemistry that is used both on and off the field. Returners from 2022 can already see the positive changes in team morale.
"This year, we understood when mistakes were happening, and it wasn't really a blame game, because we accepted it as a team," said Brunette. "Last year, I think we kinda tried to play the blame game sometimes on an individual, and it tore us down a little bit too much, but this year we're all about family, we're all about composure, we're all about discipline, and picking each other up when we're down," he continued.
Overall, the Trailblazers hope to continue the high energy, looking forward to getting the chance to play in front of the MCLA faithful at home and look to prove the doubters wrong, as the MASCAC preseason poll had them ranked eighth out of eight teams. 
"Coming into this season, out of all eight teams in the MASCAC, we're ranked number eight, and I'm happy, I love when we're always doubted because I feel like now we're going to get show everyone what we're truly made of," said Wormuth. "This team is special this year, we worked really hard in the offseason, every single guy has put in so much work, everyone's had tremendous growth… when we just play our game, that's really when we're gonna do a lot of damage."
Softball:
With weeks of lifts and practices leading up to the trip, the team would embark on the trip to Florida, but not without a few hiccups on the road. After landing, the team would struggle with finding a vehicle to get to their hotel, and after arriving at the initial hotel they intended to stay, players and coaches found all sorts of bugs and debris within their rooms. Two hotels later, they were able to spend the week at an Airbnb, and start to focus on their craft and enjoy the experience.
Going into it, the players felt refreshed knowing they did not have to endure the cold and be limited to the gym anymore and knew when they returned, the weather would start to warm up to continue the same trend.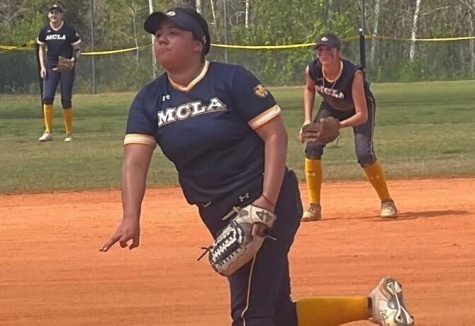 "I would say we enjoyed this trip by just beginning our season and playing out on the field instead of being inside the gym because of the snow," said Ella Staffier '26. "We enjoyed a lot of the time we had together on and off the field."
With no previous games played before the trip, the games would serve as the first ones played during the season. Additionally, with a younger roster of seven freshmen making up the 15 total players, these games would serve as the first time they would suit up and play at the collegiate level, a long dream finally achieved.
"I felt great being out on the field as a freshman for the first time, and knowing my family was cheating me on in Florida was also an even greater accomplishment of mine," said Staffier.
Not only that, but with such a small roster, they are also contributing right away, something that is not particularly seen at the NCAA level. However, with such youth comes inexperience, and it showed during their stretch of ten games in six days. The team would lose their first five games, before picking up their first win against Alfred State. The momentum would not last though, as the team would only win one more game in their last four appearances to begin the season at 2-8. 
The record does tell the entire story, however. The team feels that it has been one inning where it comes crumbling down, but that if they can stay in it throughout from the first pitch to the last, it will help them to be successful as they enter MASCAC play.
"The competition down there was nothing we can't beat," said Staffier. "Based off this experience, we can take away that we need our heads up going into every single game no matter the outcome of the last. We are a good team, and we all need to know that."
The team certainly has the pieces to show that. On the offensive side, many different players have been contributing. Hailey Peabody '26 leads the team in batting average (.424), hits (14), and doubles (3), with Maddy Teta '23 leading in home runs (3), and Lidia Flores '25 leading in runs batted in (13). Other players too, including Staffier, Madyson Torres '25, Kristie Zator '26, and Abby Bird '26 have made major contributions to the offensive side of the game as well.
On the pitching side, the team uses a three-player rotation of Flores, Sarah Williams '24, and Gabriella Cozzolino '25, with Williams leading in each of the triple crown statistics of wins (1), strikeouts (9), and ERA (5.36), while also throwing two complete games as well.
The experience both on and off the field helped to further the team's chemistry as well, as players took advantage of the weather within the sunshine state and enjoying the time with one another even through the small things.
"On the field, we communicated very well… we created so many handshakes with each other which is always such a fun way to reconnect throughout the games," said Staffier. "Off the field, we definitely connected by being so close in the Airbnb. We had people do each other's hair for game days, and we were all making food together and eating meals together. Even in the early five in the morning wake-ups, we would all share the same space," she continued. 
As they look back on the trip, the record so far is on the back burner, as the team looks forward to what lies ahead with MASCAC play in the northeast.
"I would say me and my teammates feel ready to go into the season," said Stafier. "We know what we did and we know what we can improve on, and I think it only just gets better from there."
Both teams continue on their seasons up in the northeast, with Softball traveling down to New Haven, Connecticut to take on Albertus Magnus College in a doubleheader on Saturday, March 25, and Baseball making the close trip to Troy, New York, as they take on Rensselaer Polytechnic Institute on Wednesday, March 22.