MCLA Students Travel the World During 2023 Spring Break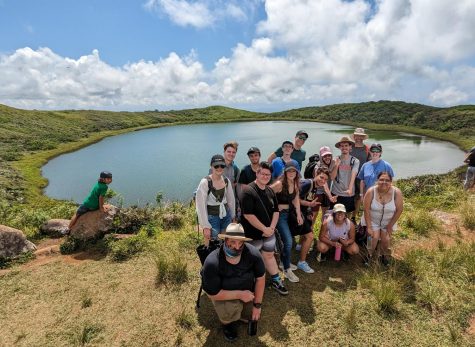 For some, spring break is a relaxing hiatus from classes, but for others, it presents an opportunity to explore the globe. MCLA offers various travel courses during the spring semester, courses that teach students the geography, culture, history, etc. of the country they are visiting, culminating in a trip to that country during spring break. This year, students could choose from trips to Ecuador, Belize, South Africa, and Japan.
David Cupery, Professor of Political Science, hosted the spring break trip to Ecuador, which was, "a repeat of a trip that was originally done in 2017 that went great. It was scheduled for 2020, [and] canceled at the last minute [because of] the pandemic," said Cupery.
Cupery's initial travel course and planned trip focused on the country of Peru, but the destination had to be altered at the last minute due to political conflict. Cupery, who resided in Ecuador for three years, said that the countries have, "similar history, cultural similarities, so the same things that would attract people to go to Peru they'd also find in Ecuador."
The Ecuador trip consisted of three main destinations. "First was the capital city of Quito… we started and ended the trip there. Quito's a big city [with] 2 million people but it has, perhaps, the best-preserved colonial center of any place in South America."
This contributed to a rich and diverse experience for the students, offering them, "a lot of art, architecture, and preserved history that [is] cool to experience," said Cupery. Of the various sights, Cupery highlighted the towers of a Basílica church, where the students had a phenomenal view of the city and a "deep mountain valley in the Andes."
The next stop on the Ecuador trip brought the travelers to a province in the south of the country, which Cupery characterized as, "an area that's heavily indigenous, so culturally more unique in the sense that people's not only ancestry but a lot of their current practices as far as their dress, their relationship with the land, some of their celebrations, even language are distinct."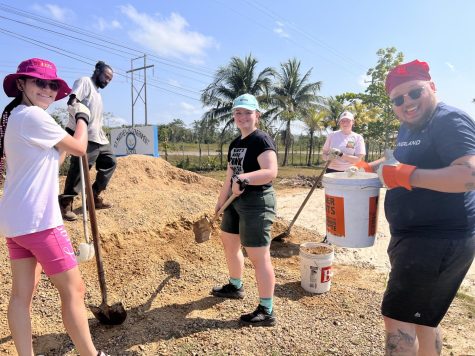 While there, the students stayed at the lodge of an MCLA alum, Michelle Kirby, who graduated in 1990. This lodge, the Black Sheep Inn, heavily emphasizes environmental sustainability and has won an abundance of awards. Regarding this phase of the trip, Cupery mentions a fascinating, "collapsed crater, a volcano with a lake in the middle."
The third and final phase of the Ecuador trip finds the students in the Galapagos Islands. The Galapagos, considered to be one of the greatest wonders of the world, not only provides beautiful nature but inspired Charles Darwin's theory of natural selection. The Galapagos consists of nearly 9,000 species on the islands and surrounding water, a lot of these species unique to the islands. Students were granted the opportunity to snorkel with sharks, swim with sea lions, and partake in a land-based tour where they visited giant tortoises.
Biology Professor Eric Doucette joined the students on the trip, studying botany and the evolution of animals. Cupery elaborates, "having him along was great as far as providing more knowledge about the scientific side of things, while I studied the more human side of things with politics and society."
When asked about his favorite part of the trip, Cupery answers that he, "really like[d] the intersection of studying culture and nature together." Cupery continues, highlighting that he specifically, "really liked being in the indigenous highlands, in the intersection of this really beautiful, stunning natural landscape with the chance to interact with cultural realities that are different from our own." Despite the various hurdles, Cupery planned and executed a once-in-a-lifetime trip for the students that combined rich education and fun experiences.
Cupery encourages students to look into travel courses, stating that, "a lot more students should consider and research this as a possibility, there's a lot more scholarship support than there used to be, and that makes this a bit more affordable."
"There's still a cost involved," said Cupery, "but really comparing it to what we spend on a lot of things if students budget properly it's a great chance for them to be exposed to not just bucket list destinations, but a chance for them to immerse themselves in a reality that's different than what they experience." Cupery recommends that students, "talk to [other] students that have done it to see what's a good fit for them."
Unlike the trip to Ecuador, the trip to Belize was not preceded by a travel course, but this didn't make the experience any less engaging or educational. On the decision to plan the 2023 trip to Belize, Director of Civic and Community Engagement Spencer Moser described it as a, "pretty easy decision, we've done it in the past and it's been really successful." Moser continued, stating, "it's been a good three years since we ran the alternative spring break program because of Covid, and we know that Belize is a really strong, exciting program for our students and that our partners are really solid partners and they know how to put together a program that fits our needs and wants really well."
The trip to Belize was a combination of community service work and immersion into the culture of Belize. The students offered a helping hand to an elementary school in the country. Chris Hantman, Coordinator of Civic Engagement and the MCLA Volunteer Center, was also in attendance on the trip, and says that he and the students, "got to roll up [their] sleeves and give back to the local community."
"We went and worked at a local elementary school and helped to rebuild a walkway there that always gets rained out during the rainy season, [making] it hard for students to use,"' says Hantman, "so we moved all the cinderblock, leveled the ground, mixed cement by hand, and then laid it all in. We also helped rebuild a fence and clean up trash, leaves, and all that kind of stuff."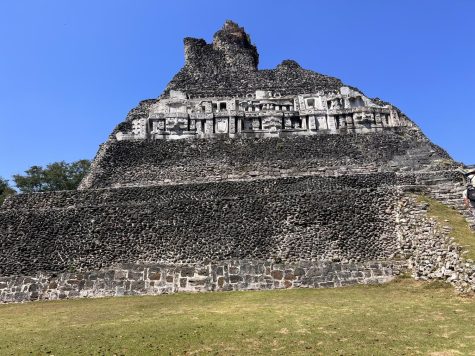 It certainly wasn't an easy experience for the students, as they had to complete tasks such as mixing cement in temperatures that reached 97 degrees Fahrenheit.
Regardless, it was absolutely worth it, and the, "most rewarding feeling was the last day we went back to the school," explains Hantman, "we went back to the school and the kids were there and the cement had dried and just seeing the kids sprint down the walkway we had just built, laughing, playing, was really rewarding." At the school, the MCLA students also provided academic support in the classrooms in addition to playing recess games with the children.
Regarding the school children at the elementary school, Paige Dufur '26 said, "the students that [we] met on the trip were very kind, supportive and fun… The most exhilarating part of the trip was the community service aspect… and it really felt like we made a difference."
Another student who attended, Abigail Morrison '24, said, "my time in Belize was one of the best experiences I have ever had in my life. Before this, I had never been on a plane or traveled before. I was a little bit nervous, but everyone on the trip was very supportive and helpful." Regarding the visit with the students at the school, Morrison describes it as, "a beautiful experience, being able to witness how attentive [the students] were and how much they appreciated their education."
Besides the community service work, students, "went on guided hikes where [they] learned about the local wildlife and plant life," explains Hantman, "[they] went on guided canoe trips down the Sideboone river, [they] went caving and got to see some old ancient Mayan pottery that was preserved there in the caves."
Hantman highlights his personal favorite activity, which was, "learning more about and visiting the Xunantunich Mayan Temple and the Mayan ruins that are there."
"It's a high climb to the top," Hantman says, and, "you can see Guatemala from the top, but it's really fascinating to learn about the history of that, and we have students conquer their fear of heights, for many students, it was their first time flying, as well." Because of this, Hantman's favorite part of the trip was witnessing the personal growth the students experienced.
When asked what he wants students and the general public to know about Belize, Hantman emphasizes that, "it's the only South American country where English is the first language, and it's taught from a young age there." "They still speak Spanish," Hantman elaborates, "many people speak Mayan, but it's more approachable for someone who may have never traveled out of the country before and is worried about a language barrier prohibiting anything."
Moser believes that the trip to Belize offered, "new ways of potentially making sense of the world, [which could be applied] back here in North Adams or MCLA or wherever their future home may be."
Another group of students visited South Africa with Anna Jaysane-Darr, Associate Professor of Anthropology. In South Africa, the students explored Cape Town, the capital of South Africa, visiting places such as Robben Island, Table Mountain, and Boulder's Beach. Jaysane-Darr highlights the importance of this travel course and travel courses in general, stating that, "travel courses like this one to South Africa offer students an opportunity to learn through experience and on-the-ground engagement with people and communities."
"My students helped to plant spinach in a community garden," says Jaysane-Darr, "listened to jazz music in musicians' homes, and swam with penguins." While learning about an area can provide an increased understanding, Jaysane-Darr believes that, "when you spend a sustained amount of time in a place, you come to understand the history and culture in a way that just reading about it can never offer."
The MCLA travel courses and options for alternative spring breaks opened up students' eyes to the realities of those in different countries and offered them unique experiences. The service work and general activities emphasized just how important community is, and how connections can be made with those who may have different experiences and live under different circumstances. The world is vast and full of lessons, and thanks to MCLA's various opportunities to travel, students get to learn that firsthand.