We Sleep in May: A Look at the 2023 NCAA March Madness Tournament
During the year, March has a lot of things for people to look forward to, including Saint Patrick's Day and the arrival of Spring. However, for college sports fans, particularly those who follow men's and women's basketball, March represents the best time of the year for college hoops, with the annual NCAA March Madness tournament taking place to crown one program a national champion.
The tournament was founded in 1939 for the men's program and in 1982 for the women's program. Consisting of 68 NCAA Division I programs from all around the country in each bracket, teams will compete against one another in a single-elimination format, until one team remains within each program.
Some of the greatest basketball players to ever touch the court have also won championships in the tournament. On the NBA side, you have players such as Michael Jordan (North Carolina), Magic Johnson (Michigan State), and Kareem Adbul-Jabbar (UCLA) who have won championships both at the NCAA and NBA levels, as well as at the WNBA level with players such as Sue Bird (Connecticut), Candance Parker (Tennessee), and Breanna Stewart (Connecticut).
Not only that, but with the rise of social media over the past decade, coverage for the tournament has been like none other. During last year's tournament, over 18 million people tuned in to watch it at some point, and on Twitter, there was a 291% increase in video views regarding college basketball. People also are able to create their own brackets to predict the results which are shared all across social media.
With March Madness, anything can truly happen. Although the tournament is still ongoing at the time of writing this, we have seen so many different aspects that have generated buzz and excitement worldwide. From players who were virtually unknown to now becoming household names, to underdogs upsetting favorites in matchups. It has become a place where legacies for teams and players are created, for better or worse.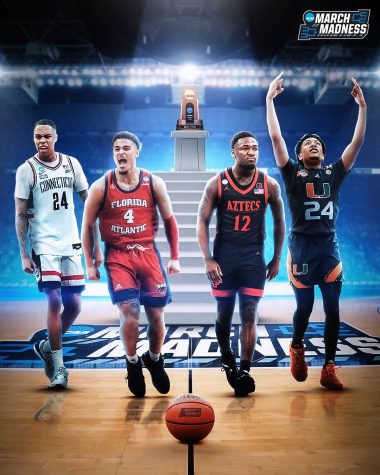 Men's Tournament: 
On the men's side, the 68 initial teams have dwindled to the final four: Florida Atlantic University, the University of Miami, San Diego State University, and the University of Connecticut. Only 37 known brackets were correctly able to predict these teams remaining, so to say nearly nobody would expect this is truly an understatement.
The one word to describe this year's tournament would have to be "unpredictable," as many different upsets have occurred throughout the tournament. Some of which included 16-seeded Farleigh Dickinson defeating number one-seeded Purdue University, number 15-seeded Princeton defeating number two-seeded University of Arizona, and number nine-seeded Florida Atlantic University taking down four-seeded University of Tennessee.
Additionally, history has been written within this tournament for a multitude of reasons. To start off, the favorites entering it were the University of Houston and the University of Alabama, both of whom were number-one seeds in their respective regions and got eliminated by San Diego State University and the University of Miami, respectively. In fact, no number-one seed even qualified for the Elite Eight, marking the first time in NCAA tournament history that has ever occurred.
On top of that, none of the typical college basketball powerhouses, the University of Kansas, the University of Kentucky, and the University of North Carolina, even qualified for the Sweet Sixteen portion of the tournament, marking only the fourth time since 1975 where that has ever happened.
Another key aspect also is that many players are becoming superstars right before our very eyes. Ryan Nembherd of Creighton University, put up a career-high 30 points, while also going a perfect ten for ten from the free throw line to help the Blue Jays knock off the three-seeded Baylor University. Drew Timme of Gonzaga University put up 49 points across a two-game span, third most among players during the tournament this year, and Adama Sanogo of the University of Connected became the first player since 2009 to average at least 25 points and ten rebounds on 70 percent shooting from the field within the first two games of the tournament.
With two more games left to play in the tournament, there are still plenty of stories left to be written, and despite the tournament not being completed yet, it has been a memorable one, to say the least. The remaining four teams both competing in Houston, Texas on Saturday, April 1, with Florida Atlantic will take on San Diego State at 6:09 PM, and Miami taking on UConn at 8:49 PM.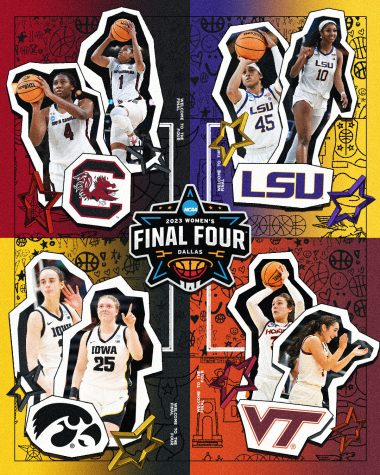 Women's Tournament: 
On the other side of March Madness, the women's tournament has been just as eventful. As the tournament continues on, only six teams remain, including the two-seeded University of Iowa and three-seeded Louisiana State University punching their tickets into the Final Four with wins over the five-seeded University of Louisville and nine-seeded University of Miami, respectively.
Additionally, two games on Monday night, two-seeded University of Maryland versus the one-seeded University of South Carolina, and three-seeded Ohio State University taking on one-seeded Virginia Tech, will determine the next two teams to reach the Final Four portion of the tournament.
The unpredictability of the tournament continues to trend as well, with zero known brackets remaining perfect at this point in the tournament. The upsets keep piling on, some of which include 12-seeded Florida Gulf Coast University taking down five-seeded Washington State University, 11-seeded Mississippi State University defeating six-seeded Creighton University, and nine-seeded University of Miami beating one-seeded Indiana University.
Additionally, many storylines are making their way through the tournament that fans are following along. At the time of writing this, the University of South Carolina, sitting undefeated at 35-0, is just one win away from breaking the record for most wins in program history. Other headlines include the University of Connecticut missing the Final Four for the first time since 2007, along with two number-one-seeds not making the Sweet Sixteen, with it being only the second time in history that this has occurred.
Players are also making their marks in the tournament. One major story is Iowa's Caitlin Clark, who just recently became the first NCAA Division I player to record at least 900 points and 300 assists in a single season. She also just put up the first 40-point triple-double in men's or women's tournament history, going with 12 assists and 10 rebounds. Other players have made noteworthy performances too, including Zia Clarke's 21-point performance for South Carolina's win over South Florida and Indiana's Mackenzie Holmes putting up 22 in their win over Miami.
All in all, it is shaping up to be a great tournament to remember. The tournament will continue with the rest of the Elite Eight portion playing out on Monday Night, and the Final Four games taking place on Friday night, March 31, with times to be determined.