New Nursing Program to Start Fall 2024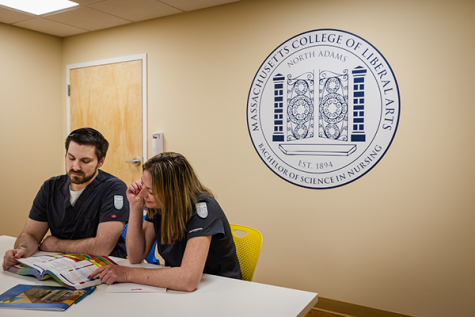 After six years in the making, a Nursing program is coming to MCLA, creating the first Bachelor of Science in Nursing program in the Berkshires.
"The community is really interested in helping as much as possible, so we're actually in the process of developing about a $5,000 scholarship for every nursing student that comes in initially because we do have that much interest in donations," said Dr. Beth Fiscella, Associate Dean of Nursing, in an interview with the Beacon.
The program is hoped to not only be an asset to the school but also to the community as well.
When asked where clinical experiences will be, Dr. Fiscella explained, "We'll be using Berkshire health systems primarily, including a lot of the local nursing homes, especially in the first semester when they're just learning some basic nursing care. Then of course our beautiful sim lab here."
The nursing suite located in Berkshire Health Systems building near campus has already been acquiring high-technology equipment for courses.
Students will be active on campus helping with flu clinics, and education for students, and simply be integrated with the campus and overall community.
The school has set out to "Design a curriculum that incorporates the Nursing courses along with other expectations or requirements for health science degrees so students have that health science background and that in conjunction with the core gives the students a well-rounded liberal arts education which I think is very valuable to the nursing profession," explained Dr. Justin Golub, Biology Department Chair, in an interview with the Beacon.
Since 2017, MCLA has been discussing adding a Bachelor's in Nursing, and students can begin to take the prerequisite courses for the program this coming fall. Actual nursing courses will not be offered until Fall 2024.
"At the end of their freshman year, students can apply to the nursing program and decisions will be made at the end of their freshman year in May. We will look at grades but also look at a letter of recommendation from a faculty member and write a personal statement of why they would like to be a nurse," said Dr. Fiscella.
All the prerequisites are existing courses and the hiring process for professors to teach the upcoming nursing courses are in the works and hope to have one or two nursing faculty in the spring of 2024.
There has been interest seen in both current students and incoming students. Currently, there are only 25 spots per class year within the nursing program. This number is limited by clinical spots. However, if interest grows, they feel they will hopefully be able to expand in the future.
"We have some current students who are interested in the program, and we've talked with them about the options because the program is being built as we start to run it so some of these students still have two years' worth of coursework to do. This would take an additional couple of years, but we've talked about minors and other things they can do in the meantime to further their education and give them additional credentials," said Dr. Golub.
Transfer students who are interested in the program would be worked with individually to make sure they meet the minimal requirements and courses that are needed. It would also take them three years from starting at MCLA to complete the program because it is designed to be sequential.
Current and incoming students that are interested in understanding the nursing program can go to the MCLA website to find out more about the courses and applications.