What Did the MCLA Community Do Over Spring Break?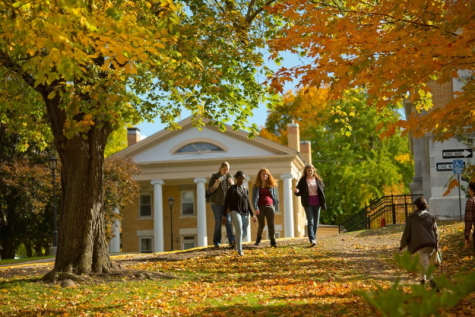 Spring break is one of the most desired times of the academic year: no classes, vacation, relaxing, and if you're lucky, no homework! This week we caught up with all the students returning from their vacations and staycations during the break.
Some students went home, others went away, but Lori Lester '25 and Summer Nichols '25 decided to go home and make money during the off time. "I worked, and that's pretty much all I did," said Nichols. Lester replied the same, and told the Beacon, "I also worked!"
The Beacon spoke with Chloie Garber '25 about her time away in Arizona! "I ended up going to Arizona to visit my family. My aunt lives there, and she just had her sixth baby!" Garber exclaimed, "I got to meet her newborn, Atlantis, and she's the most precious little baby ever. She just never cries. I stayed by the pool, went outside, and got a little tan! It was so much fun and felt so good to see family."
The Beacon had the pleasure of hearing from Matt Boillat, the head athletic trainer here at MCLA. "Well, over spring break I worked here, of course, and we had a lot of great snow days," Boillat told us, "So I played with my kids and made snowmen and snow-forts. I also covered Men's Lacrosse. It was a great time. My kids had a great time, because three feet of snow is always fun."
Next, we caught a member of the Beacon, Jaden Jackson '26 himself! Jackson told us, "I stayed on campus! Casey Young ['23] made a really great event. She took us into Sullivan Lounge, and we just played Taylor Swift songs and hung out and had a really great time."
Benjamin Ross '23 told the Beacon about his time on campus over the break. Ross said, "I played a lot of guitar for many hours, and I played my electronic drum set as well. I did a lot of music making. I tried to do some writing and spend some time outside also."
The Japan travel course made their way over to Tokyo! Another Beacon staff member, Ashley DelRatez '23 told us, "My trip to Japan was amazing and easily one of the best experiences of my life! On this trip, we spent time in Kyoto, Miya Jima, Hiroshima, and Tokyo. Although, my favorite location was definitely the time we spent in Kyoto. I loved getting to go to all of the temples and shrines, try new foods, and explore huge shopping districts. I also loved riding all of the different public transportation! All the different trains and busses were so exciting!"
It seems like the majority of the Trailblazers had a great spring break, whether they traveled, worked, or went to a new place for the first time!