SGA: Budget Finance Committee Confirms Club Budgets for 2024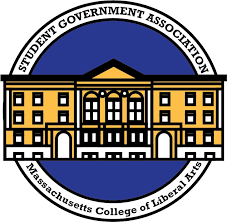 The March 27 meeting of the Student Government Association (SGA) primarily focused on club budgets for the upcoming school year.
This week's guest speaker was Kayla Hollins, the Executive Director of Student Persistence. Hollins is a 2012 alumnus of MCLA, and previously worked in the Office of Admissions handling recruitment of new students.
Now working in Academic Affairs, Hollins works one-on-one with students to assist them in whatever they need to be academically successful and achieve their goals, whether it be improving their grades, planning out their upcoming semester, how to graduate on time, etc. The two main components of Academic Support are tutoring and success coaching. She works in a new office on campus called Academic Advising and Support, located in Mark Hopkins room 101, and says that her door is always open to students who would like to stop in and talk.
"From working in Admissions for ten years, I know how challenging it can be to get students to come to MCLA," said Hollins. "So as I've turned over to retention, my mindset was that I knew how much time, effort, and money it takes to get students here, so I really want them to stay."
The SGA officers gave their individual reports, starting with the President's report from Ian Crombie '23. Crombie shared that he will be meeting with Vice President Jeanette Smith, and asked if anyone had concerns for him to share with her. Students in the gallery had questions regarding the effects of the school selling Berkshire Towers, and the potential removal of senior housing privileges, which includes the ability to buy out a double room.
Jack Vezeris '23 gave the All College Committee report, and shared that they have approved the addition of a Spanish course as a way to expand the department. The college is looking for ways to prevent as many students from waiving their language credit requirement.
There are many vacant SGA and Class Council positions that need to be filled for the upcoming school year. The classes of 2024 and 2026 currently have no Class Council, so members of these classes are encouraged to run for positions. If the class of 2024 has no one on their Class Council by next year, they will not be able to have a commencement speaker, class gift, or senior days. Anyone interested in running for a position can contact [email protected].
With less than 50 days to commencement, several important reminders for Seniors were brought up during the Class Council reports. Cap and gown sales have been pushed back to April 18 and will be sold through the bookstore website. Commencement ticket pick up will take place in the Marketplace from April 3-7 from 10 AM – 5 PM. Senior Days will be held from May 8-13 and cost $120.
Crombie delivered the Budget Finance Committee report, which covers all aspects of club budget including last year's budget, the requested budget, and the recommended budget. Many clubs got exactly the amount they requested or very close, while only a few had major cuts to their requested amount.
Only three clubs had representatives at the meeting to defend their budgets, which were The Beacon, Asian Student Association, and Latin American Society.
SGA itself had a requested budget of $258,777, a recommended amount of $235,874, and a total approved amount of $250,000. This also includes the supplemental budget, which is put in place to make sure all clubs across campus have a safety net in case they need an extra amount that does not fit in their requested amount.
The Beacon had a total requested amount of $26,696, a recommended amount of $17,096, and a total amount of $15,400. This is because many areas of the Beacon's requested budget fall into the hands of the English and Communications department rather than coming from SGA. Things like printing cost, tripods, and cameras are all to be supplied from the department's fund.
Asian American Association had a requested amount of $2,600, a recommended amount of $1,600, and a total amount of $2,000. The club's representative at the meeting fought for extra money to help fund holiday celebrations, which happen about three times per semester. They were rewarded the extra funding after some debate between Senators.
Finally, Latin American Society walked away with a total budget of $3,800, after some debate about their biggest event of each year, "Rep Your Flag Night." The representative stated that they need a wider selection of flags to represent more countries for the event, as well as catering and a sound system. They were approved of the amount as well.
Overall, each club that had representatives present walked away with their approved amount of budget or more, and all other clubs with no representative present got the recommended amount approved by the Senators.