Enchanted Animals Comes Back to MCLA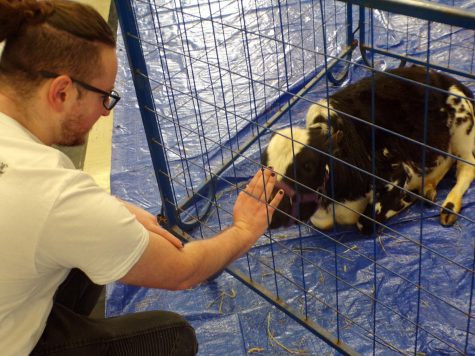 Who doesn't love adorable baby animals? This question lies at the heart of one of SAC's most popular recurring events, Enchanted Animals.
The student-led event featured a baby cow, chickens, geese, goats, and bunnies. Held in Church Street Center, MCLA students were able to access the event for free and visit the animals for 15 minutes in small groups so as to not overwhelm the animals.
Participants were able to enter an enclosed space to get up close and personal with the fluffy creatures. The animals were free to roam around the fenced-in area, provided with some yummy snacks to munch on, and plenty of hugs and kisses from the visitors. The animals are cared for by a service-provided handler which ensures the animal's safety and comfort.
The event aimed to raise student mental health during the stressful final stretch of the academic year. This time of year often sees a decrease in student mental health and motivation, which organizations like SAC try to overcome with events like this. What else could cure some midterm blues like an adorable baby animal?
Pamela Gois '25, the Secretary of SAC, was working the event and spoke to the importance of student mental health and community at MCLA. "You get to pet baby animals for free, who wouldn't love that!". Gois' positivity and dedication to the student body are apparent the moment you speak with her. When asked if she had anything left to say she simply said "Come to SAC events, they are for you all; we throw them for students."
Gois and all of the SAC members who worked the event have a clear passion for student engagement and making MCLA the best institution it can be. These individuals work hard to throw events like Enchanted Animals which help to bring MCLA students together and raise mental health on campus.
If you missed the event this year — don't worry, Enchanted Animals is an annual event that happens every spring semester. SAC considers this one of their most popular and impactful events year after year, so it will continue as an MCLA tradition for years to come.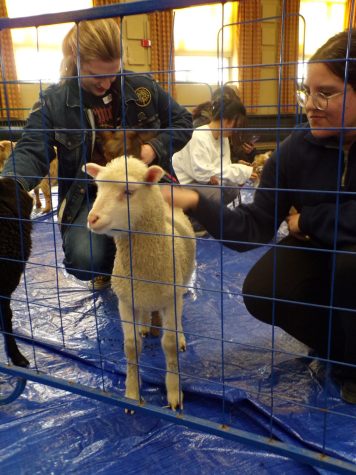 I spoke to Abby Cummings '26 about the event afterward and she sang SAC words of praise. As a fellow student leader, Cummings was recently elected Vice President of the Political Science club, works in the Volunteer Center and plays for the Volleyball team, Cummings has a deep respect for SAC and the work they do.
When asked if she enjoyed the event, Cummings responded, "It was amazing. It was a new experience for me as a freshman, but some sophomores I know spoke so highly of it I had to go. I really recommend it." Cummings continued on to speak about student engagement with SAC events "The last few SAC events have been great, but this one was the best one I have been to. I think it will be extremely popular."
Cummings continued to speak about the event, leading to the topic of student mental health. When asked how she felt MCLA deals with student mental health, Cummings had this to say: "I think student mental health is something MCLA needs to focus more on, but this event is a good way to boost people's moods and get involved in the community."
The event had a big impact on Cummings, who continued to gush about the baby goat she cuddled for the remainder of the interview.