Berkshire Towers to Potentially be Used for Housing of Homeless Families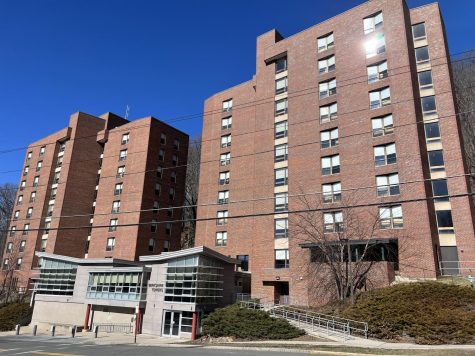 On March 23rd, 2023, President James Birge sent an email to the MCLA campus community regarding the potentiality of Berkshire Towers, one the residence halls on campus, being used as a temporary shelter for the housing of homeless families. On Friday April 7th, President Birge took some time to speak with The Beacon to further explain this potential decision and expand on some points expressed in the email.
Birge explained the situation as a whole, "Earlier this year in the fall the Department of Housing and Community Development (DHCD) reached out to us to ask if we had any available capacity to house or temporarily shelter families who are homeless. They reached out to a number of other institutions as well. So, we thought about it and realized that Berkshire Towers, which you know is across the street from campus, was empty because most students wanted to be closer to campus.
Because we had that capacity, they were interested in talking with us about it. So, we've been talking with them about that for the last couple of months. We don't have an agreement with them yet. We want to see what that agreement looks like before we make a commitment. Or if we make a commitment."
He then further stated, "It would be for around fifty families. All young families with kids who are school aged. We think there would probably be twenty-five children who would go to school either here in the North Adams Public Schools or other area schools. The state would provide the transportation, the state would provide meals for them, support services, and all those things. Really all we would have to do is let them use the facility."
He emphasized the importance of this project because of its relation to the Right to Housing Law in Massachusetts, "Massachusetts is the only state where there's a Right to Housing… So, the state is required to house eligible families when they're homeless. Right now, there are about 18,000 people who are homeless in Massachusetts, but there are only 3,000 shelter beds across the commonwealth. So that's where tension comes and that's why the state has reached out to a number of institutions."
And in response to questions about what would happen to the building itself, Birge said, "We'd retain control of it. We anticipate that we'll have more enrollment in the coming years, so we'll need to use it again. So, we're keeping the building. We're not giving it away by any means. But we're allowing them to lease it. And then they will have a nonprofit agency that will manage the facility."
Since the original email was sent out near the end of March, Birge emphasized that there haven't been many updates to send out, "Again, the lease agreement has been going back between the attorneys of the state and the attorney that we use for the state universities. So, we're waiting for that to be complete so we can look at it and make some decisions."
Within the original email, there was talk of the housing arrangement potentially providing students with internship or volunteer opportunities.
Birge took the time to explain this in more detail, "I think there are a lot of things to do! We'll know more once we see the agreement and how the arrangement would be. But potentially students could do internships in a variety of majors. Sociology majors for example, could do some educational work. And also, there could be volunteer work through the Center for Service Chris Hantman runs. You know, volunteering to read books to the younger children, or babysitting perhaps, as families think about going to job interviews or looking at houses, they may need some childcare. So, there may be opportunities like that. And I hope there will be, because I think our students would be really interested in it."
As for the process of figuring out who specifically would live in the towers, information is uncertain; however, they are anticipated to be families of Western Massachusetts. "The Department of Housing and Community Development has their own list of who would be eligible," Birge stated. "We do know that the people who live there would be primarily Western Mass individuals. Because of the Right to House Law, families in Berkshire County who are homeless and need housing sometimes get moved to other parts of the state–Pioneer Valley or Eastern parts of the state. So, some of the families that would be in Berkshire Towers would be from the Berkshires. But mostly Western Mass families and possibly some new arrivals and immigrants to the state."
Regarding questions of student safety President Birge responded, "I know that there have been some concern from folks on-campus and off-campus about this. The reality is that the proportion of people who are homeless who commit crimes is the same proportion of people who commit crimes who have homes. It's more often the case that people who are homeless are victims of crimes, rather than the perpetrators of it. And so, I'm not really concerned about that. I would say that in many cases when there is some crime that's committed by someone who is homeless it really makes headlines, right? That's often an individual, not a family."
He then emphasized, "I hope that people remember that these are younger families that need housing. And so, it's very unlikely that they'd be involved in any criminal activity. We don't anticipate that. And of course, the Department of Housing and Community Development will manage all of those things so that people know what they need to do and how they need to behave. But I don't see an increase in criminal activity by any means because these are families and they want to find a home, and they want to find jobs, and they want to establish themselves. So, I think it's very unlikely that they would be involved in crime."
Also, regarding student safety President Birge added, "More often than not, people that are going to be using services are going to be going downtown for food shopping and things like that. It won't be a matter of people coming onto campus. We don't anticipate providing programming for them on campus. I think there's really little difference between how we operate our safety programs now for students, and faculty and staff compared to if we have the families here. You know we've talked with our campus police department about it, and they are aware that it's something that is possible. I suspect they'll probably be useful for anyone who has questions about area safety for the residents of the building."
He then reiterated the point, "We don't think there's going to be a concern about safety for our students, or our faculty, and staff."
President Birge also commented on how this housing arrangement may influence enrollment at MCLA. He stated, "We've talked with some parents, because the message that students received was sent to parents as well. We've talked about it with incoming parents. There's some people and parents who object to it. Who say they don't think it is the right place for a temporary shelter for homeless families, and I can understand that. We've also had probably as many people, if not more, who said that this is a noble thing to be doing. We've had some feedback from alums and the local community who have said this is a great effort. I don't think we're going to see a dramatic difference in our enrollment. Right now, enrollment looks very good for next fall. And we had 95 students here on Saturday [for Accepted Students Day]. We had a fairly significant amount of deposit activity after that, so people were aware of it and still depositing."
Ultimately, President Birge finds that this housing arrangement ties into the values of MCLA and the institutions educational goals.
He concluded the interview by stating, "We educate students to be responsible citizens and I think to a certain degree this is exercising that. If not us, who? There are no family support systems here, for housing, in Northern Berkshire County. The closest shelter for families is Pittsfield. And after that it's Springfield. And so, if we're not going to do this, who's going to help families? I think there is an important element of that. And some people have said, well it's your job to educate students. That's right. But to educate them for what, is the question? Our mission says that we educate students for responsible citizenship, and I think we have got to model that. And we have an opportunity to do it. Particularly when it's a priority of the state and the administration has asked us to look at this. I think we have a responsibility to respond."