Sports Roundup: Spring 2023 Seasons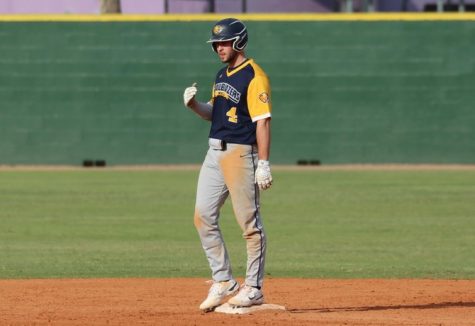 Baseball:
As the team reaches the halfway point of the regular season, the team sits at a 7-13 record, with a 1-4 record in MASCAC play, and sits in last place within the conference with 20 games left to play. However, the record is not indicative of what the team is capable of, as they look to make a statement and continue fighting their way for a spot in the MASCAC playoffs.
One noticeable difference between last year's team versus this year's is the team chemistry and notion of "playing for each other" both on and off the field. As a result of this, the team was able to notch their first MASCAC win against Worcester State on April 7 much earlier compared to April 15 last year against Framingham State.
"I mean more of just actually getting to play together other than playing for ourselves," said Josh Bologh '25. "Last year, we did have some of those, but I felt like there were just some off moments throughout the season where some people were more of a 'me' person than a 'we' person, and this year, going 7-13 right now, it's just there's more of everyone's a 'we,' we're not focused on all of each other, it's just everyone wants to combine and make a great team."
As the season has played out, one area the Trailblazers have been able to thrive in is the area of hitting, especially with power. MCLA is the only team with three players with Austin Rachiele '23 (5), Randy Adams '23 (3), and CJ Givhens '24 (3) in the top five of home runs hit during the season. Additionally, through small ball play and timely hitting, players have been able to drive in runs in key situations, with Adams leading the entire MASCAC in runs batted in with 26, with Rachiele not too far behind with 23.
However, with the strengths of a team, also come weaknesses. The team believes going forward, fixing up the defense and having pitchers pitch to contact rather than swing and miss will be key with more MASCAC matchups coming up.
"It's hard for when pitchers are consistently throwing balls or stuff, and I feel like if we touch up on hitting our spots and making the batters get themselves out, it more helps out our team and everything," said Bologh. "With fielding, it's more of just don't be afraid of the ball, go after it and get that ball, it's gonna come to you once in a while, and you just better go after that ball."
To improve on such weaknesses and keep their strengths going strong, the team has been able to rally behind the leadership of their captains, which consist of Rachiele, Adams, and Bryan Rosario '23. While not everyone can hold that title, players have been able to show leadership capabilities whether they are doing something such as putting in extra work or offering advice to players to help further their game.
Additionally, players have been sacrificing their normal roles in order to help the team out in the long run. Adams, who started the year as the starting shortstop, has moved over to first base, and Robert Correia, who came into the year as a pitcher only, or PO, has put more focus into his offensive and defensive game, as he has started some games at third base when it was not the original plan. Even Bologh, who had played shortstop his entire high school career in Waterbury, Connecticut, transitioned over to the catching position entering college to help the betterment of the team.
"Our off days aren't really off days, we have some guys going to hit, they're taking leadership in part like 'this is what I have to do in order for me to do better and for our team to get better,'" said Bologh. "With the rest of the season going on, everyone can be a leader with our team, it doesn't matter where you play, if you're on the bench, if you're in the bullpen, you're playing, it doesn't matter, our whole team has our back and I feel like everyone on our team's a leader, and can be a leader."
With the second half of the season about to begin, the Trailblazers look for their fans to come up, and deliver on the promise that they will not be disappointed. The team begins their stretch with an out-of-conference matchup at Dean College Tuesday at 3:30 PM, followed by a three-game series against MASCAC rival Framingham State beginning Friday at home at 3:00 PM.
Softball:
The team concludes their first half of the season by losing both games in a doubleheader against Worcester State, putting them at 6-14 on the season, and 0-4 against MASCAC play. However, the team has already has more wins this season than the previous season, in which they finished 5-30, and are looking to add more and fight for a playoff spot as the season continues.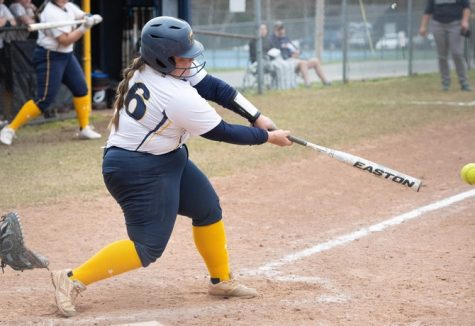 The team feels that despite the record, it does not represent how competitive they have been all season, and look to prove it with 17 games remaining.
"I think so far the season is going okay for us," said Maggie Closinski '26. "Our record isn't the best right now but it definitely doesn't reflect us and the games we've played. We've had a lot of high and low points so far and a bunch of really close, hard-fought games against some really good teams that we just couldn't finish. We're hoping to turn it around and finish the season strong."
With such a young roster, with seven freshmen and four sophomores making up the 15 players on the team, leadership has been more crucial than ever. Led by their four upperclassmen, Maddy Teta '23, Sarah McMahon '23, Justina Pardi '24, and Sarah Williams '24, the team has been able to establish overall great vibes both on and off the field, along with putting an emphasis on efforts off the field and helping create new leaders going forward.
"Despite being younger, we do have great leadership from our upperclassmen," said Closinski. "Sarah McMahon and Maddy Teta, our seniors, have been great leaders and role models to the first years in helping us get to know the team and our culture, as well as Sarah Williams and Justina Pardi, our juniors. When their energy is up, the whole team's energy is up on the field. They also do a great job of holding the underclassmen accountable with things like academics and team responsibilities. With that being said, everyone on the team is a leader in a different way because of them."
With their efforts, the team has been able to establish great team chemistry, which is really shown even in the middle of games. Communication and the team bond have been instrumental, which the players believe will translate to all other assets of the game as the season continues.
"I think this team is really special and one of our greatest strengths is the connection we have with each other," said Closinski. "Once you have that everything else falls into place. With that connection, we're able to rally with the bats when we really need it. The intensity and vibe in the dugout on offense sets the table for us defensively and the rest of the game, and that's something we do really well, is get hype for each other. Good communication also comes from that connection and that's another one of our strengths, having each other's back and picking each other up."
The offense and their ability to create havoc on the basepaths for opposing teams have been key for the Trailblazers. Hailey Peabody '26 and Teta rank first and second in the entire MASCAC in stolen bases, with 15 and 14 respectively, and have been able to rely on the long ball, with Teta, Kristie Zator '26, and Ella Staffier '26 each clubbing two home runs each. The team has combined for a .305 batting average and a .375 on-base percentage as well.
As they begin to play more MASCAC competition going forward, the team believes making the routine plays and rallying on offense will be the key to their success going forward.
"The MASCAC teams are tight on defense but every team is beatable with this group," said Closinski. "We all want it the same and when we get a pitcher times up and start a rally, it's tough to get around us! But every team can hit so it's really important to make all the plays on defense as well."
The team will continue on their second half with six games this week, with a doubleheader at home against Union College on Tuesday and Sage College on Thursday, followed by a MASCAC matchup on the road against Framingham State on Saturday.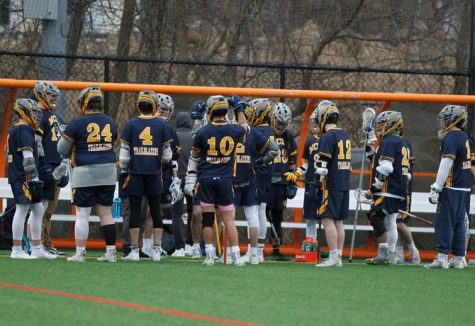 Men's Lacrosse:
Playing in their second full season in program history, the team is two-thirds of the way through their regular season, with a 5-5 record, and a 1-3 record against NAC competition. Already, the team has the new program record for most wins in a regular season, and looks to add on to it, as they are well in the hunt for a spot in the NAC playoffs.
With the program being so new, it has been a new group, with four freshmen and seven transfers on the roster, and only being able to play one full season prior to this season. Despite this, the team feels they have been able to grow from the beginning of the year up until this point and believes it will continue getting stronger.
"As a team, I think we've grown a lot since we first started," said John Hankel '24. "It's a new team group that we've just had this year to get things going, and I'm just proud of the leaps and the growth that we've accomplished so far, and hope that we carry it through the season this year and everybody that's coming back next year to just continue that."
With a roster size of only 18 players, everyone on the team, from freshman to seniors, are playing significant minutes and contributing to the team's success, something that is not typically seen across NCAA teams in any sport. While it can be tough, especially for the younger portion of the roster, having to master the playbook and be put in tough situations right away, everyone has been able to thrive on the pressure and come up clutch in key situations.
"It's always tough being a freshman coming in and having to get big playing time or a role because there's just a lot that goes into playing college lacrosse," said Hankel. "It takes a lot of IQ and a lot of skill and things you have to build up over time, but we have a pretty decent size freshmen class coming in, lot of guys that we've leaned on to contribute, play a role in what we're trying to do, and I think there's definitely room for improvement, but that's everybody, but they definitely have put in the work and they're serious about it, and when it comes to that, it's only up."
With five of the players being a part of the team since the inaugural 2020 season, including captains Nate Allen '23 and Matt Ortiz '23, the leadership they bring to the team has been able to establish the Trailblazer way of playing lacrosse and has helped the rest of the roster get acquitted for what is expected of them and what they need to do in order to succeed.
"You got guys like Nate and Ortiz who have been here since the real beginning of this program when it was really the first year, and they went through all that COVID stuff and all that, and they're still here, when there was a lot of guys who left during that state, and they really wanted to build up that program and be a blazer mind," said Hankel. "But there are other guys on this team that may not be captains, but there's a lot of leaders on this team…it's just everybody trying to chip in and do their part and contribute to success, but those two have definitely held it down and try to do what we need to do to keep guys focused and prepare going forward and take each game seriously."
With five games left to play, the team has shown flashes of greatness throughout the season thus far. In four out of their five wins they have scored at least 15 goals or more, and in four out of their five wins, the defense has allowed four goals or less. However, the team feels at times they can be inconsistent with their play, as in their losses, the Trailblazers have allowed nine goals or more on defense and only scored six goals or less in four of those losses. However, they believe, by finding a consistent rhythm, that it will help them in the future going forward.
"Our weaknesses right now is just we play inconsistent at times," said Hankel. "There's been games where start off slow in the first half, we come in the game against [SUNY Delhi] and we played well in the first half, and then we kinda fell short in the second half, so I think our biggest weakness I would say is just staying consistent all four quarters during a game."
The Trailblazers have been able to show out and also be recognized for their accomplishments as well. Matt Ortiz '23 and Nathan Haley '25 have received NAC Player of the Week honors during the season, with Haley just recently, scoring his 100th career goal at the NCAA level. Hankel also was named NAC defensive player of the week.
As the team reflects back on the first two-thirds of the season, the NAC playoffs have been the goal to reach since the beginning. As they are well in the race, the Trailblazers look to keep their gas on the pedal and not let up.
"Our expectations, we talk about all the time, is aim to make playoffs, be the best we can be in the conference and the NAC," said Hankel. "Obviously, there's some good teams in the NAC this year, we fall short a little bit, but we still got a lot of game left going forward, so all of our goals we really wanna accomplish are still in front of us, we just have to really ramp it up and try and find ways to grow and take it to a different level, and hopefully we make playoffs, and once playoffs come around, it's any given Saturday."
With five games remaining, the Trailblazers begin the final stretch with an away matchup against fellow NAC opponent, SUNY Canton, on Saturday, at 1:00 PM.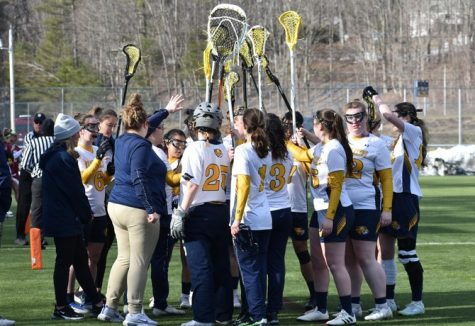 Women's Lacrosse:
With six games left to play in the regular season, the Trailblazers mark the near halfway mark with a 2-3 record, with an 0-2 record in conference play. Despite only playing five games, it has been a record year for the Trailblazers both in individual play and team play.
In their two wins, the team has been able to put up 18 and 20 points, respectively, and have set many different records within program history. Julia Graham '25 set the new record for most draw controls in a single game, Lori Lester '25 set the record for most saves in a single game, and Summer Nichols '25 set the record for most goals scored in a single game as well.
Their passion for both the game and representing MCLA has been the key to fueling the fire and being able to compete when it comes to game day.
"I think our biggest strength is definitely our motivation and passion for the sport and the school," said Lester. "We face a lot of challenges daily and it's easy for the frustration to take over and feel like the world is against us. It could slow us down at times, but we always make it through the end. The only thing we can do to improve is push through and overcome anything that comes at us."
Despite so much success with the team, it has all come even though many of the players on the roster have not had any prior lacrosse experience. The approach through this season is to take each game and practice "one day at a time," with the ultimate goal of each player slowly, but surely, getting better day by day.
"Although we don't win every game, personally I would say the team improves every day one step at a time," said Lester. "Every game is a lesson and new experience, so I can confidently say we are able to use those lessons to meet our team and personal expectations."
Through the ups and down, leadership for the team has been more crucial than ever with the mix of both youth and inexperience with the sport. The three seniors, Em Marlay-Wright '23 and Brooke DiGennaro '23, and Skyelyn Haynes '23 have been key to helping to develop the rest of the players and teaching them the way to play.
"Our team leaders our strong and off the field," said Lester. "They know how to lead and help us become better students and better athletes."
As the season continues on, the team hopes to continue competitive play and develop their skills as lacrosse players, which they hope will help them create success both in the short term and the long term.
"Well we definitely expect better weather to watch and play in and we also expect more competitive and interesting games to come," said Lester.
The Trailblazers continue their season with two games this week, with the team traveling to Troy, New York to take on Wells College on Wednesday at 3:00 PM, followed by a MASCAC matchup against Framingham State on Saturday, April 15, at 7:00 PM.