Maple's First Birthday Party: Dogs Upon Dogs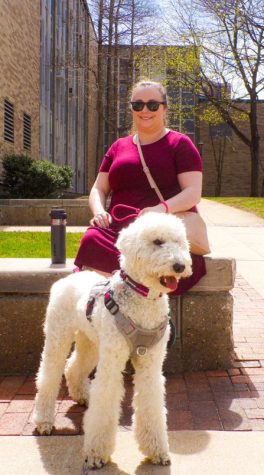 On Wednesday, April 12, Maple, the campus comfort dog, celebrated her first birthday with around six other canine friends and plenty of students.
What better way to spend your afternoon than being surrounded by dogs, tennis balls, and snacks? How about all that combined with celebrating one of their birthdays?
If that sounds like your ideal afternoon, you'll have to wait again until next year when Maple turns two.
Abby Cummings 26', who works for the volunteer center said, "She's great, she's a great coworker, she really appreciates everyone. I work for Half Times which is an afterschool program for little kids so sometimes she'll come and say hi to the kids and it makes the kid's day a little bit better which is cute," in an interview with the Beacon.
At the birthday party, Maple received gifts in the form of dog-friendly treats and more tennis balls than a dog would know what to do with. Students were welcome to other snacks and to play with the dogs there. These canine friends were preapproved to join the party, and many were working dogs just like Maple.
Maple has a strong presence on campus, and we asked students how they felt about her and how she contributes to the campus. \
Isabel Mazzola 23' said, "I think she's a great addition to MCLA. She helps with my depression. Last semester I had a really rough year so when I come in to see her, I feel better."
Mazzola is not the only person who feels the positive impact of Maple on campus.
"She gives us our boost of serotonin, she definitely gives me get my boost of serotonin when I'm not doing so good during the day," said Cora 25'.
Christopher Hantman, Coordinator of Civic Engagement and Handler for Maple has also seen the difference Maple has made.
"She's still in training, she's finished the beginner classes, and now she's in intermediate classes but I've seen first-hand that she has helped students that were in any form of crisis, whether it be stressing about academics or something going on in their personal life, she's been there for them, they come sat down and cried and she's licked away their tears literally and she's also just added a lot of fun to campus by going to events and just being something uplifting for the students and the community members to engage with at any type of event," said Hantman.
Maple has been an engaged and popular member of the MCLA campus. To help support her as a community member, MCLA Gives is an opportunity to give back to Maple.
Hantman explained, "MCLA gives is an annual campaign run by the institution to raise funds for various parts of campus, and one place where people can designate their donations is towards Maple the campus comfort dog. All donations are going to go towards further training, and grooming because she needs to get groomed once a month, and things to help to offset the cost for her to be a working dog here at MCLA."
MCLA gives will be April 27-28 and runs for 30 hours as an online challenge to increase giving and participation among the MCLA community.