Dance Co. Presents Spring Showcase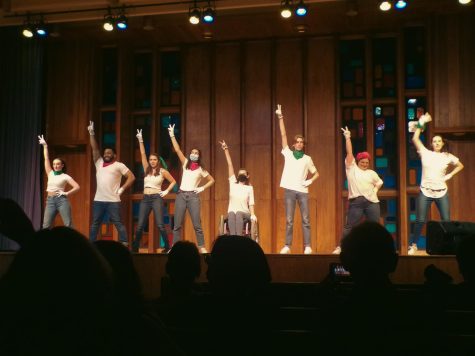 On April 14th at 7pm in the Church Street MCLA's Dance Company performed their Spring Showcase for an audience of MCLA students, faculty, and North Adams community members. The showcase featured sixteen dances in a range of different styles from ballet to tap to hip-hop.
The Dance Company executive board consisting of Co-Presidents Charlotte Kane '23 and Hannah Perault '23, Vice President Domenica Gomez '23, Secretary Grace Krzanik '23, and Treasurer Rachel Lamarre '25 welcomed the audience to the show and invited them to appreciate all of the hard work that the Dance Co. members put into this showcase.
The showcase featured a mix of group dances and solos with many dancers performing in several dances. Each dance was beautifully choreographed and had its own stunning costumes to match.
One dance was able to incorporate traditional dance in a unique way. The performance titled "Mazurka" was based on the traditional Polish folk dance of the same name. Emi Bailey '24, Giovanna Henry '23, Scout Hager '24, Freya Langley '26, and Courtney Romeo '24 used tap shoes and tambourines to emulate the traditional style of Mazurka that is characterized by the stamping of feet and clicking of heels.
One piece took performance to another level as Hannah Perault '23, Freya Langley '26, Scout Hager '24, Emi Bailey '24, and Charlotte Kane '23 told the story of Little Red Riding Hood through dance. Their version, however, had its own twist with Little Red triumphing in the end. It was a thrilling end to the first half of the show.
MCLA Dance Co. was joined on the stage by a group of students from Berkshire Dance Theatre, a dance school with locations all over Berkshire County. Students Emily George, Gianna Jacobbe, Jacklynn Kastrinakis, Lily Wirtes, and Isabella Hartley performed four different dance numbers in various dance styles from ballet to hip-hop.
MCLA Dance Co. also shared the stage with DYSFunk, a group of MCLA alumni including Becky Ahamad, Jamal Ahamad, Kayla Hollins, Taylar Jackson, Jasmine Lamoreaux, Bethany Maloy, Amanda Schuler, and Heath Upton. They performed a piece called "Concrete Jungle". Their hip-hop dance was a homage to New York City and was set to a remix of the song "Empire State of Mind" by Jay-Z. DYSFunk also recently celebrated 10 years of upbeat, lively performances.
After the final performance of the showcase, Dance Co. took a moment to recognize their senior members who will be graduating shortly. Flowers were presented to Domenica Gomez, Giovanna Henry, Charlotte Kane, Grace Krzanik, Em Marlay-Wright, Hannah Perault, Jake Wedge, and Rachel Zemezky to celebrate their last performance with Dance Co.
While Dance Co. may be losing many of its senior members, there are plenty of freshman to carry the torch into next semester.
Students who are interested in joining Dance Co. can do so by reaching out to a member of the executive board or through their Instagram account, @mcla_dance_company.