Making a Difference: MCLA's Spring Day of Service Connects Students With Community Needs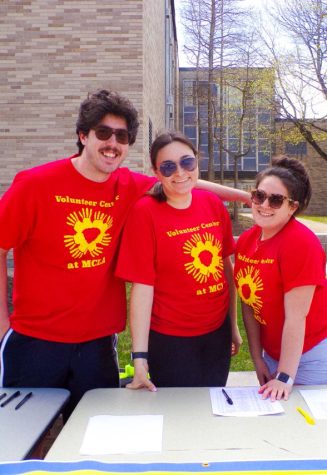 Massachusetts College of Liberal Arts students and faculty participated in the 2023 Spring Day of Service, an annual event facilitating community engagement and volunteerism. Over 100 students and faculty members participated in various service projects throughout the North Adams community this year.
Chris Hantman, the Coordinator of Civic Engagement, emphasized the benefits both MCLA students and the local community obtain from this semester's Day of Service, "The community benefits from just the people power, the hours being put into it. Students benefit from having a heightened sense of belonging. They can walk past a local park and say, 'I worked on that park! I helped build that,' or 'I helped paint that mural,' 'I helped clean that soup kitchen.' Whatever it may be, it allows them to learn more about what's happening within their surrounding community that they may not know about."
"They can often connect with a community member that works and volunteers with that specific organization regularly. It's not just MCLA folks supporting, but also all those organizations' supporters send people to help as well. It's a great way to make connections," they continued.
"This year, we have thirteen different service sites. We have some crews that will be outside working on local parks, from our North Adams Dog Park to a park near Beaver Street. With the big snowstorms back in March, there are still a lot of downed limbs and trees, and many students and folks will be focusing on cleaning this stuff up. We have a team doing a mobile trash pick-up where they will be walking around town cleaning up trash. We also have a team that will be cleaning and preparing food within the Berkshire Food Project. We have a group organizing the basement of the Louison House, our local homeless and transitional shelter. We will also have a team doing spring cleaning around the YMCA, as well as some groups going to the Greylock Glen, a local trail system, to do some trail maintenance."
The event was not only about improving the community but also an opportunity for individuals to meet new people and make personal and professional connections. Hantman explained, "Although these are just a few of the sites, it's going to be a beautiful day, and we are excited to send people outside to enjoy the Berkshires as well."
The Day of Service kicked off at 11:00 AM in the quad, where potential volunteers were able to sign in and receive a free T-shirt.
Hantman started the event by giving a heartfelt speech, directed to the volunteers within the crowd by stating, "I want to give a shoutout to all of you. Giving your Saturday to better your community says a lot about the community we have here at MCLA. This is a tradition that has been going on for over three decades and will continue to happen, and it is a testament to your dedication to North Adams and the greater North Berkshire community. Thank you to all of you as well."
Aramark Coffee was served throughout the morning, and Village Pizza donated endless amounts of pizza for the volunteers, as well as leftovers for the MCLA Food Pantry. Dufour Bussing provided free transportation to all volunteer sites, where participants dispersed to their given destinations and remained until around 2:45 PM.
MCLA's Spring 2023 Day of Service was a remarkable success. The college looks ahead to hosting future events that continue to bring the community together and positively impact the local area.