MCLA Softball Swept in Out-of-Conference Doubleheader Matchup Against Sage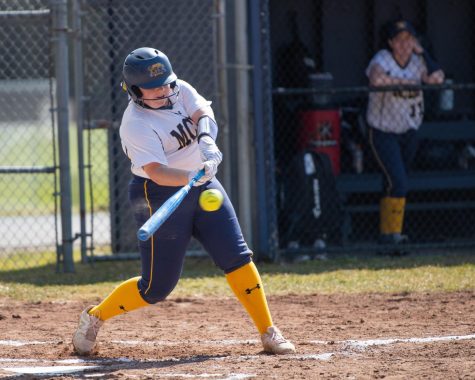 Three five-run innings by the Sage College offense served as the dagger during the doubleheader on Thursday afternoon, as they defeat MCLA by final scores of 10-5 and 12-1. With the losses, the Trailblazers dropped to 6-18 (now 6-20), while the Gators improved to 11-11 (now 13-13).
The team felt that the lack of making adjustments during the game, along with not identifying the patterns of the opposing pitching staff, was the result of what separated getting the losses from the wins.
"Making adjustments, and figuring out 'okay, is this pitcher, does she have a tendency or a pattern,' and going in and executing your game plan, to making sure we're staying in within ourselves, and just having that confidence to know that you're a great hitter and you're going to be better than any pitcher we face," said coach Adriane Baird.
Game 1:
Entering the game, the Trailblazers, on the pitching side, was looking to not let the Gator's leadoff hitter, Arianna Papas, whom they identified as their best hitter, be able to do damage. On the offensive side, the team was aware of their pitcher, Leah Modore, having the ability to throw a riseball, and looked to lay off that pitch knowing it would not be thrown for a strike.
"We knew that the top of their lineup, that [Papas], she's their best hitter coming in, so our plan was to limit her," said Baird. "For our hitters, we knew that [Modore] had a riseball, and we needed to lay off of that and really hunt our pitch, the pitches that we hit well."
In the first inning, MCLA would take the early 1-0 lead. Maddy Teta '23 would hit a leadoff double, then proceed to steal third base. Aggressive baserunning by Teta would cause a throwing error, allowing her to score the first run of the ballgame. The game would remain scoreless until the third inning when both teams' offenses would catch fire.
After back-to-back singles by Ciana Santana and Isabella Vano, Papas would hit an RBI single of her own bringing in Santana, but a throwing error by Maggie Closinski '26 would sail into left field, allowing Vano to score and give Sage a 2-1 lead. After another pair of back-to-back singles by Taylor Discranian and Katelyn Rice, Amber Banas would strike for an RBI double to left field, and the Gators would score four in the inning.
However, the Trailblazers would answer back with a rally of their own. Closinski would double off the centerfield fence to lead off the bottom of the third, followed by a blooper down the right field line by Teta that would bring her in. After Teta's second stolen base of the game, Kristie Zator would drop a single into left field that would score her and bring MCLA within one. Lidia Flores '25 and Mady Torres '25 would then get a pair of consecutive singles, and just like that, the Trailblazers would tie up the game at four a piece.
The Gators and the Trailblazers would trade runs in the fourth and fifth innings, respectfully, with the game all tied up at five entering the seventh inning. Sage would start the inning with three consecutive singles by Papas, Lauren Salmonese, and Taylor Dicranian, the latter of the three would turn out to be the game-winning hit and would put an end to Sarah Williams' '24 start on the mound. She would end her day pitching six innings, giving up 11 hits and seven earned runs, while striking out a batter and giving up just one walk. Flores would then come into the pitch, and the Gators would gain momentum on their rally.
After Rice drew a walk, it would load the bases for Sage. MCLA would be able to get two outs on consecutive groundouts, but two runs would come across. The Gators would proceed to add two more insurance runs on an Erika Markowski double and a Santana single, making the score 10-5. Teta would get her third hit of the game in the bottom of the seventh but would be left stranded on the basepaths to end the game.
Modore would pitch a complete game, giving up nine hits and four runs, while striking out ten and earning her sixth win of the season, while Williams would drop to 3-6.
Despite the loss, Baird is impressed with what she has seen with the pitching staff. With a smaller roster, the team utilizes the idea of starters going deep into games and working together as a collective group, rather than having an ace who would take up the majority of innings.
"I really appreciate going into the season, especially with the three pitchers that pitch the most, the gameplan was 'hey we are pitching as a staff,' we don't necessarily have our ace who is gonna have that majority of innings, it's gonna be alright if Sarah [Williams] is gonna take us through three innings, then Sarah is gonna take us through three, and then Lydia [Flores] is gonna pick it up and then Gabby's [Cozzolino] gonna close, whatever it takes, so I appreciate how much team players all of our pitchers have been, in both handling a starting and a relief roll all three of them," she said.

Game 2:
Sage would jump on an early lead, thanks in part to Papas drawing a walk, then proceeding to steal second base to get into scoring position. A groundout by Salmonase would move her over to third, with a Dicirian sac fly bringing her in for the first run of the ball game. The Gators would add one more run in the second before MCLA would score their first and only run of the game with a successful suicide squeeze by Closinski that would score Zator.
However, it was all Sage ball for the rest of the game, scoring five runs each in the third and fourth innings to make it a 12-1 game, which would be the final score. Within those innings, they tallied up six hits and were able to get additional runners through patience at the plate with walks, along with errors on the Trailblazers' side.
The team feels that momentum got away from them during the rough stretch of innings, and want to be able to improve on staying consistent from the first pitch all the way until the last.
"I think with baseball and softball, momentum is such an important aspect of our game, and hitting is contagious," said Baird. "Something we have been working on all year is on defense, being able to shut down their offense and not let that one or two hits turn into two or three runs, so we didn't execute today, but I know that we can, so the team was a bit disappointed in their performance, but I know that we can do it, which is more frustrating because it's not like we have terrible players who can't play, we got some kids who can really play."
The 11-run lead would be more than enough run support for Dicranian, who would go four innings giving up just four hits and one run while striking out a batter, with Gabrielle Gellys pitching a scoreless fifth. MCLA was only able to get four total hits on the day, with Closinski and Zator each picking up two, stranding eight runners on base and the game would end in the fifth inning due to the mercy rule.
Dicranian would earn the win improving to 5-7 on the season, while Gabriella Cozzolino '25 took the loss and dropped to 0-5 on the season.
Going forward, the team feels that the offense needs to better produce with runners in scoring position, as the execution would have the game a lot closer than it looked based on the score.
"I think we need to just get some hits at the right time, not leave people on base when we have them on," said Teta.
Despite the sweep and disappointment, the Trailblazers are looking forward to what the rest of the season has to offer, feeling that these losses will only help them get better going forward and knowing what talent they have as a collective group.
"Definitely a tough loss, but I think that overall we have a great team and we're gonna get back at it," said Teta. "In general, we have a great team and we have good team chemistry and a lot of good bats, I'm not really worried about it, I just think that we feel the losses, but it doesn't define us as a team."
MCLA continues on with its season with ten games left to play and looks to finish strong with a MASCAC doubleheader matchup at Westfield State on Tuesday, April 18, with games scheduled for 3:00 and 5:00.