Queer Student Union Holds Annual Drag Dance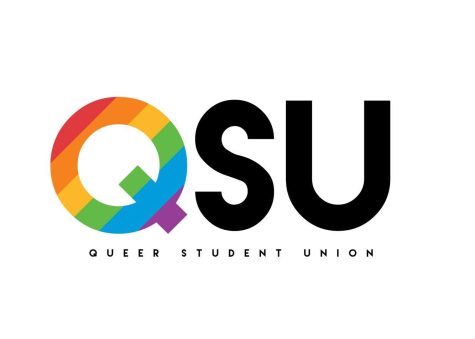 There are plenty of clubs and organizations that host events multiple times throughout a year or semester, but our Queer Student Union only hosts a Drag Dance once every year.
Queer Student Union, or QSU, reaches out to unite the MCLA community as a whole by providing support and resources for any queer-identifying students, along with allies, on campus who have needs or concerns that need to be addressed. QSU meets every Thursday at 7:30 on the third floor of the Amsler Campus Center in the Gender and Sexuality Center (GSC).
Their E-Board is made up of President Jack Vezeris '23, Vice President Han Santos '25, Secretary Kris Stafford '26, and Treasurer Max Fyfe '25. If you want to join their email list or are interested in QSU in general, definitely get in contact with them.
Let's set the scene: April 15th, it's 7 pm and there are strobe lights all around Veneble Gym, photo backdrop, picture perfect, party vibes oozing out the door, people mingling and having fun. There was a lip-sync competition with personalized prizes and people spending the whole night on the dance floor together. People definitely got into the mood and weren't afraid to dress in Drag or express themselves in any way.
This year was a little bit different than previous years and by far had the most bumps in it with students DJing, making the food, having a lot more faculty member attendees and other clubs joining in while having to set up at the same time, but when asked, multiple students said that they did a wonderful job.
One student mentioned how they "would have liked to see more people come because events like these promote more inclusivity on campus and I think we need a little bit more love here."
Another attendee and QSU member, Mannie McBride, mentioned how difficult it is to plan events like these where it is accessible to students with disabilities or restrictions. They also noted how "a lot of the E-Board and QSU members themselves are graduating this year and so a whole new slew of people are joining, so we have to work as we go which makes things a little bit harder."
This was a moment for students to forget about the stress of work and home for a few hours and to dress up and just enjoy themselves. There wasn't a worry of whether or not you were able to express yourself however you wanted because everybody was. QSU advertised, "come enjoy music, food, and have fun!" and what they ended up with was so much more than that.