As the school year is in full swing, fall sports are underway as well. In addition, it also begins a new era in the MCLA Soccer program for both the men's and women's teams, as they will soon begin play on the newly renovated Shewcraft Field.
Before completion, MCLA began their regular season play on the grass field within the Zavattaro Athletic Complex. Both teams also played their preseasons there throughout the month of August, and despite the unexpected circumstances, both teams came ready to work, which has led to solid 2-3 and 1-2-1 records for the men's and women's teams, respectively, to begin their seasons.
Men's Soccer
For men's captain and defender Conor Green '25, the preseason for the team was extremely valuable in many ways, including developing their skills on the field and creating strong team chemistry off of it.
"With it only being pretty much us on campus the whole time, it's hard not to be around all of the guys so often," he said. "We got two weeks of [it] pretty much, so two practices a day, breakfast, lunch, dinner, or whether it's going out with something afterward." it's really just helped build everyone's confidence, boosted everyone's chemistry."
"Preseason is such a good time to learn everything quickly, and props to the freshman class for coming in and having such a positive attitude and mindset toward the team," he continued.
The freshman class Green alluded to includes ten players, with nine of them already getting some sort of playing time five games into the season, including three players receiving multiple starts in midfielder Reynaldo Castro '27 and defenders Alec Pawliczek '27, and Michael Smith '27. 
Green already sees the "immediate impact" the first-year student-athletes have had on the team this season and looks forward to what each of them can contribute as they continue their careers as Trailblazers for the next three years after this season.
"Some of the first-year guys that are here are already making immediate impacts," he said. "Some are just coming in and playing full 90-minute games… center back Alec Pawliczek came into a new team and has played full 90 minutes of some games, he's been a valuable guy for our defense, Michael Smith is such a key guy for our backline, and we have some great contributors in the middle like Reynaldo [Lopez] whose had two goals already…everyone is just coming in and making huge impacts."
In addition to the new players, some returning players have had their roles expanded. After losing key players from last season that included All-MASCAC Second Team member and former goalie, Sam Edge '23, and NEISL Senior All-Star and former forward, Wesley Call '23, others have been taking on the challenge of filling their shoes and competing. 
Green believes it has been a collective effort for the returners, who have been all ready to lead in some sort of capacity on and off the field.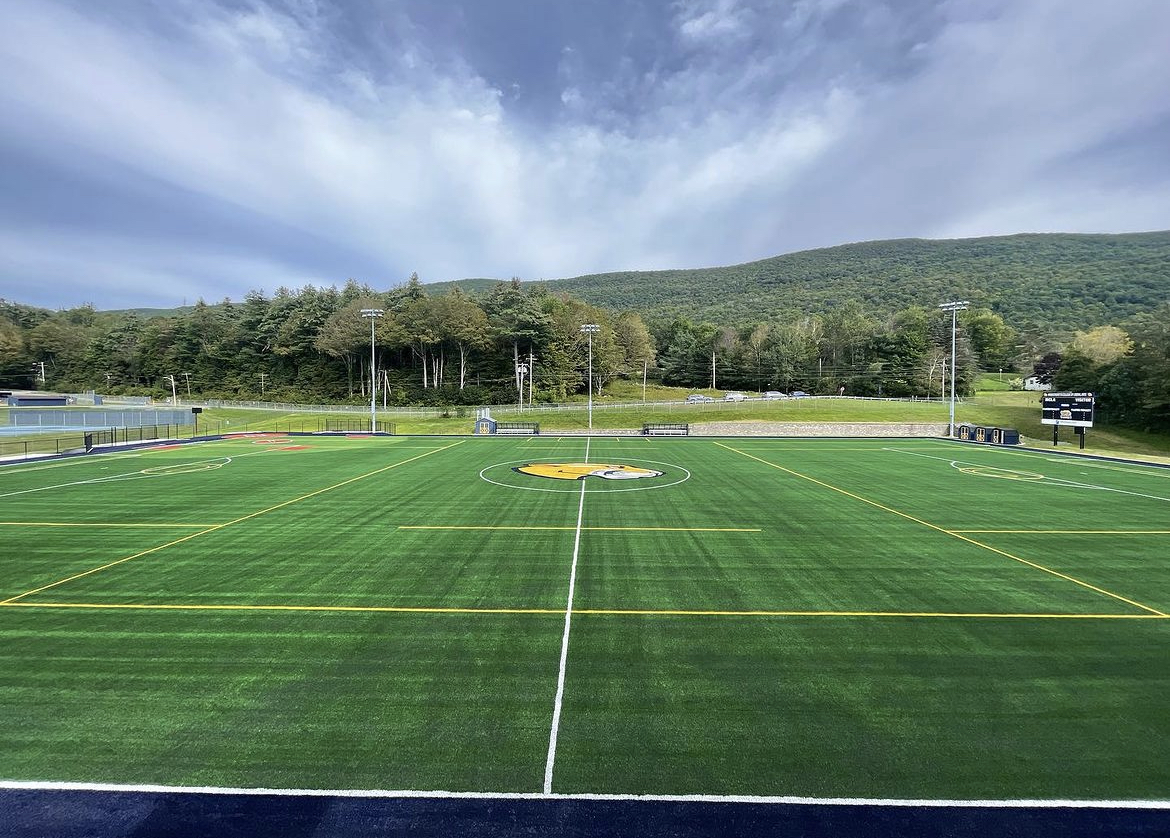 "I don't know if I can pick out one guy, because we have such a good group of returners whether you're leading on the field, whether you're leading off the field, or whether you're getting 90 minutes a game or even not coming off the bench at all, everybody's fully bought in," he said. "I think Avani Richardson '25, who was also named a captain this year has been a huge part, but that's just one name of so many that have just stepped up in such a big way."
The combined efforts from the entire team have led to a good start for MCLA thus far with a 2-3 record, but Green and crew have their eyes set on making a deep run in the MASCAC playoffs, having "all the pieces" to do so.
"As a team, I think we have everything we need to make a deep run in the playoffs," he said. "We have the talent, we have the chemistry, we have the hard work ethic, I think we have every piece we need to make that run, it's just a matter of still putting up some wins and putting the pieces together."
After recently beginning conference play with a 2-0 loss to Framingham State, the Trailblazers will return home and play their first-ever game on the renovated Shewcraft Field against Massachusetts Maritime Academy on Friday, September 22, at 6:00 PM.
Women's Soccer
While the season has just recently begun, it was more than enough time for Captain and defender Alyssa Porter '24 to declare the team "the best" she has ever played on during her four seasons as a part of MCLA. The team, according to her, has been very focused on the chemistry aspect, which has helped lead to creating competitive play on the field.
"I think a lot of it originates from our morale and mental toughness, and our character and how we're just happy to play with each other," she said. "I think that shows in our games, and we just never give up because we play for one another, so I think we will be very good this year."
In addition to the new field, the team has also started new traditions for the team as well, including "Shoutouts" and "Star of the Game," which Porter believes has really helped the chemistry to play as a cohesive unit and "play for each other."
"At the end of every single practice, we do this thing called Shoutouts, where you just shout out someone that was working super hard," she said. "At the end of every game, we do this thing called Star of the Game, which means it's someone who may not have scored or been in the stats book, but they played really hard and they may just not have that number or stat."
While the bond for the players has been established off the field, the team has also worked to hone their skills as players and teammates on the field. Preseason served as a time of growth according to Porter, as the learning process had its struggles of adjustments, but worked past it in order to endure success during the regular season.
"A lot of it comes from growing together and knowing that we're a new team," she said. "We have 11 new players and less than 11 returners, so we just knew we were going to have to learn how each other played and that there were going to be hiccups but that was a normal thing, so I think we all just understood that when we failed, it was one step closer to getting better."
With the majority of the roster being new players, a lot of them have had to step into key roles potentially earlier than expected. While they certainly had shoes to fill with the team losing key contributors that included nine seniors and an All-MASCAC First Team member and former goalie, Jill Currier '23, players have been taking on the challenge and thriving.
"I think [the transition] has been extremely smooth," said Porter, regarding the play of the new players for the Trailblazers. "I'm so excited to see where they are their senior year because we've only been together for a month, and every single one of the first years has made tremendous growth."
"It's just super cool to see, they just fit in perfectly with our team and they help us grow just as much as we help them grow."
Their contributions have already been coming in a big way. Forward Addison Gates '27 is second on the team with goals with two and is tied for the lead in assists along with midfielder Gwendolyn Duggan '27 and forward and midfielder Kylie DeMaio '27 with one each. Other MCLA first-years including forward Camryn Belisle '27 and defender and midfielder Tia Kereh '27 have received multiple starts as well.
With a few games in, Porter believes the success of the team thus far has come from such contributions from the new players, along with the willingness to do whatever is needed to win, such as playing different positions. Additionally, the ability to continue "playing their game" will be needed as they hope to embark on riding that success moving forward.
"One thing that has really helped us are the new players, they bring something new and that's something you need to see," she said. "A lot of us are playing different positions than we played last year because the newcomers came in with such assets.

"I think maybe we got a little frantic [versus Framingham State] instead of playing composed keepaway, but I think that's a learning curve and we have so many new players, and that's just going to take a couple of games to get used to," she continued.
Following the loss, MCLA will be on the road this week with trips to Quincy to play against Eastern Nazarene College on Tuesday, September 18, and Buzzards Bay to play Massachusetts Maritime Academy on Saturday, September 23, before returning home to play their first ever game on the renovated Shewcraft Field on Wednesday, September 27 at 6:00 PM, against Bay Path University.