On Saturday, September 30th, MCLA Athletics held their Hall of Fame induction and dinner at 3 West Events, located inside the Norad Mill in North Adams. This event was held to honor the alumni involved in the varieties of athletics at MCLA, and to induct a select few into the Hall of Fame. 
As soon as one walks into the event area, MCLA's colors of blue and yellow adorn the room as far as the eye can see. Twinkling lights wrapped around the pillars brighten the room as guests view a variety of pictures of the esteemed athletes. Chatter and laughter can be heard far, and the love and appreciation for MCLA athletics and all it has done for these alumni is extremely apparent.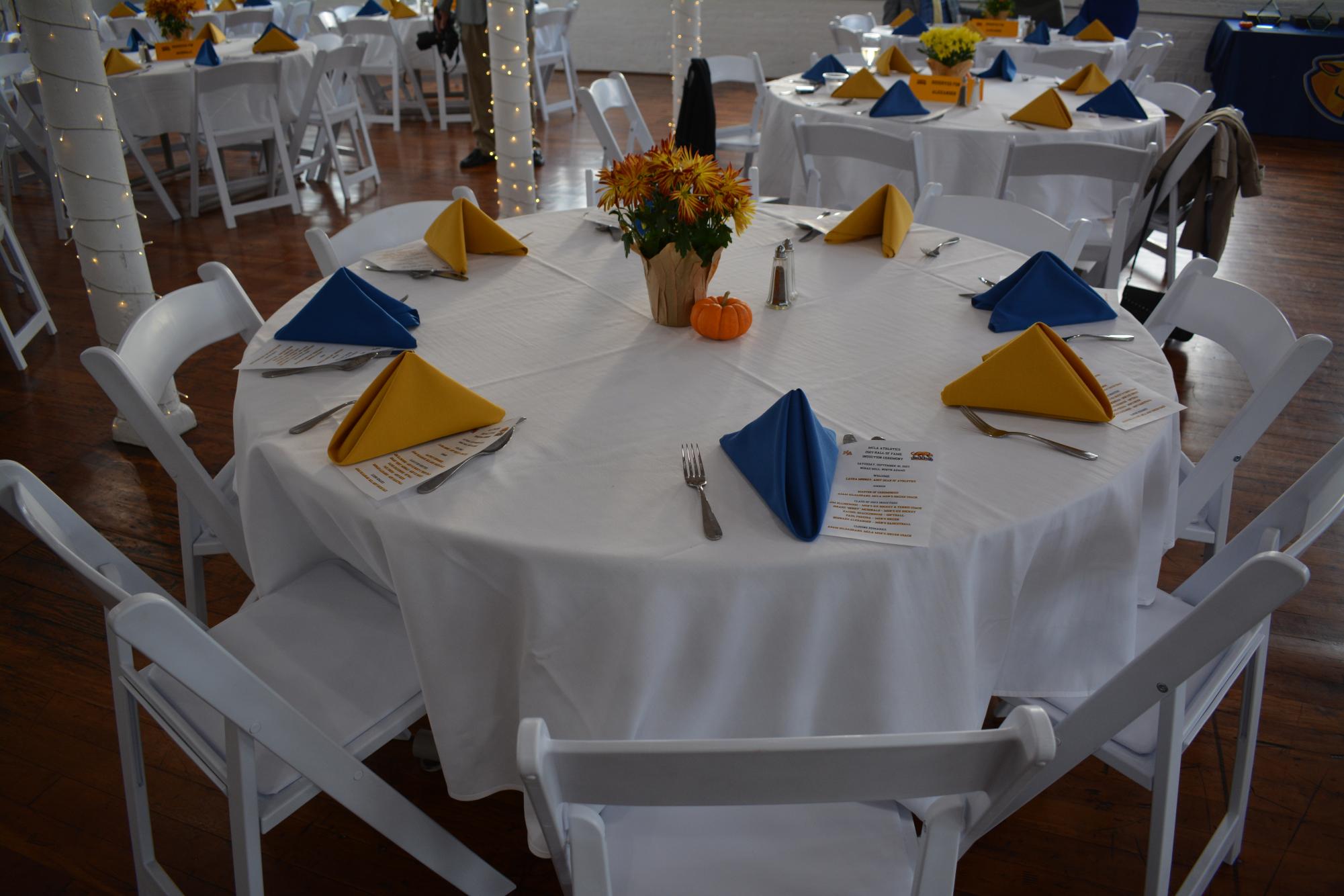 The event was sponsored and catered by Berkshire Catering Co. Guests were welcomed to eat a variety of hor d'oeuvres including aged cheese, strawberries, grapes, blackberries, hummus, and garlic bread. As the abundance of alumni and their families arrived, guests enjoyed the appetizers and beverages as they conversed with their fellow athletes and friends. 
Assistant Director of Athletics, Laura Mooney, opened up the event with a speech honoring the athletes, and sharing current information about MCLA's Athletics department that may be of interest. Mooney highlighted the return of Men's Ice Hockey after a substantial 20 years, along with the addition of Women's Ice Hockey to MCLA's athletics department. 
Mooney shares a statement from MCLA president James Birge, who could not attend due to a medical emergency, but wishes the alumni well. At the conclusion of this opening speech, the guests were invited to enjoy a variety of food from the large buffet table. 
The extensive buffet of food included salad, green beans, garlic bread, and vegetable lasagna. As guests ate dinner, Adam Hildabrand, the current Men's Soccer coach, introduced those with speeches about the inductees as well as the inductees themselves.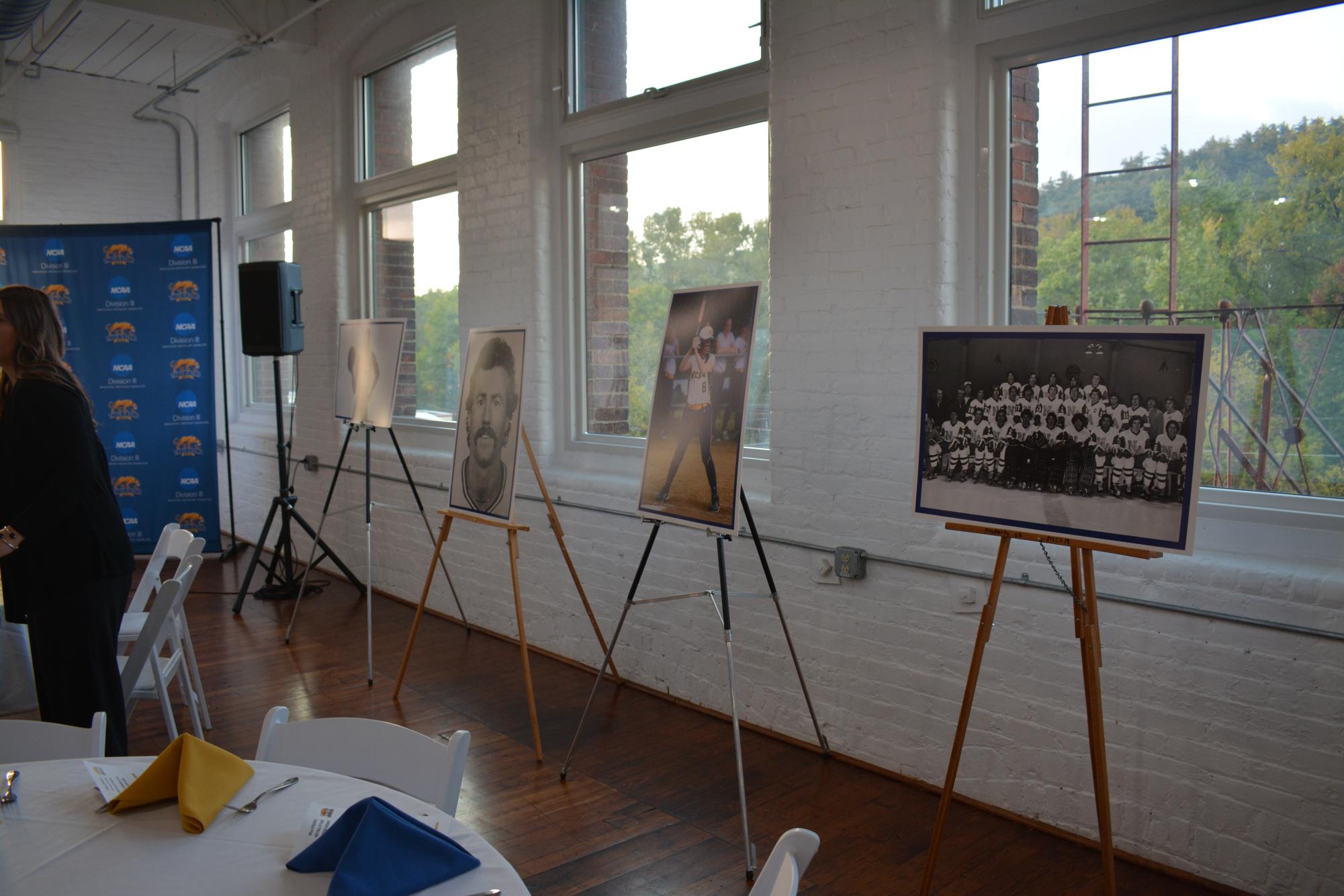 The first inductee to be honored at the ceremony was the late Jim Ellingwood, the Men's Ice Hockey Head Coach from 1974 to 1985, a lengthy 11 seasons, in which amassed a record of 152-113-6. Ellingwood was very involved in MCLA's Athletics Department, serving as the Chairman of the North Adams State College (NASC) Physical Education Department for six years.
Ellingwood was not solely active in the world of Athletics at MCLA, for he was not only the Secretary for the Division II-III Hockey Coaches' Association, but he also served as a member of the NCAA Selection and Rules committees.
This award was accepted by Ellingwood's son, Kevin, who gave an emotional speech mentioning the impact his father not only had on him, but on all the players he coached.
Ellingwood highlights that his father grew up in Arlington, Massachusetts, and was actually shunned by his family due to the decision to go to college, as it was an uncommon one at that time. Many alumni in the room expressed gratitude and remembrance towards Ellingwood and all he did for MCLA Athletics.
When Ellingwood's speech concluded, the second inductee, Gerard (Gerry) McDonald '79, was introduced. McDonald assumed the role of a defenseman on MCLA's Men's Ice Hockey team for four seasons, spanning the years 1976 to 1979. McDonald achieved MASCAC All-Star status during his senior season, in which he scored 16 goals and 22 assists.
McDonald went on to become a professional hockey player by playing in the American Hockey League for the National Hockey League's Hartford Whalers. When McDonald was introduced by his older brother, he highlighted the sheer amount of pride he felt when watching his brother play against the Boston Bruins at TD Garden. 
After McDonald's acceptance, the third inductee was introduced, named Rachel Quackenbush '16.  Quackenbush played on MCLA's Softball team for four seasons as a pitcher in the years 2013 to 2016. Quackenbush was awarded the 2013 MASCAC Rookie of the Year award in addition to being a part of the All-Conference First Team selection four times.
Quackenbush is also the softball program's all-time program leader in strikeouts, her record being 678. In addition, Quackenbush has a career earned run average of 1.77, and helped lead MCLA's softball team to the 2015 MASCAC Tournament Championship.
Quackenbush was introduced by her friend and fellow MCLA soccer player, who emphasizes not only Quackenbush's immense skill on the softball field, but also her contagious personality and kindness.
After Quackenbush's acceptance of the award, the fourth inductee, Paul Pereira '98, was introduced. Pereira was a  player on the Men's Soccer team for three years, spanning the years 1995 to 1997. Pereira earned First Team All-MASCAC and Second Team All-New England honors in the year 1996.
During the same season, Pereira scored 18 goals, which still stands as the fourth-highest single-season mark in the history of the program. In addition, Pereira's 31 career goals also rank fourth all-time. Pereira was introduced by one of his roommates, who also played soccer with him at MCLA, and reminisces on the Sunday mornings on which Pereira's family would visit and cook large traditional meals.
After the highlighting of Pereira's accomplishments, the fifth and final inductee was announced, Bernard Alexander '90. Alexander played as a forward on MCLA's Men's Basketball team for four seasons in the years 1986 to 1990 and holds the second-place title in all-time career points, career steals, career rebounds, and the first-place title in career blocked shots.
Alexander's achievements do not end there, for he also possesses the single-season records for field goal percentage in addition to steals. With the help of Alexander, North Adams State College (NASC) competed in four straight NCAA Division III tournaments and four straight MASCAC championships, which included but was not limited to the 1990 run to the quarter finals.
Alexander was introduced by his coach with whom he recently reconnected with, recently catching up in Alexander's home of Austin, Texas. His coach was instrumental in Alexander's induction into the Hall of Fame. 
This event succeeded at connecting attendees with their fellow alumni, in addition to recognizing the amazing feats accomplished by a multitude of MCLA athletes.
All throughout the night, the room was bursting with laughter and chatter, proving that the connections made at MCLA, and in college in general, are ones that not only last a lifetime, but help provide personal and professional growth. The MCLA Athletics 2023 Hall of Fame Induction was, undoubtedly, a success.