This past month, the North Adams City Council met to discuss potentially extending the polling hours on the upcoming Municipal on November 7th. This came as a result of numerous North Adams Residents complaining that they did not have enough time to actually participate in the election and commit to their civic duty.
Originally, the polling hours were between the hours of 9 am and 7 pm, which could potentially create a conflict with some resident's schedules (for example, those who go into work before 9 am). But by the end of the meeting, the city council voted 5-2 (councilors Shade and Bona having voted against it) to extend the hours to be from 7 am to 7 pm.
In response to this change, The Beacon decided to create a survey in order gather the publics opinions on this change to the polling hours. One of the questions that respondents were asked was whether or not this change benefited them. The options that the respondents were given to choose from for this question were: Yes, No, Maybe, and Other. A little over half of the respondents (fifty-two-point four percent to be exact) stated that yes, this change benefits them, whereas twenty-eight-point six percent stated that this change would maybe benefit them, and nineteen-point one percent said no, it would not benefit them (five percent of which emphasized that it would have no impact on them whatsoever).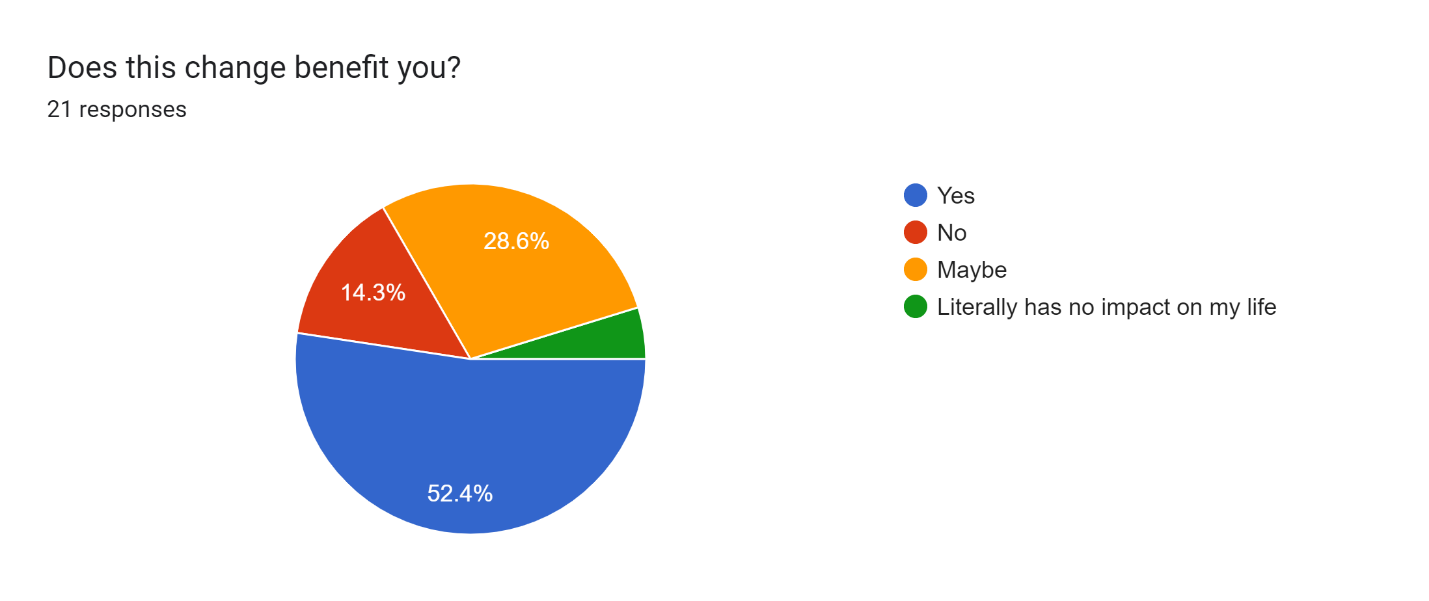 Another one of the questions that was asked in the survey was whether or not the respondents believed that this change was needed. This question was asked to gather whether respondents felt that this was a necessary change, regardless of if they felt it benefited them as individuals. Seventy-one-point four percent of respondents stated that yes, they believed that this was a needed change, twenty-three-point eight percent stated that this change was maybe needed, and four-point eight percent stated that no, this was not needed. This suggests that while only a little more than half of respondents said that they were certain that this would benefit them, a large majority felt that this was a necessary change for the community of North Adams.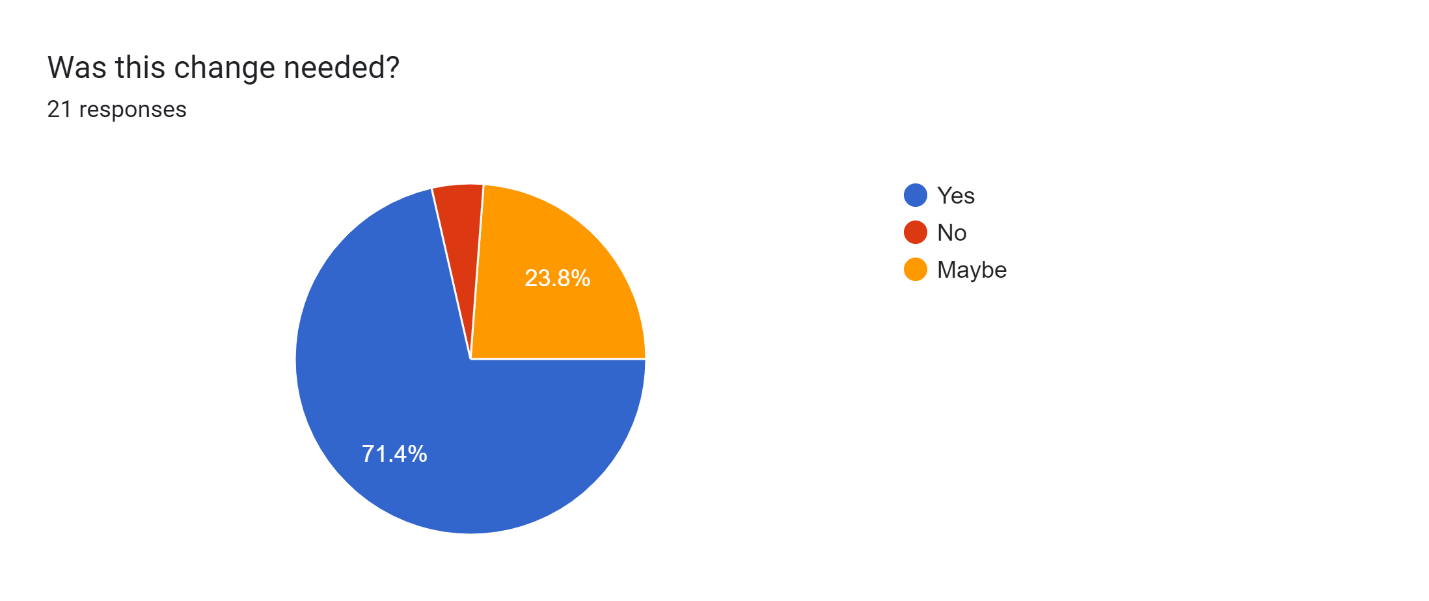 For the survey, we looked into how factors such as gender and age impacted results. When it comes to gender, eighty percent of women responded that they felt that the recent change to the polling hours was needed, and twenty percent said that it was maybe needed, whereas fifty percent of men said that the change was needed and thirty-seven-point five percent of men said that it was maybe needed. Now it is easy to compare the responses of those who identified themselves as a woman or a man because the number of respondents in each gender is closer in numbers.
The same cannot be said for the non-binary and other options, because only one person identified themselves as each of those options. Which is why you are seeing that one hundred percent of each of those options said yes, this was needed. As for the eighteen to twenty-nine age group and fifty to fifty-nine age group, a higher percentage of respondents said yes, and this was a needed change compared to the forty to forty-nine age group. We could not gather any information from the thirty to thirty-nine age group and sixty plus groups, because each of those two age categories only had two respondents.
In this survey, we also asked respondents what further changes that they believe would make voting easier. One of the suggestions that came up a couple of times was to allow people to vote online instead of having to mail in a ballot or come to a polling station in person. Another suggestion, that was made by respondents, was to have same-day registration, which would make it so that people could register to vote when they show up at the polling place and vote after they are registered. Some of the other suggestions brought up however, actually showed a bigger issue when it comes to voting participation within North Adams.
A respondent said that they needed clearer instructions on how to vote as well as where to go to do fill out their ballot. This lack of knowledge of how and when people are able to vote in North Adams is also shown by the numerous respondents who suggested that North Adams should have an early voting option. The truth is that this year residents of North Adams were able to participate in early voting between Monday October 23, 2023, through Friday, November 3, 2023 (8:00 AM – 4:30 PM) and on Saturday, October 28, 2023, and Saturday, November 4, 2023 (9:00 AM – 3:00 PM). But clearly this information was not accessed by quite a few of the residents that responded to this survey.
One of the biggest limitations of this study was that we did not have a politically diverse group of respondents. There was an even number of respondents that identified themselves as a democrat and unaffiliated, meanwhile only nine-point five percent of respondents identified themselves as third-party, and four-point eight percent identified themselves as a republican. Another limitation, however, is that the survey options for the multiple-choice questions could have potentially been more expansive.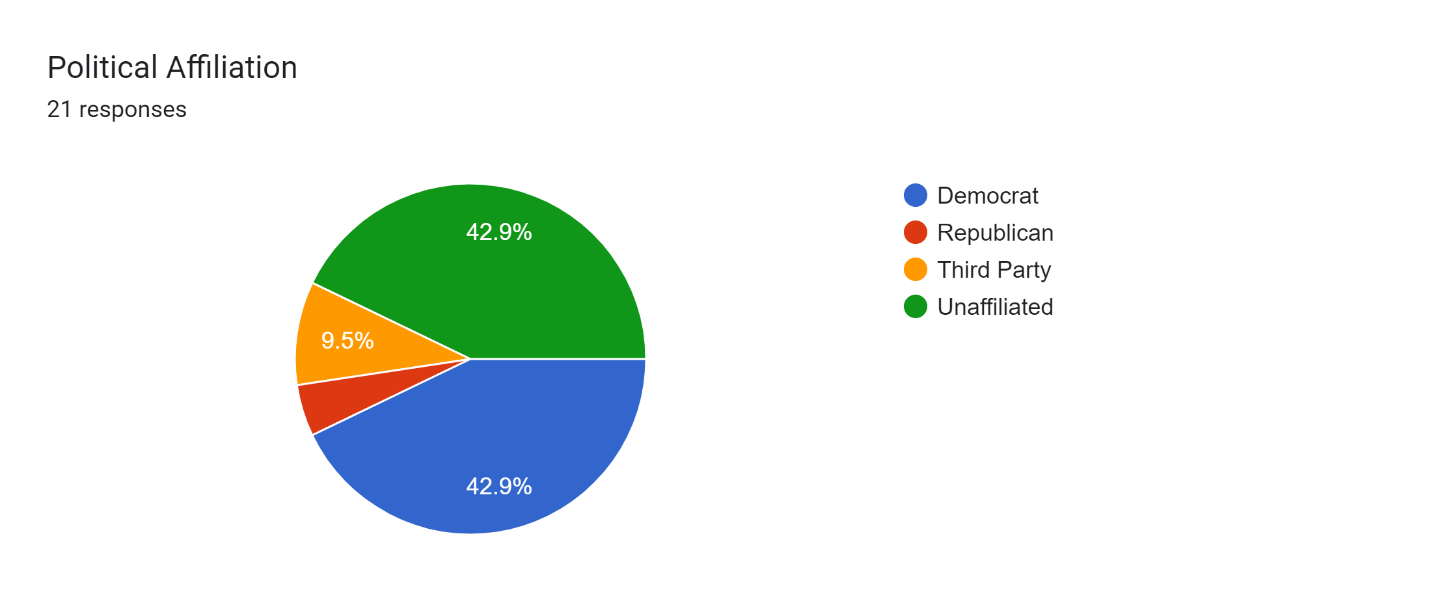 Now it is especially important that people feel that they are able to make it out to the polls this year, because there are numerous local seats up for vote, sixteen to be exact. One of the political positions of for vote is the Mayoral seat, which is up for election every two years. Our current incumbent, Jennifer A. Macksey, is running against Aprilyn Carsno. There are also nine city council seats, three North Adams School Committee seats, and three Northern Berkshire Vocational Regional School District School Committee seats.
The candidates for the city council seats are incumbents Lisa Blackmer, Keith J. Bona, Peter Oleskiewicz, Brian K. Sapienza, Ashley M. Shade, Wayne J. Wilkinson, and newcomers Colin Bain, Peter Breen, Robert Cardimino, Andrew Fitch, and Deanna Morrow. The candidates for the North Adams School Committee are incumbents Alyssa Tomkowicz and Tara Jacobs, as well as newcomers Cody Chamberlain and Eric Wilson. The three current incumbents of the Northern Berkshire Vocational Regional School District School Committee (Peter Breen, George Canales, and William R. Diamond) are running unopposed for their seats.