Sports Roundup 9/29
Women's Soccer: 
The Trailblazers are currently 1-5-1 on the year thus far, with nine games left to play in the regular season. While the record does not show it, there are high hopes and expectations moving forward by both the players and the coaching staff.  
The team picked up its first win of the season against the Eastern Nazarene Lions with a score of 2-1. Not only was it the first win of the season, but it was also the first program win since 2019. As there was no season in 2020, and the team finished 0-13-1 last year.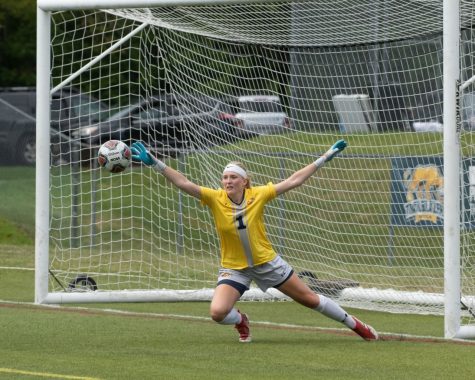 Winning "was a huge confidence booster…at practice, you can see people are way more confident in themselves, and we just look way more together, just working really harder than ever before," said Sophie Elser '23. 
The team is coached by Deb Raber, a three time MASCAC Coach of the Year.  "(Raber) comes into every season with a new attitude and new outlook, so I feel like having her be very versatile and open to change helps a lot," said senior goalkeeper, Jillian Currier.   
On the team are eight new freshman, "Natalie Rich, (has) shown a lot of dedication to the team and love for the game," said Currier.   
Along with Rich, other freshman, Madeline Propfe, Eva Bassallo, and Cidnee Frymire have started multiple games for the Trailblazers thus far. Frymire has also scored a goal and is currently leading the team with two assists. 
The team hoped to improve, "going forward, I think we just need to work on being more physical…we have to come in with a little more aggression, really put our bodies on the ball, and work really hard for it," said Elser. 
As the season progresses, the players look forward to seeing fans filling up Shewcraft Field, "keep being loud" said Currier. 
The team will host Mass Maritime Academy on Saturday at 12 noon.   
Volleyball 
Coming off an appearance in which they qualified for the MASCAC tournament, volleyball has not skipped a beat this season. The team is currently 7-3, and is well within reach of attaining the MASCAC championship. 
"I'm never satisfied with wins or losses…we can win the MASCAC championship, we're an underestimated team," said Chloe Garber '25. 
The team itself is young, with no seniors on the roster, and only one junior, Victoria Tynan, each player on the team has had to take on a significant role.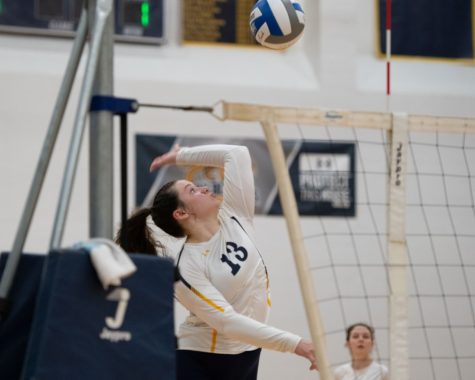 "I feel like everybody has stepped up, we've had a couple freshmen come in and play a position they are not used to playing, a couple of sophomores who didn't get many chances to play last year that are now consistent starters," said Ellie Walter-Goodspeed, '25.
The roster young, freshmen make up more than half of the 11 players on the team. Many of the underclassmen lead the team in stats, including freshman middle hitter, Anais Badio, with 72 kills.  
Leading the team on and off the court is Head Coach, Amanda Beckwith, coaching the team since 2006, and recently picking up her 200th career victory against Bay Path. 
While the season has gone well, the team continues to actively look for ways to improve, and continue working their way to the top.  
"This season, we've tried to make more of an effort of getting to know people, and it's been easier since we're all closer being freshmen and sophomores…volleyball is such a team sport and such a communitive sport, the more you know your teammates, the better you're going to be on the court," said Walter-Goodspeed. 
The team has been able to get the seats filled up once again.  
The teams first home game against Alfred State was "the most amount of people we have seen at one of our games before…it was a very loud game, the whole crowd was cheering, and just being surrounded by that environment where you feel your school supporting you, it motivates us so much more," said Gerber. 
The trailblazers will be home against Albertus Magnus on Wednesday, Oct. 5th at 6:30pm.
MEN'S SOCCER
Currently, the team is 3-4-1 as they approach the halfway point of the season. They played their first conference game against Worcester State on Friday, Sept. 16th, losing 1-0. The goal was scored in the 83rd minute by Worcester State. The game was a tough fight with 20 fouls and 3 yellow cards.   
The game was "high intensity…with some chippy moments here and there" said Junior Captain Tyler Cotting.   
On Sat. Sept. 24th the team traveled to Westfield where they tied 0-0.   
Every year the MASCAC releases a preseason ranking of each sport. For this year's preseason poll the MCLA Men's Soccer was ranked 5th, followed by Fitchburg and Westfield tied for 6th, and Worcester ranked 4th. Salem State was ranked 1st.   
This is an improvement from last year as the team was ranked last in the poll but ended up finishing 4th in the semifinals. The poll "is a huge motivator for us…we will prove the MASCAC wrong and show them how it's done in the playoffs," said Senior Captain Wesley Call.   
The goal for the rest of the season is to "get more organized defensively and implement our new players as soon as possible," said Coach Adam Hildabrand.   
Moving forward Call hopes to leave it all out on the field, "I can't wait to celebrate every win with the team," said Call. 
The Men will play at Massachusetts Maritime Academy on Sept. 30th, and at Husson College on Oct. 2nd. They will be home against Framingham State at 6pm on Oct. 7th.   
CROSS COUNTRY 
The Women kicked off their season Saturday, Sept. 10th at the Maple Syrup Challenge Invitational, where they placed 9th out of 11. Kristie Zator led MCLA with a time of 25 minutes and 21 seconds. Zator placed 32nd. Senior Domenica Gomez placed 46th of 80 overall with a time of 29 minutes and 46 seconds.   
Gomez's mentality is to, "always give my best at every race and practice. I think running is 90% mental and 10% physical. I truly appreciate the support from my teammates and coaches. I am grateful to be able to do what I'm passionate about," said Gomez. 
Men's Cross Country traveled to Milton, NY where they competed against New Paltz. The team placed 7th out of 11 schools. David Babineau lead the team and placed 15th out of 77 runners, with a time of 32 minutes and 53 seconds.   
Both teams will compete on Saturday, Oct. 1st at Albany College of Pharmacy.