"The Onion" Co-Founder Scott Dikkers Discusses Fake News at Hardman Lecture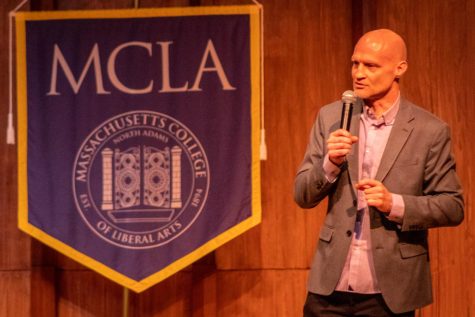 MCLA's 2022 Hardman Lecture was held on Sept. 29 with a lecture from the co-founder of iconic comedy empire The Onion, Scott Dikkers.
The lecture was titled "Fake News in the Age of Misinformation," and gave the history of The Onion as well as his opinion on why there is so much misinformation present in our society. 
"In a post truth world, the only news that makes sense is fake news," Dikkers said. 
MCLA's Hardman Lecture Series presents in-depth discussions with some of the leading journalists of our time. This year's lecture was coordinated by MCLA professors Dr. Michael Birch and Dr. Samantha Pettey. 
The Onion began as a satirical college newspaper between Dikkers and two of his classmates, and soon grew into one of the best known comedic news sources in the world. Dikkers shared stories of The Onion's early staff and some of the controversies caused by their stories. He described several situations in which public figures or companies would threaten to "sue them out of existence" due to their misunderstanding that the paper was purely for comedy.
As it evolved from just a print newspaper into an online news source with video content in addition to written stories, more and more people began believing the false headlines and failing to read the entire story, which Dikkers claims that he believes is their own fault. 
"We started having this problem of people thinking that our stories were true," Dikkers said. "We had this new, broad readership of people who wouldn't actually read the stories, only the headlines."
He also explained how The Onion influenced real news publications, who saw The Onion's success and began sensationalizing their own headlines to gain more attention from the public. This has led to what Dikkers referred to as "infotainment," which is when news sources purposefully make their content both entertaining and informative, sometimes compromising the truthfulness of the content.
In addition to the lecture, Dikkers also held a Q&A earlier in the day in the Freel Library, where students were able to speak with him one on one. When asked what advice he had for student writers, he said, "Keep writing and publishing. There is nothing stopping you."
Many of the students who attended remarked that they enjoyed the comedic elements of the lecture while also learning valuable lessons about the news media and spread of misinformation.
"I think that this lecture was very refreshing and enjoyable to be at," said Macayla Flanigan '23. "He had great content."
"I thought it was very funny and engaging," said Domenica Gomez '23. "I found it surprising that some people don't get the humor or the satire. Don't believe everything that's on the internet."
In his closing remarks of the lecture, Dikkers explained that he does not necessarily think that the spread of misinformation is a bad thing, but just encouraged everyone in the audience to not believe everything they read and to do their own research.