ESports Looking to Be a Huge Hit at MCLA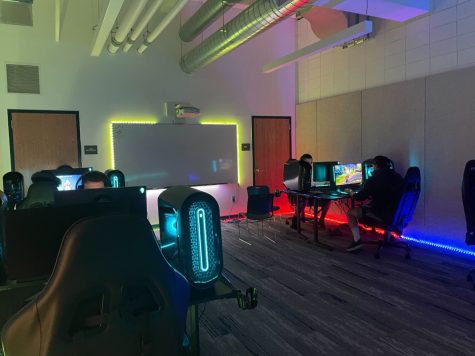 Head Coach David Bostick, along with Director of Athletics, Laura Mooney, have worked together to present a brand-new esports facility, featuring a state-of-the-art facility for gamers to access. The idea itself of forming the team had been in the works for the last few years, with it now being available for students to access for the 2022-23 school year. 
"The idea was already here when I got here," he said. "Just getting on the ground floor of how to put it together, I think that's where we really thought…that we can start off the ground and see where it can lead us," he continued. 
Esports, or electronic sports, is a competitive way of playing video games, usually in the form of multiplayer competition. While many people usually think of sports being games such as football, soccer, baseball, and basketball, esports is athletic on the mental side. 
"The biggest thing is strategy," said Bostick. "When it comes to esports, there are several games where you need to have someone as an offensive player, someone to go out and get the kills for your team whether you're playing Call of Duty, whether you're playing BattleWatch…all the games require you to play within a team, to make sure you guys are strategizing well, so that you do whatever objective that may be," he continued. 
In addition to coaching basketball at his previous position at Becker College, Bostick was also on the committee in helping develop the esports program within their school. The program itself became so successful that the school began offering a bachelor's degree in esports management. In 2020, Becker was ranked a top 15 school in pursuing esports in the United States. 
Considering himself a "casual gamer" growing up, Bostick's experience at Becker was one of the main reasons he worked hard to get the team itself up and running. He hopes students here can have the same, if not more, opportunities with the team. 
"When I was on that committee, I was able to learn a lot about the intricacies of esports and how to begin and get it off the ground a little bit, and that's where I got really interested in it," he said. "Being around all of those things as they were being built and the processes was able to give me a little insight of what it would take to get an esports program started here at MCLA," he continued. 
Currently, the program occupies one of the conference rooms for athletics, holding eight computers and a handful of games for students to play such as Baywatch and Call of Duty. The work is far from complete though, as Bostick is optimistic for what he envisions the program becoming in a few years. Ideas include potential expanding into another conference room and adding coaches to help players with specific video games. 
Above all, the main goal is to have students competing against other schools and representing the Trailblazers. 
"That's the ultimate goal, is to make sure we start being able to compete against other teams," he said. "Right now, I do have a couple of people to reach out to once we have some established teams and established games to have some basic scrimmages, so we can start to work on some of the things we need to do." 
The focus right now is to attract interest amongst students so teams and games can begin the setup process. The program recently held an open house on the 26th for those who had an interest. Bostick feels that this program will be able to connect students from different backgrounds and experiences together through this common interest. 
"I think the biggest part, and absolutely is one of the reasons why I really wanted to bring this here, is because it allows students who normally wouldn't interact with certain students to interact," he said. "I think that we don't understand how much esports and gaming in general, brings the community together, when we had our esports open house, we had people from athletics and all sides of the house of the community come together." 
For students interested in getting involved the esports room is available for all to use at any time, with practice times being determined once teams are created.