MCLA HOCKEY IS BACK!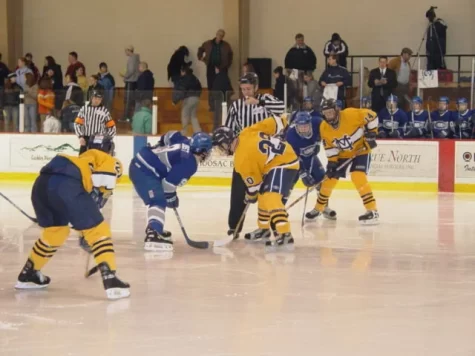 MCLA has previously announced the return of the men's and women's hockey teams, new updates have informed that games will begin in October of 2023 and that coaches for both teams have been hired. 
The Men's Ice Hockey team will be led by Head Coach Jeremiah Ketts from Foristell Missouri, a graduate of Johnson and Whales University in Providence, Rhode Island who scored 64 goals, 101 assists, and earned the title AHCA All-American two times during his college hockey career. He then went on to work as an assistant coach at UMASS Dartmouth for 6 years. 
Heath Isaacson from Cokato, Minnesota was hired as the Women's Ice Hockey's Head Coach. Isaacson graduated from South Dakota State where he played on the club ice hockey team and coached the Women's Club team in his Senior year. Isaacson was head coach of the Division 1 Women's Ice Hockey team at Post University for 7 years. 
The Men and Women's seasons will start next October, with the championship in March. The Men's team will compete in the MASCAC, comprised of Salem State, Plymouth State, Westfield, Worcester, Framingham, and UMASS Dartmouth.  
MCLA Men and Women's Hockey will be division 3, "there is not really division 2 in hockey so the division I to division III jump is very small, and since COVID every year there has been a division III athlete that goes division I," said Ketts.   
MCLA and other Women's Hockey teams are currently in the process of creating a new conference.  Both conference schedules will hopefully be released by Christmas.   
The coaches' main goal for the rest of this year is to continue to actively recruit and connect with North Adams State College and MCLA hockey alumni. "Without the former tradition of the men's program there would be no job for myself and no women's program as well," said Ketts. When recruiting, both coaches are putting an emphasis on team culture, and recruiting student-athletes who will build a strong tradition for the Men and Women's program, "we are looking for good people first," he continued. 
MCLA has a strong tradition of hockey that goes back to 1972 when the school was North Adams State College. In the majority of the seasons from 1972 to 1986, the teams won more than half of their games. In all 31 seasons, NASC qualified for the NCAA tournament 13 times and won the tournament 6 times. The team was disbanded after the 2002-2003 season, due to significant budget cuts to NCAA Division 3 programs.   
As for the women's team, Isaacson is hoping to create some new traditions around women's ice hockey at MCLA "being a brand-new program we are going to be able to create an identity and will be competitive pretty quickly within the new conference," he said. Isaacson hopes that in the next four years the team will win a conference championship. 
The community is excited about the return of the hockey programs, "there is a good buzz about the team in the city… it seems like everyone is really excited to have both the Women and Men's teams back," Isaacson commented. 
 Hockey fans should look forward to this winter as a tentative date for both team's jerseys and conference schedules to be released.