Safety and Justice Walk Empowers Survivors of Domestic and Sexual Violence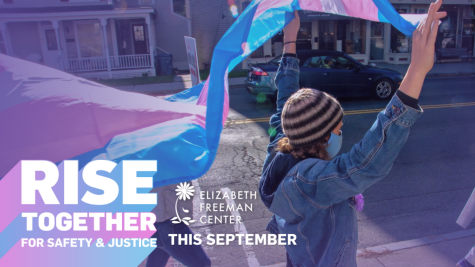 On Thursday, September 29th, the Elizabeth Freeman Center put on their annual Safety and Justice Walk to raise money and awareness for support of domestic and sexual violence survivors. The walk began at 5:30pm at North Adams City Hall, and together 0.63 miles were completed.  
MCLA's Gender and Sexuality Center (located in Amsler Campus Center) sponsored transportation to MCLA students attending the event. The walk was one of many occurring in the past week throughout Berkshire County. Between the sponsors and donations, the Elizabeth Freeman Center has raised over $116,200.  
"I have participated in the walk for a number of years," said Christopher Hantman, the Coordinator of Civic Engagement, a member of the MCLA Volunteer Center, and the handler of MCLA's campus comfort dog, Maple. "This event has always been important to me, as I have family and friends who are survivors of sexual domestic violence, and I have seen firsthand the impact it can have on people," Hantman continued. "The Elizabeth Freeman Center does important work to support and navigate ongoing violence, and/or the trauma and aftermath that can accompany such acts." 
Molly Graether, member of the LGBTQ Access Project, and counselor/advocate of the Elizabeth Freeman Center office in North Adams commented on what it meant to her to be an advocate and counselor for the Elizabeth Freeman Center, "For me, it's all about helping empower survivors. It's really special to get to both witness peoples' journeys, and to assist them along the way." 
"Our goal [at the Elizabeth Freeman Center] is to provide hope, help, and healing at every stage of a survivor's journey; which looks very different for each individual. We want to make sure that we're empowering survivors to make their own choices, because so much of abuse is about having choice taken away. We want to put our survivors in the driver's seat," said Graether and shared that the center also has advocates in the district and probate courts, to help people apply for orders of protection.  
More upcoming events from the center include the "One Book, One Community" event. This event is working to partner with book clubs in the area, along with community members, to read a book about domestic violence. The first book is Assume Nothing by Tanya Selvaratnam. You can find more about "One Book, One Community" at elizabethfreemancenter.org. Other future events will be posted on Elizabeth Freeman Center's website and social media accounts (Facebook and Instagram). 
The Elizabeth Freeman Center can be contacted through their website, email, and toll-free, 24-hour hotline. 
Toll-free Hotline (North Adams): (413) 663-7459   
Website: elizabethfreemancenter.org  
Email: [email protected]  
Instagram: elizabeth_freeman_center