Meet Maple: MCLA's Comfort Dog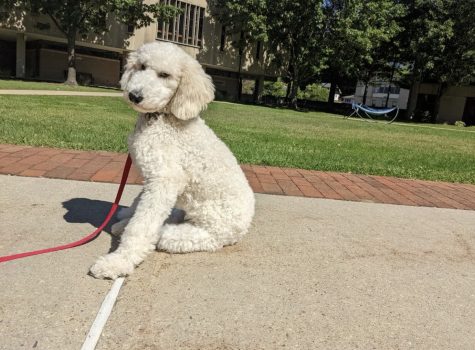 Animal lovers on campus can now spend time with MCLA's official comfort dog, Maple.
For the first time in MCLA history, the school has gotten a support animal for students and staff. It is a great place for people who have had a bad day or a stressful week to realize they are not alone, and Maple the campus comfort dog is there to save the day.
MCLA decided to get a comfort animal because they believed it would be a great stress reliever for students.
"The school decided to get a campus comfort dog because there was just a need on campus for students to have an animal that they can spend time with. This is an opportunity for them to just kind of de-stress and, and unplug from whatever's bothering them and just enjoy Maple," said Christopher Hantman, Handler of MCLA Campus Comfort Dog.
Maple was found through Berkshire Comfort Dogs, an organization that donates dogs for emotional support and more. The organization only donates poodles because they are hypoallergenic. Berkshire Comfort Dogs donated Maple to MCLA because they felt that she would be a good fit for students. Maple is a six-month-old poodle who is very energetic and the opposite of her other, more mellow siblings. Maple has a number of litter mates who are serving as comfort dogs in different areas of the county.
Many students think it's a wonderful idea to have Maple as a support animal. "I think it's pretty cool that they offer a support animal to students because animal therapy can be important for mental health, especially for college students," said Jasmine Akari. Maple has been on campus for less than a year and she is already loved by many.
"There were moments I wanted to bring my support animal to campus but wasn't allowed to. I am glad that the school decided to get a support animal for students and staff because some of us do need it when times get hard," Amoure Joseph said.
Students can book an appointment through Presence or visit Campus Center 318 if they would like to spend some time with Maple. Maple will be available throughout the semester but her main goal is to be there for students during midterms and finals.
Maple has office hours every Wednesday at 11 am; if there are any chang- es to her schedule there will be updates on Presence, as well as on Maple's Instagram page: @mapleatmcla.