What's Scarier: Halloween or Midterms? Freel Library Holds Monster Mash Study Event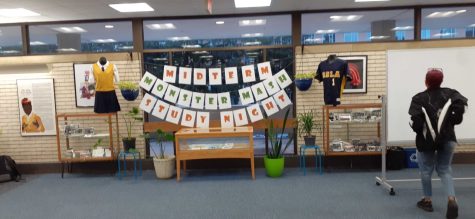 The Freel Library's "Monster Mash" study event was held on October 12th and saw an attendance of quite a few students.
The event, spearheaded by Dr. Amber Engelson, the chair of the English department and Emily Alling, the Associate Dean for library services, was the second of its kind to be held on campus, and the first to be in person since last year's event was virtual. Lockdown cancelled the original first get together in 2020, and both Alling and Engelson were pleased to be able to hold the event in the library in person, where students could come to de-stress, share their work with their peers and learn more about the benefits the writing studio has for students.
Both Alling and Engelson welcomed any and all students who wished to stop in and see what was happening. Candy, snacks and drinks were provided, and Maple, the signature feel good therapy dog of MCLA, was in attendance wearing a lobster costume. Her appearance proved to be a hit, with many students coming over for pets.
For Alling, this is what getting students together is all about. She stated that through events like these she wants to "encourage students to come together" and have a good time. Covid-19 put a huge damper on social events at MCLA and the world at large, and now that things have largely improved, more social events like the "Monster Mash" are being put on. By advertising the Writing Studio, Alling and Engelson want to create a space where students know what Support Services are being offered on campus and how best to use them.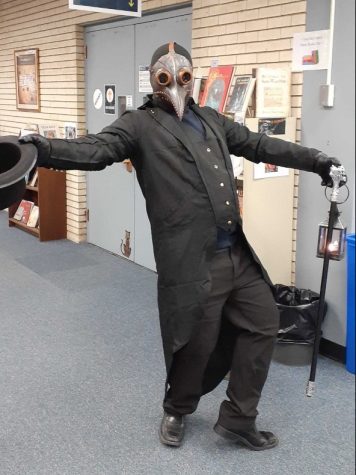 The event was also a time to get to know those in charge of the studio as well as the writing associates, some of whom were in attendance. Having events like these can help to break the ice for students, especially new ones, when it comes to what services are available to them, organizers hope.
"Academics and joy don't usually come together, they should more often," said Alling.
Events like the "Monster Mash" create student conversation and foster a sense of community between faculty and students, thereby eliminating any sort of jitters or anxiety surrounding such interactions.
Other guests made their appearances in costume, from a person wearing a banana suit, to a person in a black mask of indeterminant origin, to a 17th century plague doctor in a white, birdlike mask. More events like this may happen outside of Halloween season, but students will still be made well aware of what services are available to them through such get-togethers, organizers hope.
Students who are interested in becoming writing tutors should contact Dr. Engelson and inquire about signing up. The Writing Studio is open from Monday through Thursday from 12-1 pm and from 6-9pm in Murdock 120.