SGA: Advocacy, Accessibility on Campus, and Blobfish Fundraiser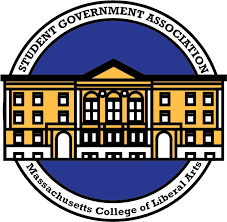 Student advocacy, accessibility on campus, and the senior class blobfish fundraiser were all discussed at the Oct. 17 Student Government Association meeting, among other topics.
This week's guest speaker at the meeting was the MCLA Director of Civic and Community Engagement, Spencer Moser. Moser praised the MCLA community for their participation in the recent Fall Day of Service, which had the highest numbers of attendance since the pandemic started with nearly 100 volunteers.
Moser discussed the various projects at MCLA that he oversees, including the volunteer center and food pantry. The food pantry began six years ago by students who realized how prevalent food insecurity was on campus. Since then, it has grown into a very successful endeavor, which in addition to the pantry itself, also contains the MCLA Swipes Program, a partnership with Aramark to give free meals to students in need. He praised the MCLA administration for their support of the various programs of the volunteer center, including addressing student homelessness.
"The president, the college, and the board of trustees have just been fantastic, recognizing that there are a lot of students who are homeless or transitionally homeless," Moser said. "It's a human rights issue."
Moser proposed a student advocacy group that would meet with advocacy groups from other state colleges to help create solutions for students facing these issues. SGA President Ian Crombie '23 supported this idea, which would be led by their leadership committee.
Spencer Moser can be found in either his office in Campus Center room 308, or the food pantry in Campus Center room 206.
Several concerns were brought up by both the gallery and SGA members to Crombie, who will be sharing these with Vice President of Student Affairs, Jeannette Smith. One concern mentioned by Senator-at-Large Khy Alexander '23 was that introductory level classes have allegedly been more challenging this semester. Alexander cited her own experience in an introductory level biology class, in which the average grade for their midterm exam was 50%.
"I know that we're supposed to be getting back into the swing after COVID, but I feel like this is too fast," Alexander said. "I've noticed that the level of the work is definitely no longer intro level work."
Alexander proposed that there should be a protocol for when the average score for an exam falls under a 50%, which Crombie said he would discuss with Vice President Smith.
An additional concern brought up by both Executive Vice President Callista Motta and Senior Class Treasurer Jack Vezeris '23 was regarding the construction on campus and the issues that it has raised for accessibility.
"With all of the construction on campus, I have so many friends who use mobility aids who literally cannot get to class," Vezeris said. "In front of Murdock, they've put up steel plates, but they are inaccessible, and it's not safe for certain people to walk on."
"From what I understand, construction will be halted until the spring, and I would like to make sure that these locations will be accessible during the winter and that they won't just leave those metal plates out during that period while they aren't here," Motta said.
In Motta's Executive Vice President Report, she discussed the Sam Gomez Road Race, an annual 5k held by SGA in the spring. This year's race will be held on April 8, 2023 and will be in-person and virtual.
The curriculum committee has primarily been discussing the logistics of the upcoming nursing program, including their attendance policy, which will be slightly different from the college's standard attendance policy. Additionally, the committee is interested in adding more sociology and psychology classes to the nursing curriculum.
The class office report for the class of 2023 was given by Vezeris. The senior class is currently looking for students to be a part of the yearbook committee. Additionally, a Google form will be created for students in the senior class to submit photos to be used in the yearbook. More information on this will be coming soon.
The senior class will also be hosting a fundraiser from Oct. 27 to Nov. 8, in which students can pay to have a friend's door covered with pictures of blobfish. This can be done to any student living on campus and will be put directly on their bedroom door for students living in Hoosac, or on their front door for students living in the Townhouses. It costs $3 to blobfish a friend, and $5 for it to be done anonymously. The class council will be tabling in the marketplace for the duration of the fundraiser and will take cash or card as payment.
SGA Meetings are open to anyone every Monday at 7:00 p.m. in the conference room of Murdock.